17.05.2016
There are a number of manufacturers of O gauge model railroad track, and some manufacture more than one style of track. However, if you are just getting started, and you only have enough track to make a simple loop, it's a lot easier to switch track brands now, rather than later, after you have bought hundreds of dollars worth of additional track (see what expanding your layout can cost on our Comparing Prices of O Gauge Track Page).
All other track, no matter what other differences it may have, do not have an integrated roadbed. All-in-one track tends to be more expensive than non-integrated track, although at the high end, Atlas track is comparable in price to all-in-one track (see our Track Price Comparison page). All-in-one track tends to lock together better than non-integrated track, and the integrated plastic roadbed makes it a better choice for a floor railroad, especially one on a carpeted right-of-way. All-in-one track can be noisy due to the hollow plastic roadbed, although non-integrated track can be noisy as well, if not mounted on a sound-deadening roadbed. At the lower end of the range of non-integrated O gauge track, little has changed in the century it has been available.
The plastic or wood ties of Gargraves and Ross track offer an advantage in that the two outside rails are insulated from each other, where the metal ties of Lionel track provide an electrical connection between the outer rails. The joining system of Atlas track makes it more difficult to simply cut pieces to fit as you can with Lionel, Gargraves, or Ross non-integrated track, but to make up for that, they offer a wide array of short straight and curved pieces.
Ross and Gargraves tubular tracks connect to each other easily, and adapter pins make it easy to connect them to Lionel tubular track, so if you have a pile of tubular track, you can expand with Gargraves or Ross without having to junk your Lionel tubular track.
When you look at the table at the bottom of the page, you can see that Ross has the greatest selection of switches and crossover tracks of any brand, whether tubular or all-in-one. Gargraves and Atlas both offer a wide selection of switches, as do the all-in-one brands Lionel Fastrack and MTH RealTrax. The two all-in-one brands are fairly equal, although Lionel Fastrack offers a wider variety of short pieces.
O Gauge Track will not mate with 027 track because it is one-eighth of an inch higher and eight sections of curved track create a circle that is 31 inches in diameter. Because of the tight radius (for O Scale) of the curved sections used by all of these tracks, Lionel was limited by the length of the engines and cars that could be run on these tracks.
We've illustrated the types of track below and have offered additional details on some individual sections and track accessories in the Numerical Index. The Mamod track is curved to a radius of 2' 6", so a curve of this radius or more would work best with Mamod or MSS locos. A nice minimum radius to work to is about 4 ft (realistic as well) although mamds do fly off occasionaly so 6ft does work wnders (if you have room. Thanks for advice I didn't know there was such a thing as SM32 track what is the difference between it and standard 'O' gauge track if it is same gauge is the track height different? Thanks for advice I didn't know there was such a thing as SM32 track what is the difference between it and standard 'O' gauge track if it is same gauge    is the track height different? If you'll recall, we decided in 2007 to build an Outside O Gauge railroad, using a raised roadbed made from HDPE planks that are split and reassembled into a ladder-like framework (see Paul and Bill's HDPE Roadbed article for an overview).
After having to spend several months away from the B&P, we finally started to lay track in mid-March, on Bob's birthday. The photo to the left was taken from Railroad Pass, looking South across Carmella's Crossing.
We applied power and TMCC to two adjacent tracks on the North end of the B&P, and, to our delight, everything, including all TMCC functions, worked correctly.
We used our Metrolink locomotive because Pat commuted on the Southern California Metrolink for more than three years before retiring in 2006.
We have reviewed the articles by the Blessings, Youngs and others many times, trying to learn from their experience with O Gauge outside.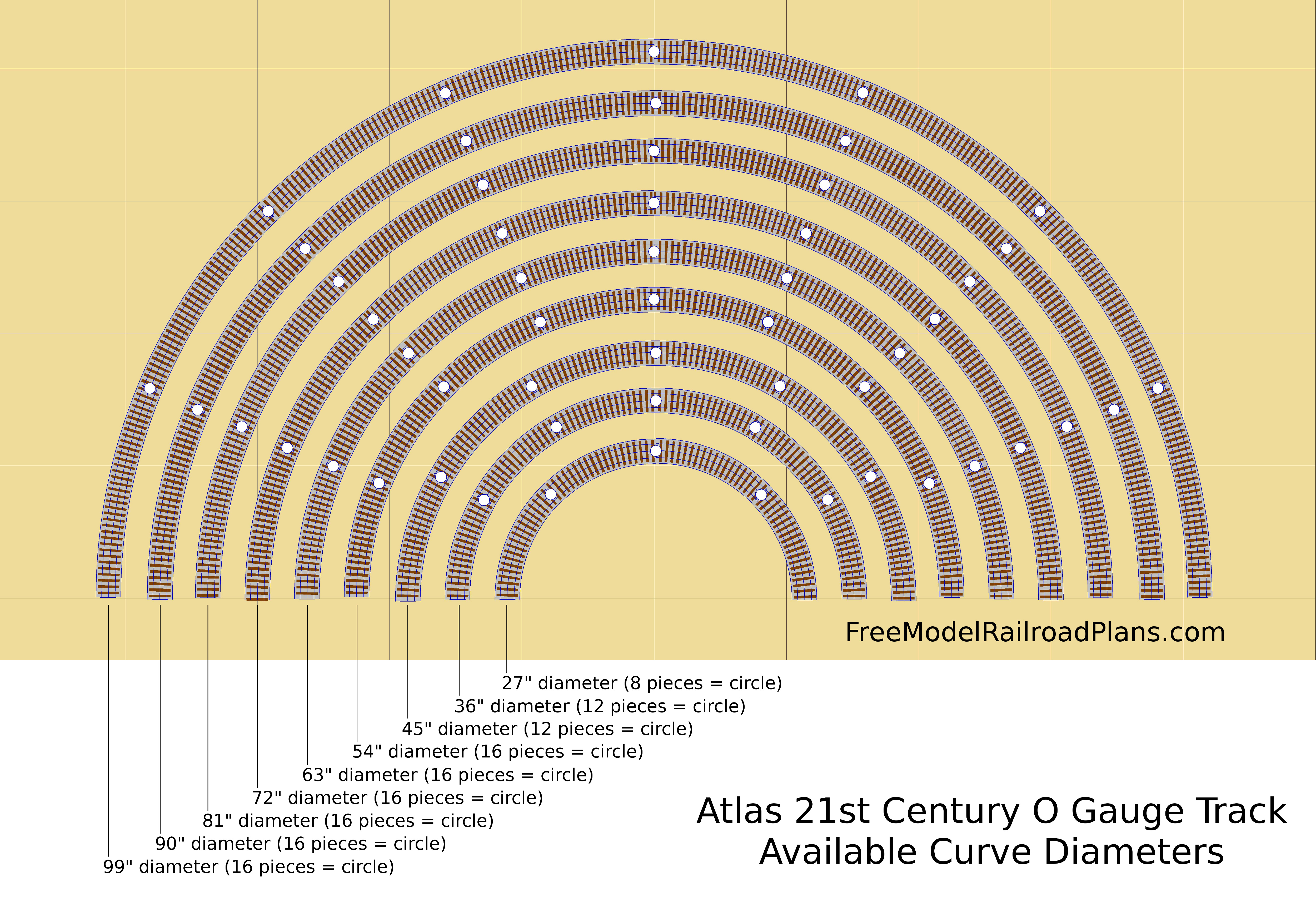 As noted in our first article, our original construction concept was to use Atlas Nickel Silver Track and Turnouts on the B&P. A secondary reason for selecting Atlas Nickel Silver Track, was that it is probably the most prototypically accurate three-rail O Gauge track on the market. Unfortunately, we wish Atlas had forgone the scale-sized rail spike, for a more "structurally robust" product.
While shock induced breakage continues to be a source of frustration, if Atlas' UV properties perform as advertised, we would still recommend the product. Unfortunately these defects were not discovered until after most of the turnouts were in place with other track sections attached. Finally, we will offer a couple of other tips regarding our experience with the Atlas Nickel Silver Track System. However, Atlas solders the respective wires to the bottoms of the rail joiners, preventing their use on the Atlas Slip Lock System's outside rails.
If you have read our earlier articles, you know we developed our curved road bed with more precision than might usually be used when building an outdoor railroad.
During roadbed installation we did not consider this a significant issue, because it was always our intent to use 40" sections of Atlas Nickel Silver Flexible Track for all curves. We began our track laying efforts attempting to use 40" flexible track sections for all curves. Thirty-five years ago, the last time Bob built a model railroad, he used HO flex track for a large indoor layout. We found that if a curved portion of roadbed could be completely traversed with a single 40" section of track, it is relatively easy to obtain good results.
We spent considerable time trying to identify a rail bending device suitable for the Atlas O Gauge Nickel Silver Track. We concluded that we would have to order Atlas Curved Track for at least the five lengthy 180 degree 072, 081 and 090 curves.
Taking a lesson from Fred Young and others, we have also removed all of the remote switch machines from our turnouts. Some of our difficulties with installing Atlas Nickel Silver Flexible Track are associated with the open ladder-type roadbed design we are using. One solution we developed to counteract the rail's tendency to bow out in a curve is the use of a short piece of scrap rail, notched at the top, and secured inside the roadbed as shown in the photos below.
As noted above, we did not maintain "perfect" 072, 081 and 090 curves during roadbed installation. For example, each of our two 180 degree, 090 curves have at least two pieces of larger 099 curve track, one leading into, and one exiting the curve. In the 180 degree, 090 example, to achieve the best fit of curved track to fixed road bed, we first laid out the eight sections of 090 track.
This process was repeated for each of the five 180 degree curves, two 090, two 081, and one 072. John Blessing addresses this issue in one of his articles and stresses the importance of building your roadbed curves as precisely as possible. If we were starting today, given what we've learned about the "flexibility" of Atlas O Gauge flexible track and the impact of very high temperatures on HDPE, we would likely use a Trex-type product instead of HDPE in our climate. All in all, as we have secured track to our HDPE roadbed, some of which has been in place for eight hot and cold months, we have found our "bench work" to be very sound. Once we complete track installation and basic wiring, we plan to detail our track work with the installation of missing ties, painting of mounting screws, installation of turnout ground throws, etc. We do not underestimate the many wiring and TMCC challenges we face to wire the entire layout.
We hope our experience gives you some useful ideas and helps you plan your project more effectively. Fred Young's Ground-Level Arizona Railroad - A ground-level railroad that has lots of operational options and some unique ways of adapting to the Arizona summer sun. If you find something of value here, please "pay it forward" and help us keep the site operating by a secure donation through PayPal (PayPal account is not required), or by shopping with our advertisers. You visit a local hobby store to buy more, and you see a dizzying array of track that looks vastly different, all of it labeled O gauge.
Modern O gauge train sets come with easy to use "all-in-one" track (a definition of that below in "styles of track") that is great for beginners that don't have a table on which to run their trains.
Ask you local hobby shop about their opinions of the various track brands and styles available.
Don't worry about it unless you are buying "old-school" tubular track (see more about tubular track below).
This track has an integrated plastic base that is designed to look like a ballasted railroad roadbed.
However, Gargraves and Atlas track look more realistic when laid on a cork roadbed and ballasted, but that's also a lot more laborious than just clicking Lionel FastTrack or MTH RealTrax together. A lack of a sound-deadening material between either style of track and the plywood surface of the train table results in the amplification of the rumble of all those metal wheels on metal rails into a deafening roar.
Lionel's O gauge and O-27 gauge tubular track is made from tin-plated steel that is subject to rust if exposed to moisture. They both feature protoypical size closely-spaced wood or plastic ties that look much more realistic than the metal ties on Lionel tubular track. If you need to insulate an outer rail with Lionel tubular track (there are some reasons you might want to do so – we'll talk about these later), you have to buy and insulated track section, or perform a little track surgery to alter a regular piece of track. It has very realistic ties, and features a solid nickel-silver rail with a very realistic-looking cross section. You can also mate these tubular tracks to Atlas or the all-in-one style track with an adapter track. There is no single winner among the track types, however, as I said, for beginners, the all-in-one style tracks probably have more pros than cons.
You can use the flexitrack (flexible to any radius), but i'd recommend 2 - 3' radius is fairly tight!
All information, data, text, and illustrations on this web site are Copyright (c) 1999, 2000, 2001, 2002, 2003, 2004, 2005, 2006, 2007, 2008, 2009, 2010, 2011, 2012, 2013 by Paul D. Each manufacturer has a method of joining track pieces together, so to use track from different manufacturers often requires a special adapter piece. They all have pros and cons, so this is a good time to study them and see if you want to change. Also, the center rail on Gargraves' "Phantom Line" and Ross track has been chemically blackened to make it more inconspicuous.
Selective compression reduces the size of this equipment by uniformly shortening their length while giving the impression of being a full sized model. The table at the bottom of the page compares the variety of sizes of curved, straight and switch tracks offered by Lionel FastTrack and MTH RealTrax, as well as non-integrated track brands. Gargraves also offers track made from stainless steel that is not subject to rust if used outdoors.