09.01.2014
While I was renewing the water, i washed the dust off the shore and track by spraying on "wet" water (water with a small amount of alcohol mixed in).
Sign up to receive great DCC Tips and information about New Products, Pre-Orders, Sales, and Special Promotions. Google Ads are only seen by non-members of RMweb - Create an RMweb account and you'll only receive modelling ads. Last night, I applied some Woodland Scenics Realistic Water to my river bed and it turned milky or cloudy overnight, even though I only added a pretty thin layer as per the instructions.
The bottle I used was probably around 10 years old and I have used it before without any problems (so it had been opened before). As the river is otherwise pretty much finished, I dread the thought of having to rip it up and start again. You will find that it can go milky if the weather is cold or the atmosphere is damp when you apply it. I have found that if you apply it over a river bed which has pva glue in its composition, this causes woodland scenics water to cloud up initially, though in my experience, this fades away after a day or two. Interesting, I used the remains of some Realistic Water for my stream after I wasn't satisfied with the PVA I'd used before (about 4 coats). I have just applied Realistic water for the first time, and dried (I thought at least) poodles of pva glue on the river floor (that I had used to secure talus) turned white!! I had the "milky water" problem, which largely sorted itself out over a few days after application - luckily, as I was modelling a fairly narrow stream, I was able to hide the area that stayed stubbornly milky (and remains so) under some overhanging foliage. After all my certainty the the Realistic Water would all come good in the end, I have ended up with a mess beneath Victoria Bridge.
Does anyone have a more reliable method to pour water in one go (presumably a two part resin) to about an inch thick?
I have found any of the 'glues' used to make water, either start out white or can have a tendency to have a milky appearance for a while. Any water scene can be modeled using these products, including great waterfalls, raging rivers, still, quiet water and more. I have read in various places that this milky appearance will disappear with time, but I was wondering if any other RMWebbers had got the same milky appearance which then disappeared? It seemed to still be runny so I thought I'd use it again, but I'm thinking now that maybe this wasn't such a good idea. This state will stay but will only be noticeable during these climatic conditions and will disappear when the better weather returns. I wouldn't worry, your river looks excellent, if any cloudy ness persists just blame pollution! I had no problems, but I did put it on in about 4 layers of less than mm each over about a week.
Will post some pics when I get chance, but the "milkiness" of my Realistic Water has now pretty much disappeared.
The river was poured in four thin layers of the stuff, whereas the first three layers (with nothing in between them) went crystal clear in days, the top layer dried clear (ish), insofar as it looked much like Dave's river at the head of this thread. If there was a product on the shelves next week at Warley that people swear by for clarity, I'd be interested. They eventually turn clear, I quite like the milky colouring in some instances, and have attempted to copy this especially in the waterfalls i do.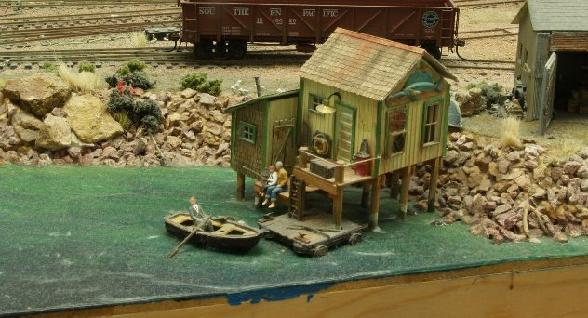 Create the illusion of water depth (before pouring water products) with Earth Colors Liquid Pigments. Realistic Water is self-leveling, water soluble, it wona€™t crack and has minimal shrinkage.
I think I've just about got enough depth to cover the bed and redo if absolutely necessary. Now that temperatures are falling again, I probably haven't chosen the best time to add the water, but I wanted to leave it to last in my scenic section so that it didn't get spoiled. This has meant the whole river has had to be peeled off, leaving a nice murky river bed, and the canoeists carefully rescued with a scalpel! Seal water area with Plaster Cloth and use only Woodland Scenics Earth Colorsa"? Liquid Pigments, Water Undercoat or 100% acrylic paint when preparing your water feature. Seal water area with Plaster Cloth and use only Woodland Scenics Earth Colors™ Liquid Pigments, Water Undercoat or 100% acrylic paint when preparing your water feature. Brush a little Water Effects on the back of the ends of the waterfall for adhesion and attach it to the area.Purchase the Scenery Manual for additional information on how to use the Landscaping System. For smaller bodies of water on a layout, the colors you see will be the mud near the shore and as you get into deeper water, the water will start to reflect the color of the sky (i.e.