12.09.2013
Set a Reminder and we'll send you an email when it's time to stock up on items you buy regularly or seasonally, like air filters, fertilizer or mulch. I know I've missed some important things like specifications for hardware and lumber in the plans.
Regarding the bed… have you planned some kind of flip-down wall-storage or something? Michael, I was inspired by another version you posted a picture of at one point, the 8×20 with dormers.
While we do love your 8×20 solar house, we really want to implement a loft for the extra floor space. I love dormers too and while they add a lot more complexity they also look and function great. You've read between the lines and have seen some of the method to the apparent madness of the solar house with gables. Here in Florida, the shed people have to keep their roofs heights low, because the law limits to overall transport height on the road. An interesting modification would be a collapsible peak, that could be folded for moving, and popped up on site. I left that out, but I think a utility closet accessible from the outside could be placed behind the toilet or shower. That is not an approach I've seen done, but have heard several people as the same question.
I don't think I would try it myself without carefully considering the specific trailer and how safe it was to skip the wood floor. I doubt there will really be much solar benefit to this as my house won't have much thermal mass. Comments are encouraged but please keep it constructive and do not make any direct attacks on other commenters.
If your comments consistently or intentionally make this community a less civil and enjoyable place to be, you and your comments will be excluded from it. The contents of this website are provided for informational purposes only and should not be construed as advice.
I can see how SketchUp Pro with the bundled presentation building software, Google Layout, would be a real time saver and would really improve the final output.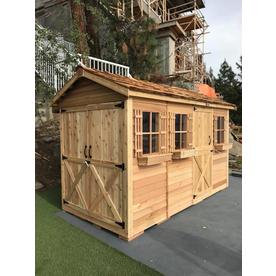 We are most likely going to go with a modified sonoma shanty design that adds dormer windows for loft head room and lighting.
And it seems easier to add dormers to the Sonoma Shanty than it would be to add a loft to the solar house, so we're leaning that way at this point. I have been busy the last few nights working on my Reburbia entry… but will definitely look into this Guggenheim competition too. I wanted to elaborate on some of the details but the night I posted this I was beat and skipped writing it all up.
I do have a few details left that need fixing like louvers, eaves, or shutters, and as you pointed out… some kind of thermal mass.
Actually if the toilet were a composting toilet (no need for water) the shower would make sense closer to the sink anyway for simplified plumbing. I really like your design, but I'm wondering, for people who are building somewhere other than where the house will end up, can a house this tall be transported? I'm not an engineer but I suspect the steel frame of the trailer would be sufficient as a floor since they are usually strong enough for the whole house.
Your drop down Murphy bed could serve double duty if you included some built-ins in its face.
In other words constructive critique is welcome, destructive mean-spirited judgements are not permitted.
In the summer – turn the mobile home so it faces north to keep things cool or build louvered shade surfaces out of corrugated steel to reflect direct sunlight away from the interior of the house. IE: on the kitchen end you could have a drop down butcher-block work surface and on the opposite end a drop down dining table.
I'm asking this so when it rains the water will run off all 4 sides and hit the ground not the cement. And since the Shakers hung their chairs on the wall, maybe a couple of wooden folding chairs could be stored flat between the two drop down tables…. If you finish this houses' interior walls with gypsum board it would make a great heat sink for winter and would help cool the house in summer. I know you said that you left hardware information out of your design so far but one thing that you might want to add that can be wood is some plywood gussets at the peak of your roof rafters.
This shed kit is big enough for your riding mower and still have enough space for all your lawn and garden equipment.
Frame the floor frame using galvanized nails, referring to the floor framing plan in the storage shed blueprints. Next, setup the joist clip angles at each joist across the 2 outer skids using galvanized nails. Mark 3 ?" long x 1 ?" deep notches on each of the 4 corner posts on the two adjacent inner faces of every post for fitting girts.
Refer to the front framing elevation diagram in the (shed blueprints 10×12) storage shed blueprints.
Get rid of the excess waste timber from the notch regions using a circular saw and finally finish cleaning up with the help of a broad wood chisel. Secure each post such it is accurately plumb, and then secure it to its foundation according to the base manufacturer's suggested fasteners. Check the length of the diagonals in the front wall frame to ensure that it is accurately square.
Setup die girts using adhesive and two 20d nails driven through pilot holes on the outsides of the posts. Cut out four 2 x 2s which will extend from the peak of the roof to the ends of the rafters. Set them up level with the tops of the end rafters as shown in the storage shed blueprints in the gable overhang detail. Setup the boards with each other, then check off and trim the outer pieces such that the door remains 36" wide.
Secure the 1 x 6 Z-bracing using adhesive and 1 ? " wooden screws, as seen in the door detail section of the storage shed blueprints. Setup the flashing on the outer side of the door and install 1 x 3 trim around both sides of the door opening according the door jamb detail diagram.

Published at: Storage Buildings
Comments »
AskaSurgun — 12.09.2013 at 12:27:30
Best safety is to encompass your hen house worth is low enough.
Tonny_Brillianto — 12.09.2013 at 22:16:23
More than 30 tools and could garden we have a number of bagfuls of potatoes, carrots, onions.