10.02.2016
4 acres of mature woodland and formal gardens with spectacular views over the Trent Valley. Here are a range of outdoor hard landscaping, patio and driveway related works we have recently completed, in and around the Nottingham areas. My first few years in our small bungalow are a little hazy but my very first vivid memory was in the summer of 1947 when I was just 2 years old. I clearly remember walking to meet my sister from Markhams Chase School through Blue House Farm.
In the summer months we used to stand on the fence at the bottom of our garden that ran beside the railway line waving at the steam trains as they puffed their way to Southend with a  cargo of excited holiday makers leaning out of the windows and waving back to us. Having grandparents, aunts, uncles and various other relatives all living close by life was very stable and cosy. Life changed in summer 1948 when we moved to a brand new semi detached house on the King Edward Estate. Our new property was built early 1947 but unlike the rest of our group in Powell Road, it was set back on the plot further than the neighbouring properties. When we first moved into the property my grandfather and father spent a considerable time getting rid of several oak tree stumps in the middle of the lawn near the house which had been chopped down to make way for the building. There are still several very large oak trees on the adjoining back fence line in both directions.
When we moved into the house that July I can remember riding round the house on my little bike going through the kitchen, hall, living room, dining room again and again in a circuit, great fun after living in a small bungalow. Not long after that my older brother took me to climb on the buildings in Briar Mead opposite our house where the flats were being constructed.
After the group of houses built at the bottom of Powell Road were finished the style of the properties changed so it is possible to plot which groups were added at each stage of  development. On the south bottom side of Powell Road there was an orchard, this was behind a small bungalow fronting onto Tattenham Road. When we first occupied the property the front gardens were open plan but due to popular demand fences and gates were added making it safe to play. The area that both adults and children used to haunt on the estate was the onion field, this was near the top of Powell Road on the west side of Devonshire Road.
The playing field had a path running around the perimeter of the area with the pavement running diagonally across each corner of the field and later a layby in King Edward Road. 1961 My dog Rex in front garden by the Hawthorn sapling - Small white bungalow near where the orchard use to be is on the right at junction with Tattenham Road. Like many of the local children we spent our days roaming across Laindon exploring the area. I recall walking to Victoria Road, pond dipping at the "Lily Pond" for newts, walking along the unmade section of Devonshire Road on the duck boards and playing on the swings at the "Little Rec" which was situated between Victoria Road and Worthing Road where the prefabs were built around the playing field.
1961 Mum playing with Rex on field with Cromer Avenue Left hand side in distance with row of garages.
Hi Patsy, yes I do remember all those names, I do recall that Terry Venner was a bit of a hero to us first years on the sports field especially on the evening of the 1959 sports day at LHR when I think he took part in the mile race, or one of the other longer distance track events.
As for Geoff Cochrane, a nice boy, I was in his class in my first year 58-59 then I moved up but always used to chat with him now and again.
If you're already a registered user of this site, please login using the form on the left-hand side of this page. In Burton Joyce, turn off A612 (Nottingham to Southwell rd) into Lambley Ln, turn L onto private drive to access gardens. We do often also consider and deliver works outside of the Nottingham areas on a regular basis.
The path across this pasture was a raised walkway sloping away each side to the fields where cows were usually grazing. We were not far from the station so the engines were still going slowly building up steam for the journey ahead. The new development by the Billericay Urban District Council  started about 1945-46 with the first houses being built in King Edward Terrace then the groups of semis at the bottom (High Road end) on the newly constructed roads of the estate.
This may indicate that it could have been built earlier together with the first houses at the entrance to the estate being of the same design. The derelict land in Roberts Road where these trees are growing has been earmarked for development.
Only a few weeks after we moved in I went to the toilet upstairs by myself dressed only in my little white cotton vest on getting out of bed (it was high summer) I started fiddling with the lock on the inside of the door. The walls were just emerging from the foundations and a stack of Crittle metal window frames were piled ready for use.
If I remember rightly Mr Tanswell was the chairman, my father was the secretary and together they arranged all sorts of activities for both the adults and children.
Most families were proud of their new homes and many planted privet hedges, most of the original bushes that my father planted are still there, not bad after 64 years.
The top end (west end) could have possibly been used temporally while construction continued for storing building materials etc.
A fancy dress parade was planned and I asked my mother if I could join in but making costumes was not her thing, I remember looking out of our landing window at the festivities looking at the children all dressed up in their colourful clothes and listening to the music. In those days Powell Road & King Edward roads were narrower with grass verges between the paths and roads. Days out on our bikes armed with a picnic to pick bluebells in the woods bringing home bunches of poor drooping flowers to give mum, playing at the "Big Rec" at Langdon Hills which seemed such a long way for my little legs.
These are fond memories but we must just be grateful we were able to have such freedom and an area of countryside in which to play and learn. I lived two doors from the Austin Family and remember the Venners, the Theobalds, Cutlers, Hills, Davies and Lewis family - have memories of get togethers on Bonfire night! So many kids on that King Edward Estate, including of course Gloria and Freddy Sewell and also the Pound Lane Estate where I had many friends as well. The company is based in Nottingham.With state of the art computer software and fully qualified staff, the company is able to offer a professional architectural service to clients. My sister who was nearly five years old at that time tells me that when she first saw me at a few hours old she exclaimed "She looks like a little red monkey". I wanted a pair just like hers but the shops in the High Road only had a tiny pair of brown gym shoes with black rubber soles in my tiny size.
They seemed so huge and although being reassured by my mother I was always frightened of them and to this day am very nervous of these bovine beasts. In those days when houses were completed they were left empty to "dry out" for six months before being occupied. Our house appears to have been built straddling the line of two old field boundaries (one semi each side of the north-south line) as the back garden fence line between the adjoining property deviates by a considerable amount impeding over our neighbours garden on the east side.
Several years ago when plans were submitted for flats to be built we were concerned about the loss of the mature oak trees. I fell and cut myself, I was very lucky, the injury just missed my eye so things could have been very different. Later the grass areas were removed from Powell Road and widened to accommodate the larger volume of traffic using the area. As Patsy was at LHR around the same time as me I wonder if we could look forward to some more of her detailed memories of that time including teachers, sports days whatever, that would be great - the good and the bad are always equally interesting.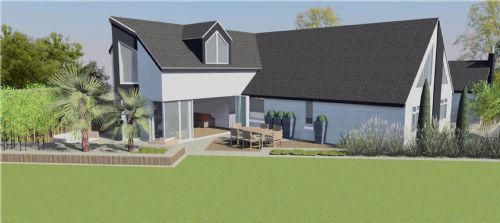 The service is intended to be friendly, informative and inspirational, enabling clients to get the best result for their project. As my family will testify even now as an adult I have been known to break into a trot then a hasty jog when out hiking when confronted by a field of cows, much to their amusement.
Our house in Powell Road together with only one other on the estate have "Hip Roofs", all the rest are "Gable ended". We always wondered at this anomaly but as we have discovered from an old map we acquired some time ago, it became clear and logical why the fence deviated, it was following an old field boundary. I locked myself in so my mother in a panic ran across to the builders working on the flats in Briar Mead telling them her daughter was locked in the toilet and asking them for help to free me and to hurry as she was cold only wearing a vest, they readily agreed. The bottom end (east side) opposite our house was a grassed area very early on as we played there most of the time. Also recollections of the school children's names in Powell Road and King Edward Road would be good to jog some memories.
Our house was white pebble dashed like the five double semi detached houses in King Edward Road. They picked and hacked at the door lock while I shivered with fright and  pulling my little vest over my knees crouched beside the toilet crying my heart out. I know that John Austin, Michael Venables, Geoff Cochrane, Micky Yates all came from that area.
The range of services offered depend on the particular project and how hands-on the client wants to be. The other hip roof was Councillor Tanswell's house in King Edward Terrace but this was left red brick like the rest of the houses on the estate. When they eventually broke the door lock they fell about laughing as apparently they were expecting a much older "young lady" so they were a bit disappointed to be confronted by a three year old and not a comely wench.
It was BUDC land and they were very strict  on what tenants were allowed to do to in and on their property. Below are the services John Morris Architects can provide:- Site appraisals and brief development.
The challenge that we set them was to improve the use of our living space with consideration for a growing family including three young children. My wife and I had some vague ideas of what we wanted however the expertise, creativity, and knowledge provided by John Morris has transformed our brief into the vision of a dream home.
Regular meetings with the team have helped to forge a strong working relationships and we feel that John Morris really understands what we are trying to create.
John spent time listening to our ideas and transformed them with his own innovative solutions and a unique twist that will give us a truly original home. It was the first time that we have used an architect and we found that the use of John's services were paid back both in terms of the savings that he was able to identify through excellent contacts and helpful advice as well as the added value for the house. We cannot recommend John highly enough for anyone looking for inspiration to transform their own home.
After a couple of meetings with each of them and John's initial concept design, we found it very easy to make our choice.From the design process through to the planning application and through to the start of the build, John has worked closely with my wife, daughter and myself to ensure that the design meets all of our needs as well as 'blowing us away'.
Published at: Backyard Shed
Comments »