24.12.2013
With a fairly impermeable insulation like polystyrene a vapour barrier is less of an issue.
If you are still interested in panel insulation then you might add these guys to your list. Hi guysHaving put the insulation in and paneled over it a few weeks back, I have finally managed to get back in the shed to give it a lick of paint. Just to add, I have only actually insulated half the ceiling so far and the joists on the half without the insulation, are dry.Could it be that the visqueen is inviting the water from the air to sit there. Just a thought from someone who knows nothing about anything!I remember on a thread some time ago from a guy who has now left the forum it was mentioned that it is important that the vapour barrier is fixed on the inside of the insulation - OR IS IT THE OUTSIDE! Hi when I did mine I put a waterproof breathable membrane on the outside then the cladding.
Will that not still attract condensation to sit on the barrier and make the ply wet rather than the roof? This workshop was built to my exact requirements for the purpose of housing and maintaining my collection of motorcycles.
We don't have much choice on the isle of wight.Galaway, thanks very much for taking the time to do that for me.
I am a bit concerned that the membrane and vapor barriers will be sat against the insulation and interior and exterior walls. But if you fit a vapour barrier (aka polythene) make sure it's on the warm side of the insulation.
If it was a domestic setting where you are trying to maintain a constant level of heating (say 16 degrees) then the risk of condensation would require a vapour barrier.
I think looking at the maths you have done, and considering just the four walls for now, polystyrene is only ?30 more expensive than the loft insulation and probably represents better value for money.
If they get wet which i guess they will if they are acting as a barrier, surely everything else will get wet? In a shed that is only going to be heated for two or three hours every few days then I don't think the risk of condensation is very high. Whilst it it is better than nothing, if it catches fire - screwed is putting it politely.2.
Polystyrene is waterproof and I don't think it's thermal performance is affected if it gets wet. I will probably also use this on the floor and roof though for this weekend, that will keep me busy.
The problem of installing a vapour barrier is that it needs to be airtight when you are finished.
All the joints and where it has been stapled to the studs have to be taped up to ensure this airtight finish (including where it meets the floor and ceiling). If I use this between the exterior shed walls and the polystyrene, will the polythene not gather moisture, thus making the insulation wet?
In a timber frame house it's a right PITA to do it… so in a shed I don't think the barrier will stay airtight very long (fixing shelves etc to the wall).I would keep it simple, 50mm polystyrene and your ply.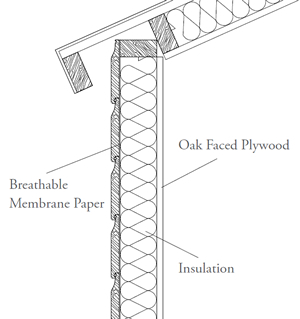 Published at: Small Shed For Sale
Comments »