How do you make technical presentations without confusing people and putting them to sleep? How do you present technical information in a way that wins people's attention, respect, and cooperation? I find that technical experts, with a little guidance, are quite capable of giving very effective presentations. This symposium will cover all aspects of the development, production, behavior and integration of superalloys, and related high temperature materials, into gas turbines for aircraft, power generation and other applications. Papers will be presented on cast, wrought and powder superalloys and associated coating systems.
Papers on current trends in customer requirements, and the latest response of the superalloys community to customer challenges, will be highlighted. Authors may view this sample electronic version of the 'best poster' from the 2004 Superalloys meeting. All accepted papers will be published in the proceedings, Superalloys 2008, which will be distributed at the symposium in both hardcover book and CD-ROM. Audiences have limited attention spans, and they hear only about one third of what you say.
Explain technical concepts that are unfamiliar to your audience by likening them to something that they do understand.
Never get up in front of an audience without 1) knowing what you're going to say, and 2) having said it aloud in practice at least once. How much do they understand about your field and the background of what you'll be addressing? Ask yourself what you want the audience to do as a result of attending your technical presentation.
Unless you know that everyone in your audience understands exactly what you're talking about, explain it as simply as possible.
An analogy draws similarities between two different objects; it does not assert an exact identity. He works as a speech and presentations consultant, an executive speech coach, and an orals coach.
You may, for example, present an update on your technical project (that's your one idea) that develops three main points (the progress you've made so far, the main problems you're currently facing, and the next steps you'll be pursuing). Do not stand off to the side of the room in darkness and act as if you're simply the soundtrack to your slides.
If you can't remember how one point leads to the next, your audience will never understand or remember. People should be able to read it as they walk past approximately 2 metres away – hopefully they will stop and look at the whole poster.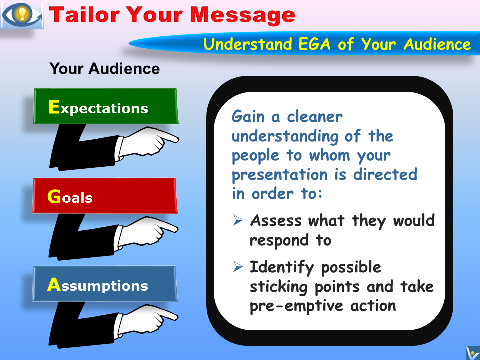 Check out Bruce Gabrielle's Speaking PowerPoint: The New Language of Business for ideas that will change how you use PowerPoint. All text must be big enough to be read from at least one metre and should be in a simple font that is easy to read.
Ensure pictures are large enough and that the quality is still good if they are enlarged for the poster. Ensure the sections of text and illustrations are set out logically, so that it is clear which part should be read next. Numbering sections may be helpful.If you are using colour, ensure that text will stand out clearly against any background colour and that pictures, diagrams, text and background colours are well-matched.
Lack of consistency in, for example, font sizes or the size of gaps between sections, creates a bad impression.