The first post summarized how one can manage multiple environments (development, staging, production, etc) using a Git repository with a branching strategy. Not everyone wants to use Git, and most would prefer to stay in their favorite IDE – Visual Studio 2012 – all day to do pretty much everything.
My buddy Sayed Hashimi told me about Visual Studio profiles a few weeks ago and I'd been wanting to write up something on how it could work with Azure Web Sites.
This post follows up on the idea of managing multiple Azure Web Sites, but rather than do it with Git, I'll show you how to manage multiple sites with only Visual Studio's awesome publishing-with-profiles features.Set Up the EnvironmentsThe first step in the process is to have your multiple sites set up so that you have environmental isolation. In this case, I'm being thorough and requiring there are two gates prior to production release. All three of these sites are in the free zone, for this demonstration.If this was fully realistic, the production zone would probably be at least shared or reserved, so that it had a domain name mapped to it.
That's the only site that would cost money, so the development and staging sites would have no impact on the cost I'll incur for this setup.Once the sites have been created I'll go into each site's dashboard to download the site's publish settings profile.
The publish settings files will be used from within Visual Studio to inform the IDE how to perform a web deploy up to my Azure Web Site environment.Once I've downloaded each of these files I'll have them all lined up in my downloads folder. I'll want to use different databases for each environment, so I'll need to have three different connection strings each site will have to be configured to use for data persistence.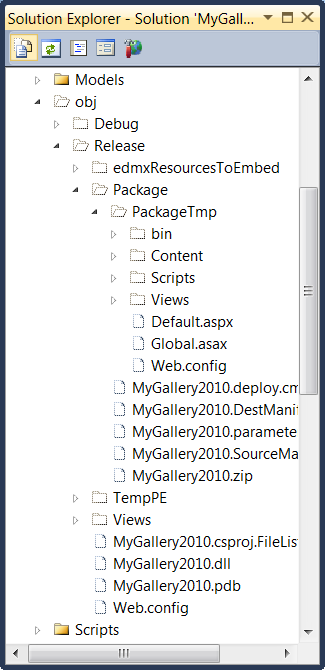 I'll click the Profile link in the navigation bar at this point one more time, to go back to the first step in the wizard.
If, at any point during this process you're asked if you want to saved the profile, click yes.I'll repeat the import process for the staging and production files. The idea here is, to get all of the publish settings files imported as separate profiles for the same Visual Studio web application project. The dialog below should open up, which will show me all of the profiles I've imported.This part isn't a requirement for you or a recommendation, but I don't typically need the FTP profile so I'll go through and delete all of the *FTP profiles that were imported. Again, not a requirement, just a preference, but once I'm done with it I'll have all the web deploy profiles left in my dialog.I'll just click Close now that I've got the profiles set up.
This folder is where the XML files containing publishing details are stored.With the profile setup complete, I'm going to go ahead and set up the configuration specifics for each environment. This setting will be specific per environment, so I'll use the transformation files in a moment to make sure each environment has its very own welcome message.This is the message that would be displayed to a user if they were to hit the home page of the site.
Speaking of which, let's wrap this up with a few deployments to our new environments!DeploymentThe final step will be to deploy the code for the site into each environment to make sure the profile configuration is correct. This will be easy, since I've already imported all of my environments' configuration files.
I'll deploy development first by right-clicking the project and again selecting the Publish context menu item. Since the profiles are linked to the configuration transformations explicitly, it all just works when I deploy the site.Release ManagementAs promised earlier in that blockquote up there, I want to stay with the "these are real world scenarios as much as possible based on my real-world experiences and questions I've been asked" mantra, I feel it's necessary to get into the idea of release management insomuch as how it'd apply here.
In this example, I'm not using any centralized build solution, but rather assuming there's a source control environment in between the team members – developers, testers, release management, and so on – but that the whole team just chooses to use the Web Deploy awesomesauce built into Visual Studio.Think of a company with aggressive timelines but who still take care to gate releases but choose not (for whatever reason) to set up a centralized build system.
Later on, I'll follow up this post with an example of doing this sort of thing using Team Foundation Services.Hopefully, you have enough ammunition to get started with your very own Azure Web Site account today, for free, and you feel confident you'll be able to follow your very own release management process, without the process or architecture slowing you down. From time to time you might catch me talking about my wonderful family and blessed life or my attempts at being a musician.The ideas and opinions on this site are all mine and don't reflect those of my employer or teammates.