I know this is not meant to be used with other manufaturer's speakers, but boy is it tempting. His talent for the nuts and bolts of fashion design, his technical skill, is on full display from the outset, as beautifully tailored jackets and items made from feathers and slashed leather are shown in the simplest room of the exhibition.
It is testament to the curator Claire Wilcox's ambition and talent that the exhibition goes beyond the clothes and into the mind of this beguiling artistic genius. Things then go up in scale, as you enter the central Cabinet of Curiosities, where pieces are piled so high up on four walls that it is impossible to take them all in. A middle room gives a sudden changes of pace, as Kate Moss is conjured from nothing into a twisting, angelic figure, clad in flowing white silk, before contracting back into an exploding star. It's good then that you are thrust back into McQueen's world, with his Japanese-influenced works set upon twirling mannequins, set deep in mirrored alcoves. Finally, McQueen's natural designs are given a clean space, with singing birds in the background and hand-stenciled walls of flowers, birds, babies and skulls (nature and death are McQueen's most enduring, interconnected themes) giving the backdrop to an astounding dress made from silk and dried flowers and a gown made of lacquered razor clam shells. It would definitely look less redneck.I actually picked up the clutter after this shot.Got so many dvd cases, decided to just stuff them in an album and chuck the cases! It would definitely look less redneck.I think I see some fish food sitting on that shelf too. It was only an hour ago I was setting up my ERT 6.3 and wondering why there are no feet for it and how the heck can I make it tilt up and look good without scratching anything.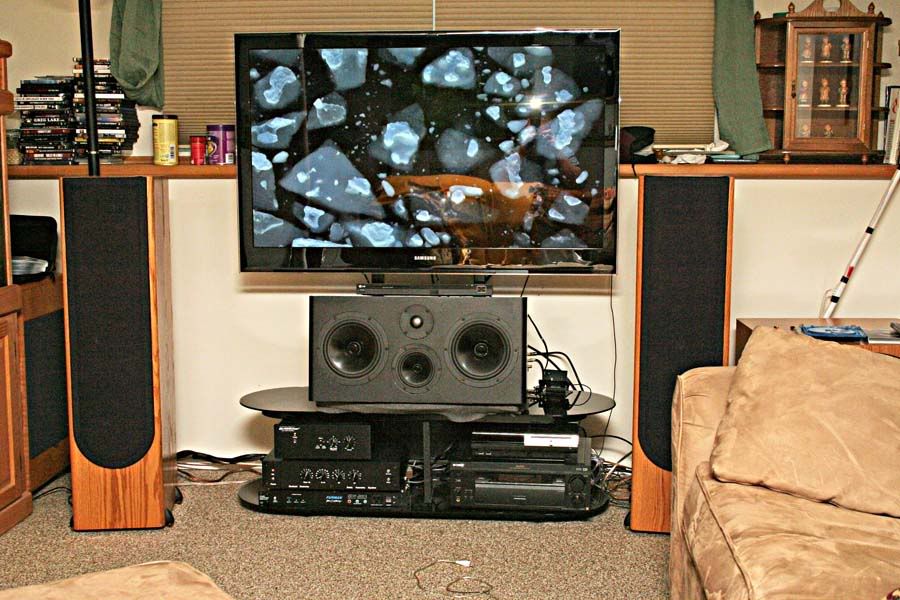 I have a Thiel SCS2 center channel that is probably a bit too deep that I have angled downward on my TV using felt pads in the back and small clear rubber feet in the front to keep it front sliding off. It starts where McQueen did, in London, where his father was a taxi driver and McQueen learned the tools of his trade at Central St Martins and on Savile Row. The only hint of what's to come is McQueen's unmistakably cockney-accented voice, disembodied and echoing around the room.
The clothes should be dancing around a Victorian masquerade ball, seen through the prism of McQueen's imagination. Here you get to see many of the famous accessories, including headgear made by Philip Treacy into a mesh of Swarovski crystals, a crown of butterflies and a hand-carved wooden Japanese garden.
It's a neat piece of hologram work, but it doesn't quite fit within the greater context of the exhibition. The twinkling music and twisting figures gives the impression of walking into a Japanese music box.
It is a tribute to McQueen's last show, Plato's Atlantis, and is the coalescence of his creative genius. We promote London and attract businesses, events, congresses, students and visitors to the capital.
You don't fear the term "oxygen debt", you don't mind getting mud on everything, and you've occasionally mistaken the ringing in your ears for cowbells.
Actually works and is well hidden.I wonder though if one could place the deeper Thiel on the stand with the front of the speaker against the raised lips and just have it overhanging the back of the stand? You are soon plunged headfirst into the darker aspects of his psyche: a cave of bones and skulls feels like being taken underwater, where clothes inspired by African tribes are displayed to the sound of beating drums. Here are the magnificent tartans and Victorian ball gowns that draw upon McQueen's fascination with British and Scottish heritage. Your attention is drawn from all angles, particularly by screens showing clips from McQueen's theatrical catwalk shows. Fashion, music and video installation combine for a fitting finale to a show that leaves your eyes delighted, your ears ringing and your head spinning.
Models walk on water, dance like puppets and are engulfed in flames to the thump of dance music. This race-ready cross machine will satiate your needs with an agile UHC full-carbon frame and tapered fork that hold your line, damp the ruts, and leave you feeling fresher than ever when the bell lap tolls. Tacky Vittoria tires give you serious grip and Felt's aluminum components round out a ride that's ready for prime-time domination.