November 1972: SMC Jon Hancock on the light to our LCVP's in the waters off NAB Little Creek, in Chesapeak Bay VA.
The amphibious transport dock ship USS Coronado (LPD-11) coming up alongside to port for UNREP. USS Barnstable County heading West towards Palma, Mallorca in the Mediterranean Sea, Oct 1974.
These seas went on for hours and was the first and only time I puked while onboard the Barn. Enginemen Lunn and Hottel (ballcap) keeping watch in Engine Room #1 while underway in the Med, 1982.
Nice aerial view of USS Barnstable County (LST-1197) underway in Chesapeake Bay - June 1987. Members of the USS Barnstable County Softball team - Circa 1987, down in OI berthing compartment. The BARNSTABLE COUNTY was the 19th of 20 Newport (LST 1179) Class Tank Landing Ships (LST) built for the Navy.
She was named in honor of Barnstable County, Massachusetts, and its county seat, the town of Barnstable. This page contains a series photographs from various Caribbean deployments by the USS Barnstable County (LST-1197).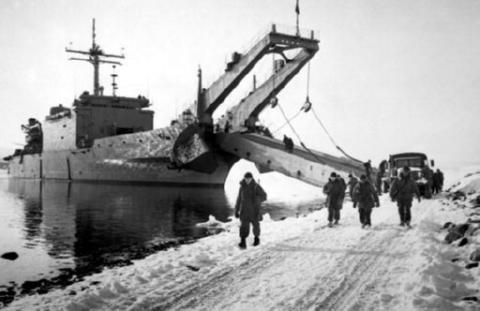 Interesting shot of the famous "El Morro" castle as we were entering the harbor of San Juan, Puerto Rico - Circa Feb 1975. Standing at the base of the bow stem when LST-1197 was in drydock at San Juan, Puerto Rico. Standing next to the ship's starboard variable-pitch props while in drydock at San Juan, Puerto Rico.