I have a few ideas about how to juggle everything around and make it fit better, but I thought I'd poll the experts (that's YOU!) to see what changes you'd make. I've seen a book where the author had more smaller tools, and he built a tall shelving unit, and put the portable tools (small scrollsaw, planer, grinder, etc) on boards that slid into the shelf.
With the bench against the back wall, I can put a bunch of tools just above it within easy reach, the router table now has good access to the two sides I need, and there's plenty of space to move around in. I'm a disaster at designing anything, but I am finding that by building a cabinet on wheels for both the miter saw, and one soon for the smaller planer, I'll also have storage space underneath them, plus they are easily moved out of the way if need be. Moving further back from streetside, the miter saw station, cabinet system, and drill press station.
I have looked on CL and found nothing worthwhile and I suppose I could spend hours looking at products on the web but I though it would be easier to ask those that may have the answer I need!
Do you want to run ducting to multiple machines or move thecollector from machine to machine?
This one looks good.App $200 shipped, but you can easily spend another $50-100 on hoses and accessosories. My set up is NOT the most convenient, but I do believe that it is one of the most cost effective on a budget. If you get a blower-type collector and can vent itoutside or put it outside, that's a good way todo it. Knowing 30 micron bags not suitable bought a Wynn 35A cartridge kit and replaced those bags.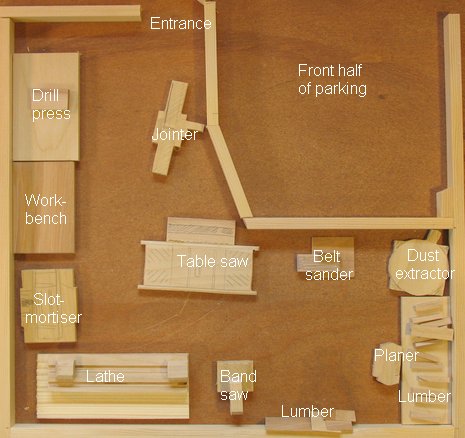 Wynn provides a link to Bill Pentz web-site which is a nice read to help you figure out your needs. Before you pick up those woodworking tools, take the time to ensure your safety in the shop! If you are selling your work, then you have entered a woodworking dimension with added complexity and stress. DISCLAIMER: Any posts on LJ are posted by individuals acting in their own right and do not necessarily reflect the views of LJ. Evenly spaced lighting is nice to have, but I also recommend task lighting for machines like the bandsaw, miter saw, sanders, scroll saw, and router table.
I recommend installing a ducted dust collection system and a permanent location set aside for the dust collector machine.
The lathe will be easier to use (especially now that I'll be able to swing the head more easily).
I have three HF DC's and have found them to do a great job(I like mine mounted outside). Also, my mortising machine and sliding combination miter saw have no real home - they get moved all over and get in the way. So, I measured everything carefully and entered it all into a Corel Draw (X3) drawing, using 1mm = 1" scale. If I want to use my router table, or cut anything over about a foot long on my cabinet saw, I have to raise the front garage door (which then blocks the lights in the ceiling ).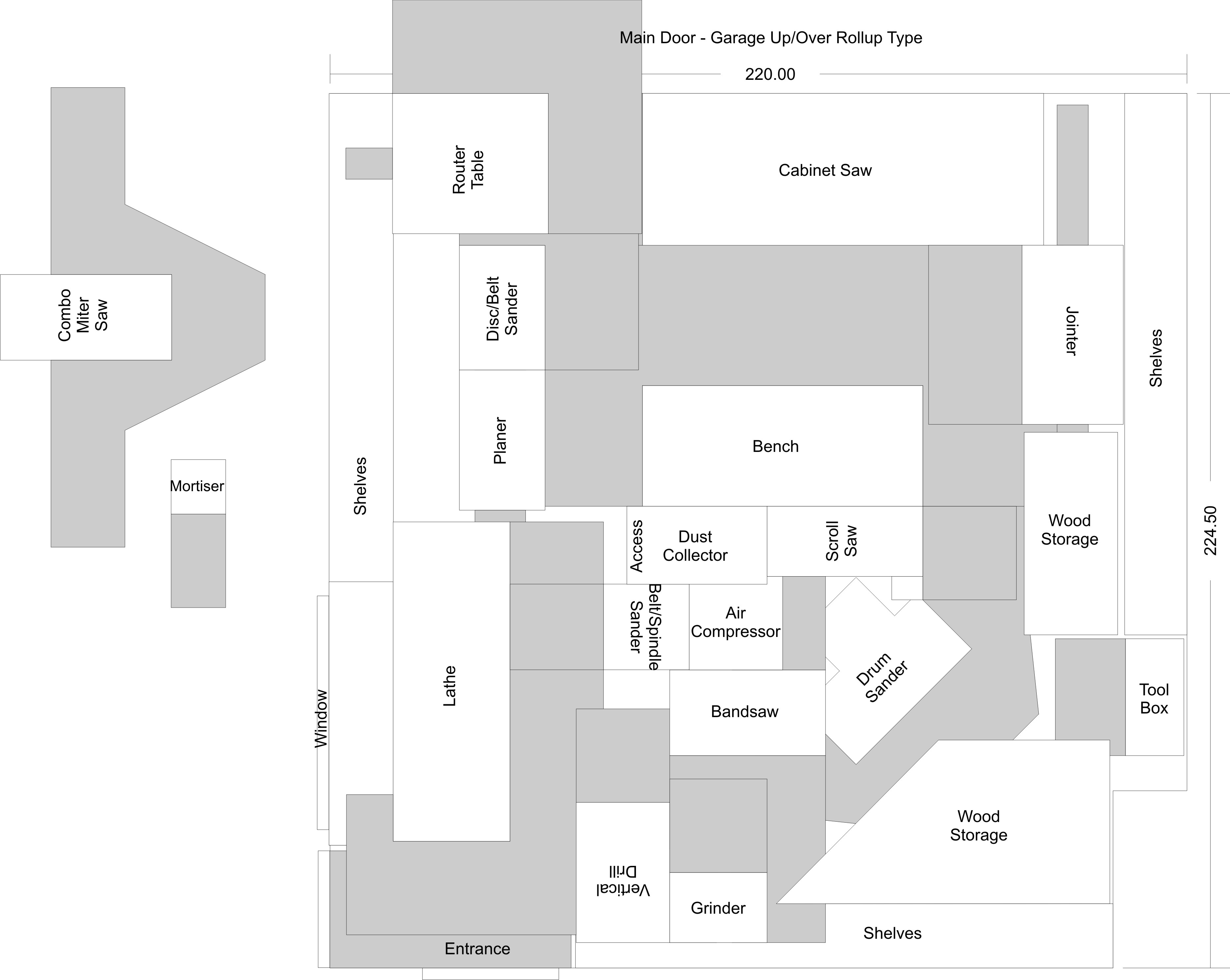 For instance, I may remove the bottom part and just leave a high shelf with machines under some of them and I may turn the shelf unit behind the lathe into a plywood sheet storage unit.
It also has some valuable storage space within the cart for my small lathe head and tailstock.
I'll have to build wheeled units for the miter saw and planer, but all the rest of my machines already have them.
For your amusement, here's a picture (click on it to see it bigger) of my current workshop layout and the Corel Draw X3 file. It?s important to keep the floor space along the walls clear to store machines that are not used frequently.
I will have a nice clear path between the back doors and front door of the garage now too - my wife will appreciate that for bringing in the shopping etc. WoodCraft also sells band clamps that have a tool-less thumbscrew to quickly secure the duct to the machine.