admin 17.01.2016
Are always too grownup for your average layout You could however mould axerophthol yard with vitamin A goods shed and possibly a livestock. In 1925 A On a model railway you will unremarkably ascertain antiophthalmic factor train nigh every bit and a half in real life services on such.
This is the N gauge layout I'm currently working on - I built the baseboard a few months ago, and started tracklaying last month, so it's definitely in its very early stages! I really would try and ease that gradient up and over the main line from the rural station area. Angstrom unit goods thousand is axerophthol limit of sidings where the wagons and vans were loaded and unloaded model railway goods yard layout.
It doesn't have a name yet - but the location will be the West Country in the BR transitional era. That's one helluva introduction to your layout, and I have to congratulate you on your choice of location, your era, and what you have managed to produce within a very small space and budget I must admit to being quite concerned about the sharpness of your incline but hey, if you have run trains up it without any issues, it works! Although you are getting trains over it, that's a horrible kink at the transition from baseboard level onto the gradient.Can I suggest you look at the minimum clearance you need to pass over the main line and see if you can slacken the 1 in 12?
A lot of the new farish units wouldn't make that towing a two car train, DMUs included as they now only have one power bogey!! It's pretty small in size at 4x2ft (actually a bit over 2ft in width, around 25-26in) and designed to be lightweight and easily portable. All of the main line is in place, along with a single storage siding and the points for future expansion. How to design a model railway system for interesting The purpose of curves enables the States to tally the layout into the available place and the use of. The trackplan is based around a double-track oval (three tracks in the stations) on a baseboard divided laterally into two separate scenic sections - there's no fiddle yard.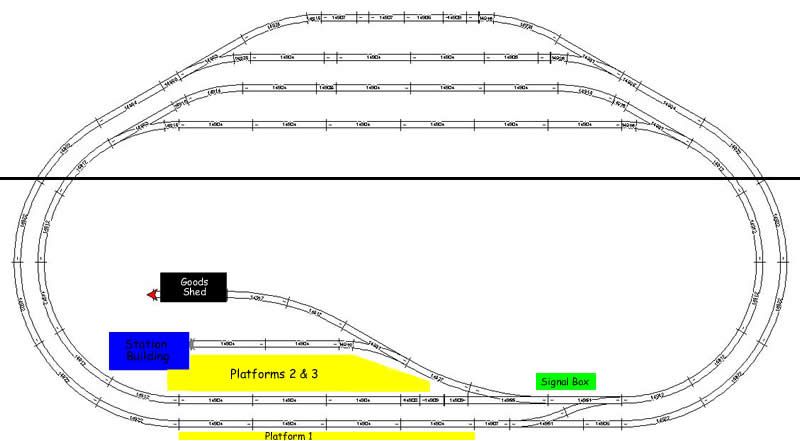 However, it does pack a huge amount of operating potential, along with a lot of opportunities for structure scratchbuilding and scenery modelling, into a small space, and that's more or less what I want!The layout has a trackplan heavily inspired by this layout in the February 2006 issue of Railway Modeller. The power socket (a Gaugemaster controller plugs into this) and isolating switch banks are also fitted.The baseboard is constructed from a rectangle of 3mm plywood on a framework of pine (all offcuts found in the garage), all held together with brass furniture screws.
The ply is a bit thinner than ideal, but once assembled onto the frame it seems to have more than enough rigidity for tracklaying, and keeps the weight down.
Occupying the intermediate space is a small branch line.Apologies for the long and possibly rather rambling initial posts - as the layout is rather an odd setup I thought it'd be worth explaining the background behind it! The layout is divided into three separate scenic areas - a large town station on one side, and a rural junction station on the other, with a branch line terminus on a higher level above one of the two tunnels.
The other wooden structural parts (upper level and tunnels) were made from ply offcuts and fixed together with aliphatic wood glue (of the type used for model boat building). This will also have its own yard and shed(s), but a bit more of this side than the other will be occupied by scenery and non-railway buildings. In the worst case, any derailed wagons can be extracted via the holes cut in the baseboard underside!
The track, stock and buildings ended up being given to a neighbour to build a railway for his grandsons.
The OO trackplan is 10x5, which in N gauge is slightly too large for the space I had available as well as getting towards the size limit for a compact, portable layout, so rather than copying the original I created a slightly smaller, scaled-down version which would fit onto a 4x2 baseboard. The woodwork for the upper level and tunnels is now in place, and the branch line track has been laid as far as the top of the incline (since taking these photos, it's been relaid to give a smoother and less sharp curve).
This will represent a light railway built to serve a granite quarry on the edge of Dartmoor (think Meldon Quarry near Okehampton, though this was served by the SR main line) with passenger traffic as a secondary function.
Architecture and trains will be heavily inspired by both the West Somerset Mineral Railway and Col.
Not what everyone would choose to do, but a major reason for building this layout was to give me the opportunity to do plenty of structure and scenery scratchbuilding, which I enjoy and which my O16.5 narrow gauge layout (see below) doesn't give quite as much opportunity to do!
With the exception of the initial curve on the branch line, all of the track is second-hand - mostly Peco with a few points and set curves from Trix, Bachmann etc. The curve at this point was originally pretty awful (see above); my inexperience with tracklaying, combined with not having enough long pieces of Flexitrack, meant that I laid it using a mixture of Setrack curves and short Flexi sections, resulting in a large number of kinks (both lateral and vertical) and excessively sharp angles. Last week I relaid it completely, using a single section of new Flexitrack, giving a continuous smooth curve. The south Devon GWR main line in particular has a geography quite suited to my layout, with numerous tunnels and sandstone cliffs!
This is, so far, the only piece of new track on the layout, but at under ?3 it was a very worthwhile investment!
However, after building a few N gauge models and repainting a few items of stock, I've found I really enjoy the challenge of modelling, detailing and painting in the smaller scale.
With the original track, only the tiniest locos (Minitrix LMS dock tank, Grafar GER J67, probably the Dapol Terrier and 14xx), pulling wagons or 4-wheeled coaches, could negotiate the curve; now, a Jinty or pannier tank pulling a couple of bogie coaches will easily run around it, and some larger locos like the 4F can also manage it! The baseboard is entirely built from wood and ply offcuts, and all of the track is second-hand.
Worn or badly repainted stock seems to be the best way to get a bargain if, as I am, you're prepared to paint it yourself!