admin 09.11.2014
The most comprehensive set of fantasy maps belongs to Andrew Lynch, better known as the creator of Vanshnookenraggen. Of course, a subway system that looks like this would have required foresight years ago and tens, if not hundreds, of billions of dollars today. Anything that can highlight expanding mass transit to the airports and new developing hubs around the city outside Manhattan is key and none of the current batch of mayoral candidates appears to have the slightest interest in thinking big and standing behind even the most modest of your suggestions (like the LGA connections). How about running the 5 down to Sheepshead Bay with longer runs between stops than is typical to the rest of the IRT and running the 2 along Flatbush Avenue to hook up with those Utica Avenue Trains at Kings Plaza? It would be nice too if the 5 went express from President Street to Church to Brooklyn College, too.
Also, I wonder why not run the J through the Montague tunnel and then down 4th Avenue, as a local, keeping the D express, then diverting it along the proposed T route to Coney Island? Express service along the Culver Line would be amazing … isn't there a third track?
Finally, I've always wondered what it might be like if they criss-crossed the 2- and 5-trains along the Grand Central Shuttle route. From the standpoint of tunneling, once the TBM is mobilized, it makes relatively little difference if it's tunneling deep under your roadway, or deep under a waterway. Actually, the only thing I can actually find feasible with the 2 and 5 is an express 5; however, they would have to tunnel somewhere underneath the existing tracks.
I see where you're coming from – the IRT in general has stops that are way too close together – but there is HUGE ridership potential on Nostrand south of the Junction. That also depends on your destination; the way you phrased that, all destinations can be reached just as easily with either train like the A and C between Euclid Avenue and 168th Street. If and when Phase IV gets into play, expect Nassau Street to become a serious alternative again. The problem with the Quinn RX plan is that it tries way too hard to do way too many things. In a sense, you almost can't be wrong about a circumferential line in the outer boroughs.
Even some more sensible transportation advocates need to shake the misconception that buses can replace trains.
The events following the flooding of the subway tunnels after Sandy should have disabused everyone of the notion that buses could replace subways, even on a limited basis. There is definitely a need for an additional line into upper Manhattan from Queens, but as I would do it, I would have that line be part of the SAS with a stop on 79th Street at York-1st Avenue before going into a lower level of the 72nd Street on the SAS and from there either able to go with the (Q) across Broadway or down 2nd Avenue with the (T).
I would also do a full rebuild of the Atlantic Avenue (L) station to the old six tracks and three platforms because that station can become a terminal for a shortened (L) line while a Broadway-Brooklyn line takes over the running from Atlantic to Rockaway Parkway from the (L), allowing the (L) to focus on the more heavily used portion of the line.
I also like your idea for rebuilding Atlantic Ave station on the L but not for the reasons you pointed out. I suspect this would be a very popular second Crosstown line that would absorb the Franklin Shuttle (as this Myrtle-Brighton line would run through the full Franklin Shuttle route) and eliminate the need for the late night (M) shuttle since it would run along the full route of that shuttle (though the (M) shuttle would run on weekends since it will starting next year be running to Essex Street then). With what is likely coming with a re-zoned Midtown East, I suspect that PLUS a full SAS are going to be necessary to handle all the new people who will be working there and also living in what are already very densely populated parts of Manhattan. I'd be for taking 3rd Avenue out of automobile service, altogether, building light rail on the street surface and dedicating the outer lanes to SBS. Unless you can build them of invisible materials, nobody wants it blotting out the sun down the middle of an inner-city street – even a very wide one.
I hadn't thought of the alongside or atop highways possibility, though I should have, having been in Los Angeles, recently. I agree putting it above an outer borough avenue isn't going to happen, or on the edge of an outer borough park. Now consider that with the same level of exercise as walking, one can travel three times as fast on a bicycle. Manhattan streets are still very unfriendly and scary for bikes, despite all that has been done, and the big majority of people would not commute by bike even if this were not the case. I need a plan to bring back the Brown M train to Bay Parkway on the D train West End Line Station.
If I were going to quibble, my #1 point would be that the choice of only runt lines to serve the new LGA station is probably not the best choice–definitely should be some Manhattan-LGA direct service.
The choice the run only crosstown lines out to LaGuardia was to better segregate airport traffic. BUt generally, it's a creative approach to adopting and extending from the ways that the current system provides for the possibilities of future expansion.
Is there even much overlap with the airport-generated and rush hour peak direction traffic? My understanding is that airport traffic peaks much less, except for there being somewhat more traffic during the day than at night.
Airport services don't need special trains (at any case passengers would be transferring to regular trains).
To respond to the comment below about the LGA-JFK Airtrain shuttle, of course that is not its only use, but the connection proposed in the map does open up that routing in a vastly more convenient way than is currently possible, so it's a happy side effect of connecting those neighborhoods to the network.
For instance, while it would be fantastic to get more service into Alphabet city, I have a hard time seeing the point of rerouting the Nassau St line in Williamsburg. At this time a 10th Avenue line would not be needed but long range studies in the MTA plan indicate that the West Side IRT will become overcrowded and more lines would be needed. It's probably better to extend the Newark Airport APM to Newark Penn rather than PATH to the airport.
My proposal wasn't to expand the PATH out to the APM but to extend it to the terminals and create a one-seat ride from the terminal to all of the east side of Manhattan. Interesting, but how would you get long, straight stations close to the terminals given the airport's odd layout?
How about the way they do it at O'Hare; a single station with walkways connecting it with the terminals? I worked on a lof of marketing material, including the game's logos, t-shirts, wallpapers, forum icons, as well as learning Zbrush to create an animated view of each world for the website. As the MTA's operations budget sloughs through one of its worst crisis of in New York history, the capital budget is, if not alive and well, still ticking. Of course, the most cynical of New Yorkers will just imagine that these things will break and grow grimy.
Funny: the artwork has a product-placement ad (for Fox), and that's for a station that won't physically exist for years. The article says nothing about plexiglass walls for the trackway – are you sure they are even in the plan anymore?
Not to be cynical myself, but would you rather have the system of 1904 be built today in order to keep the budget and fares low? One concern that pops up is at the ends of platforms, usually there is a small space that allows workers to access the tracks and non-passenger areas. Combining DMV registration sticker adhesive and used chewing gum would probably create the most dialectically contradictory adhesive ever discovered. Run the wrong length train down the line, and passengers won't be able to enter or leave the trains when they stop at the stations (a fun situation I had once with the tram at the Dallas-Fort Worth International Airport. However, more recently the MTA started talking about the R179, which would be 75′ long.
It's now 300 cars, 260 in 4-car sets and 40 in 5-car sets for the SAS, with no options.
The map to the right is from the MTAs website showing the current phased plan for 2nd Ave subway construction. I advocate that the only way for the 2nd Ave subway to really put a dent into curbing congestion along the east side of Manhattan AND to allow for expanded service into the other boroughs that a second set of tracks be constructed for express service from 125th St to Houston St. As it is designed now the 2nd Ave subway will only carry 2 local trains from 125th St to 63rd St. In addition to not having an express track, the stations along the line are spaced further apart than many of the other subways in Manhattan.
The first extension alternative is one proposed by the TransportPolitic which would serve one of the few areas of Manhattan that would still not have rapid transit even after the 2nd Ave subway is completed. One of the original proposals for the 2nd Ave subway back in the 1920s was, when reaching downtown, to have the line loop back north via a connection with the 8th Ave subway. 1951 plans for the Second Ave subway showing connections to the Williamsburg and Manhattan Bridges and the Centre St subway. Taking a proposal from the 1950s, this would effectively terminate the 2nd Ave subway at Houston St (where Phase 3 is planned to end anyway) and connect it directly to existing subway tracks to Williamsburg via the Chystie St Cut.
Ending the 2nd Ave subway at Houston St would also allow connection to the Manhattan Bridge via Grand St. Manhattan was once lined north to south with elevated trains and the east side had two, the 3rd Ave el and the 2nd Ave el.
The 3rd Ave alignment would build a 4 track subway from the Harlem River up under 3rd Ave to 161st street in Melrose. Part of both the original IND Second System from 1929 and the updated plans a decade later was a line to Throgs Neck though Hunts Point and Unionport. Because of the direct connection between the 2nd Ave subway and the Queens Blvd line via the 63rd St tunnel, 2nd Ave service can easily be routed along the Queens Blvd line. An alternative to balancing headways would be to revive the 1960s plan of building a super-express line parallel to the Queens Blvd line along the LIRR Main line. Early plans for expanded Queens service from the 1920s and 1930s called for service along Horace Harding Blvd, a wide and important road that ran through the heart of eastern Queens.
The AirTrain which runs from Jamaica Center to JFK Airport runs on a smaller version of an elevated structure along the median of the Van Wyck Expressway (click here for a Streetview Google Map of what this elevated train looks like). Subway service to the Rockaways had been a priority for the city from the early days of the Independent subway of the 1920s.
Built as the main Brooklyn trunk line as part of the IND system in the 1930s, the Fulton St subway replaced the Fulton St elevated line which ran from downtown Brooklyn to Broadway Junction.
To better serve areas of southern Queens that have developed after World War II, the Fulton St subway should be extended from Euclid Ave along Pitkin Ave to Linden Blvd as a 4 track subway.
The Far Rockaway Branch of the LIRR (not to be confused with the abandoned Rockaways branch I wrote about above) has been proposed to be converted from LIRR service to subway service as far back as the 1960s. The final option for expanded 2nd Ave service would be to run the 2nd Ave-Queens Blvd Line out along Hillside Ave, currently where the F train terminates. The Second Ave subway is not just a subway built to relieve congestion along the east side of Manhattan but it is the ground work for a much bolder vision; it is a new backbone for subway service throughout New York City.
This entry was posted in Blog, Cities & Urban Life, Featured, futureNYCSubway, Maps, New York, Transportation and tagged 3rd Ave, bronx, brooklyn, co-op city, Eatchester, Fulton St, Harlem, Hillside Ave, Hunts Point, Jamaica, manhattan, Maps, mass transit, mta, new york city, queens, Queens Blvd, Rockaways, second ave subway, subway, Throgs Neck, Transportation, Unionport.
Not a bad idea though building the subway adjacent to the Williamsburg Bridge might pose some problems. I think another possibility that you miss a little bit on the proposal is the opportunity to use the Lower East Side coverage to also cover Bedford-Stuyvesant. Granted, that requires a lot of extra tunneling, but it vastly improves transit connections in the transit-deprived LES and Bed-Stuy.
Perhaps with this connection made (and 2nd Ave south of 14th St unfinished), the T can use the outer tracks to get to Broad St and the Montague tunnel – taking over the former M route in Brooklyn. I'm really liking this plan and I would love to see more- especially for more of Queens and Staten Island- but please, one modification- I read your plans and they call for ripping down the Liberty Avenue Elevated- and the proposal calls for a new subway line to be built not where it stands now, but four avenues south, on Linden Boulevard. I took screen shots of Google Maps and stitched them together, then I drew the lines in using Adobe Illustrator and finally added a few things in Photoshop. This map by Balance Media and John Keefe shows the ambitious MTA lines that were once planned, but never built. I used to live by the Hoyt-Schermerhorn stop in the New York subway system, which is famous for having a disused platform that movie productions use to stage scenes (the music video for Bad, directed by Martin Scorsese, was shot there). The interactive map, created for the Transportation Nation project by Balance Media and John Keefe, deftly overlays these mysterious historical features over the MTA map we all know and love (and sometimes hate). According to a fascinating article by Jim O'Grady, these lines were planned by a pre-Depression city flush with cash and ambition. That's what she did with her zany Triboro RX Select Bus Service proposal, and in doing so, she joined the legions of online denizens with access to a subway map and an illustrator application who love to create fantasy subway maps.
A few years ago, he put together an insanely well researched and thorough 11-part series on the history of the subway system that wasn't.
The post comes complete with a PDF version of his Vignelli-inspired subway diagram and a length explanation of the various new routes.
Back in the real world where it is basically the only issue I realized I needed to distill out more realistic ideas that could use existing infrastructure better and develop lines that served the growing areas of the city while better connecting the outer boroughs. There is, for instance, no Triboro RX and I'm not sure how useful the Y line or his massive L train extension would be though I do love a crosstown subway running via 86th St.
There are better ones and worse ones, but almost any that passes through even low-medium density residential neighborhoods and allows transfers between subways would probably be a smashing success. And that's where Quinn gets things spectacularly wrong in thinking that she can solve the outer borough transit crunch by waving her hands and demanding mayoral control and instituting a bus service that makes little sense from a practical standpoint. DCP says we should expect a net increase of about 4 million square feet of new office space.
I realize this whole exercise is pure whimsy, but even in a fantasy world I can't imagine elevated lines being built. That said, I'm never opposed to putting light rail service onto the streets themselves, at the expense of cars. I do like the idea of a JFK Airtrain-LGA shuttle, though I suspect it would be a very lightly traveled route (light rail or true BRT perhaps?). However, not even making it possible to have a one-seat ride from Manhattan seems to limit its utility. The thought of segregating airport traffic does have some virtue — though others note the London Piccadilly line below as an example that works fine, I would argue that it could just as easily be used to show the opposite, given the extent to which regular commuters have to put up with tourists and lots of luggage on the train all the time. And while it does not directly benefit local commuters, there are possible benefits to New Yorkers of making JFK and LGA closer together (for example, an extension of the current AirTrain from Jamaica above the Grand Central Parkway up to LGA, and perhaps onward to connect to the N station at Astoria Blvd while staying above the highway and relatively away from NIMBYs)–both airports are short of capacity but have a lot of overlapping services, but if airlines could be convinced to use them as a more cooperative system, selling passengers on via-AirTrain connections between the two, you could reduce some of this redundancy and open up capacity for new services or congestion relief, which benefits both local NY passengers as well as those connecting through our airports. Though I was surprised you chose to use the LIRR Bay Ridge ROW in Queens and not in Brooklyn, which has two of the busiest bus lines in the city shuttling people back and forth east and west in the B6 and B35. Art direction for these were to take screen shots from specific areas in-game (Hero Engine) and paint over them to create a mood and props for the environment artists to populate the levels. Each presented a fresh challenge due to drastic variety of environments, inhabitants, and game design goals. Goldstein tells us that a sound engineering company is working to build a better public address system, and train arrival boards will be de rigueur at all of the new stations.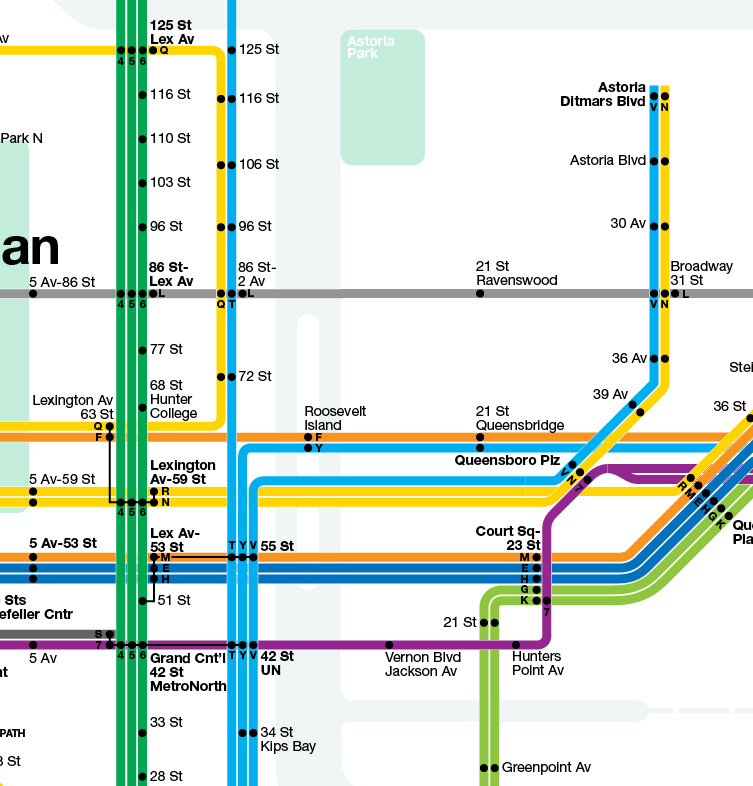 Plexiglass walls will be stained with fingerprints, soda, coffee and who knows what else before the first week of operations is up.
They haven't yet, though, found a flooring that repels blacked gum, but that too might come at Second Ave. The tiling jobs being done these days, while true to the original station designs, quickly become stained; the grout, dark and grimy.
RATP may do construction several times more competently than the MTA, but in operations it isn't much better.
And since everything else he's done is being reversed (the Line General Managers have already lost much of their authority) hopefully this will be also. Besides all the dirt and grime they will pick up (especially steel dust) it will be a maintenance hassle. More frequent service would mean less time on the platform, so that would be my preference. That said, if the MTA was not thinking of vandalism in station design, they would be naive, especially looking back at its history. Pragmatic, utilitarian, low maintenance with room to add the frippery later on in better times.
I doubt regular subway riders would be as forgiving if the tried to walk out of a train and smacked into a wall of plexiglas). Those have higher cost per train length and lower in-train capacity, but more than make up for it with higher loading capacity. The subway trains I rode in Shanghai had 5-door cars as well, but I'm not sure how long they are. Broadway & Worth), and the rest of 2nd Ave line (south of 14th St to Whitehall) are under construction (or on hold awaiting financing). In 2010, the Underbelly Project commissioned graffiti artists to infiltrate the station and cover it with street art. Start with the introduction and read about the IND Second System, ambitious plans for the Second Ave.
And since there are no preexisting grade-separated bus lanes, why would she follow TriboroRX? Also, the connection to Montague Street and Brooklyn will be another factor favoring that route. The airport traffic will still be mixed in with regular commuters all the way across 86 St. Somehow, the Piccadilly Line in London manages without special trains or dedicated luggage space. And the Piccadilly line does use special trains, with fewer seats to allow more space for luggage. In New York the best option might be to connect LGA to a relatively underused, but still Manhattan-bound, service, for example the R train. Subway work is chugging along, and despite a drill mishap last week that I'll cover later today, work will be completed by some time in the future.
In a piece last week that got buried during the July 4th weekend, that's exactly what the New York Post did.
Any time the gap fillers (Un Sq and old South Ferry) broke trains couldn't stop at the station. The busiest lines run 60-footers, because the limiting factor to capacity on the subway is loading and not standing room. Without the fed picking up most of the bill, the Interstate system never would have been built. If they hadn't had ripped down the 3rd Avenue El in the Bronx, and half of the Myrtle Avenue El in Brooklyn, wouldn't those areas be a lot better off today?
Other unbuilt lines were meant to bring subway service to outer-borough areas like Sheepshead Bay in Brooklyn, Eastchester in the Bronx, and even Staten Island. Now that the city is feeling its mass-transit oats again with the 2nd Avenue subway currently under construction, this map combines the disappointing past and optimistic future of one of the world's most famous subway systems all at once.
Such a plan involves four-tracking Phases 3 and 4, sending the T to the Bronx, the revived V train to Brooklyn via South 4th St. We should have politicians discussing ways to build out subway lines quicker and cheaper than the Second Ave.
You could argue that it adds up for the long-term commuter, but on a day-to-day basis it's not a big deal. The RER B line in Paris is another example of making regular commuters miserable thanks to catering to airport-bound tourists. However it might be tricky to achieve that re-routing while still maintaining enough capacity on the further east parts of the Queens Boulevard local.
Then the Newark side should be extended to the airport and you have a direct subway link to EWR. Reporter Joseph Goldstein spoke with the MTA about the myriad upgrades to the riding experience the Second Ave. The authority will also turn away from its sometimes drab tiling scheme to duplicate South Ferry's bright whiteness. I was curious if the Bronx lines were going to be elevated like they were originally planned for the IND second system.
Ripping down el's is highly counterproductive- especially since subways are seldom built in their place. It re-imagines the regional transportation network in ways few politicians seem willing or able to do so. Marys over to Yankee Stadium would at least be a start of inter-borough, inter-subway connectivity. Better service LES here, some better E-W coverage in South Queens there, but a great model for future expansion. Subway will provide, and it sounds as though the MTA is trying to show off what they could do to the city's 106-year-old transit system with the right amount of money. It seems to me like it would be a lot cheaper, easier and faster to build an elevated than dig through the Bronx. Imagine if Staten Island never shut down the North Shore or South Beach Branches and those could've been integrated into the subway system.
We should embrace the idea of future subway systems and hope that we live to see but a sliver of these routes become a reality.
We can't expect the subway of tomorrow as we still wait for the subway of yesterday throughout the system. Trading off something for nothing is a gamble that normally doesn't pay off- especially trading streetcars for bumpy, loud buses. In the Bronx, the D train shoots east across the borough to Co-Op City while in Queens various trains go to La Guardia Airport, College Point, Kissena and Cunningham Parks and Murray Hill.