admin 08.07.2014
At Bodiam Nursery we have a wonderful collection of Acer palmatum, complementary plants and plants for small spaces. Find us next to the Kent & East Sussex Railway station, by the level crossing opposite Bodiam castle, East Sussex.
Rod submitted the photo along with a description of the scene at John Pearson's garden which he photographed on a day when the garden was open to the public.
This photograph demonstrates the importance of having a good backdrop to create a realistic scene. The Harvey Watkins Pot boiler Peckett locomotive is shown taking water at Bron Y Aur on the Vale of Evermore Railway. This photo achieved a high degree of realism (other than the Native American on the hill perhaps!).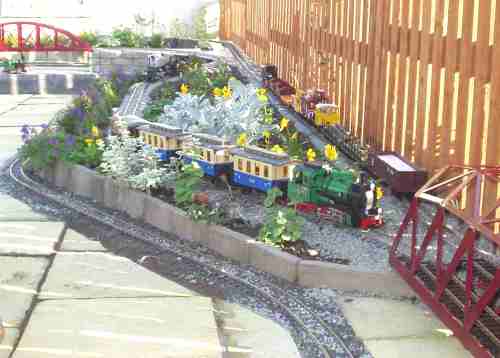 Our stock also includes dwarf varieties of shrub and conifer which can also enhance a garden railway. The winner, Rod Nipper received an Acer palmatum from the Bodiam Nursery's Plants for Garden Railways stand at the show. The photo composition very attractive scene was well thought out with the steam making it very dynamic.
The varied colours, shape and size make the carefully pruned shrubs resemble miniature versions of full-scale plants. The yew hedge is varied in colour and texture and shows off the paler greens of the planting in front of it. Excellent ground cover and varied shrubs are perfectly in scale, adding touches of colour to the otherwise subdued naturalistic colouring in the picture.
A range of colour and shape is provided entirely with greens and show that flowering plants are not essential to create an attractive garden railway. There were many more however which also captured the marvel of a garden railway within lovely planting and I hope to present these later along with more photos along with plant names to help in your planting plans.