admin 30.11.2013
I've already covered a potted history of myself in my introduction in the 'New Member' part of the forum so I will try to avoid repeating myself. After a lengthy period being involved in the hobby, I thought it time to build a 'roundy-roundy'A model representingA A one of my favourite areas of my trainspotting days. The baseboards were all built from 9mm plywood, 4 along each side making each 56 inches long, allowing a little for movement at each end when taking apart, and again when re-assembling.
Because of baseboard joins there had to be some compromise on the turnout placements, but compromise is a fact in modelling. The station layout decided on ( see pics already posted)A was a 4 platform affair, 2 platformedA main-lines thro, with 2 passing loops between, and 2 suburban terminus platforms.
WithA about 105 yards of required cork laid,A it was time for the track - code 75 Peco, yes OO gauge, I've dabbled with P4, and EM in the past, but there aint enough hours in a day. Wiring, DC yes DC, with 40 or so kit built locos with no room for extra bits, andA perfectly acceptable bespoke analogue control, why fix it if it aint broke. Many thanks, the outside walls of the platform buildings are 'Grand Junction' kits from Parkside Dundas, all the rest is scratchbuilt by yours truly from drawings I made from photos of various locations, by counting brick, and plank courses. Bottom pic is the control panel with 2 intergrated controllers made to suit the layout, and locos, by a good friend of mine (electrics is NOT my strong point), top is the scenic boards, fiddle yard at the bottom. The photographs that guys put on here are impressive to say the least, and these are no exception.
Middle pic is same again from the 'south', the weathering isn't quite right, good job it's weathering powders that'll wash off. The lower level  represents the end of a branchline where loco's are able to run round the loaded and empty limestone wagons to and from the local quarry and a loco stabling & refuelling point.
Max and Ron, Many thanks for your supportive comments, The liftup works well, I have been doing a little track laying and shuffling track around for the station goods yard plan. I am still waiting on Markit hornby axles for the monthly project, Although I have been going through some of my ancient loco,s to see what I can salvage. Consequently things have disappeared,Things that I knew where they were are no longer there,etc etc.
Hi John, Corrected my error, Shame on me calling your lovely midland a 2P mainly trains look like they will come up with the goods this coming week for the Jinty and other things.
Some small progress with baseboard frames extending down the corridor, They add another 23ft to the layouts length.
Just an update, I am planning on 3 control panels for point switching useing 3 seperate capacitors save on miles of wireing? Derek, I have the 5a NCE Pro system & that is sufficient for at least 8 locos on the move at the same time. I really enjoyed seeing the photos showing the wider area of the railway room, is it possible to show more? Lighting was provided by Tilly Lamps (Paraffin) which were hauled up to the top of a 20' pole where a reflector allegedly created a much wider spread of light than gas lamps. Regarding the red disc on the crossing gates, I looked and can't find (yet) a definitive reference for a year of introduction but it looks likely that they were introduced in the early 1960's. Outstanding modelling John, I've really enjoyed following the progress you've made with Granby.
Its one of those relatively unimportant bits of detail (in all honesty who cares in Vancouver?) the solving of which makes this hobby so fascinating. If Nick's googling doesnt come up with a result maybe I should post a general query when I get back.
This section will be updated periodically with the most recent photos at the top of the page.
A small selection of photos of LNWR railway model layouts which can be seen on the exhibition circuit. As I already had a workshop of the size I had in mind for the layout,A designs for a suitable layout (oo gauge)A were drawn out. The scenic boards being 24 inches wide, the fiddle yard boards ( the other side) at 18 inches.
The original idea was for a typical 2 storey GJR station building, but it looked too imposing on a road overbridge.The original idea was to have a sweeping curve thro' the station, but I did mention compromise, so I had to, due to the overall width of the space I had to work in.
Again the track was set in place with PVA, NO TRACK PINS, and house bricks again, but this time with strips of cardboard between the bricks, and rail tops.
All chimneys are fabricated from embossed brick plasticard, and are profiled by overlaping brick courses.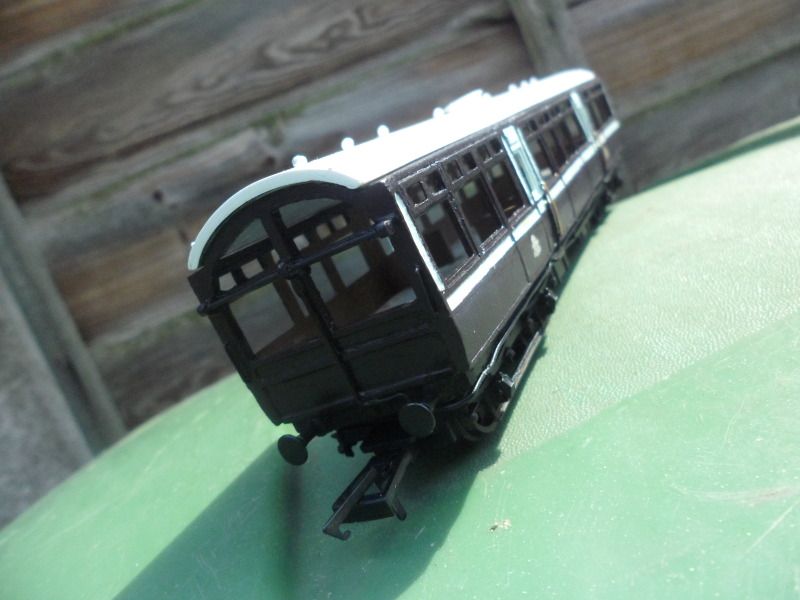 1' signal box to be added in the back ground (where the point rodding ends or lead off bed). I show her in doors some of the photo's, and she often says "they look so real, you sure they are photo's of models and not the real thing". Getting a list together of stuff needed to continue the grand build, Another 4 sheets of 8x4 12mm ply, with lashings of 4x1 planed timber and a heap of 2x1 same. An old Ivatt Cl2 2-6-0 caught my eye, Body is rubbish, But reverse the chassis, rewheel it and its just possible a L&Y Barton Wright 0-6-2T could emerge?. I phoned my order and the guy lead me to believe it would be put in the post right away.He seemed a nice positive,affable sort of chap.
I have not gone the full way down the corridor as I need space to bring plywood boards plus more timber and plaster boards up the stairs. I wouldn't worry about the platform being adjacent to the crossover it doesn't look out of place. I wouldn't worry about the platform being adjacent to the crossover it doesn't look out of place.
Whilst it would be nice to give comprehensive photographic coverage of the layouts featured, neither space nor time permit this, but where the layout has a web site, the layout title is set up with a link to the relevant site. There were limitations, the internal dimensions of the shed being 19 feet 6inches long, and 7 feet 6 inches wide. The original idea was for modular baseboards built to make it available for shows, and deep enough to accomodate Tortoise point motors. The station building is constructed from Grand Junction LNWR Panels and topped off by three Metcalfe Platform Canopy Kits.
Of course another bundle of C&L track will be needed plus some Peco long crossings and medium radius turnouts.