admin 12.09.2015
Please comment on what you think and whether you agree with me, or you think completely differently! Please say what you think and if there are any more that I have missed out, then please tell me! Unfortunately I cant tell you how or when I started liking Thomas because, I cant remember, that's how long I've liked Thomas for! All the problems soon went away, on JRCS+CAS page anyway, I laughed when i found that out any way sometime in the two months, I joined ZEM's Forums, Thomas and Tugboats forum, I didn't post alot and left it for a while then i decided to start posting again but this was when the forum only had a one board because he was refurbishing it, however he has now finished and I really recommend joining, it has a good atmosphere and everyone is really friendly. Recently I've found out about the Chuggington Wiki by Steamie with Glasses, he hasn't been on for a while so now it is run by Calleyfan and I think we're doing a great job there, however there are alot of unregistered users there and if you are one reading this, I highly reccomend joining so you can get noticed for your great efforts joining. I would say my main Wikis would be, Thomas and Chuggington I think all users are friendly and This is the best source for thomas info anywhere (even better then the official website). While the Seasons 13-15 were coming out, I then thought I liked Thomas for Trackamster and Merchendise.
I want to join YouTube but not until I have a good amount of videos for you to watch which stands at 0. Oliver - He has been the best written character in my opinion, and two-thirds of his original story arc are in my top ten episodes. Edward - A major theme of Thomas is heroism, and Edward represents this - particularly in Edward and Gordon, Old Iron and Edward's Exploit. Percy - I liked him a lot in S1 and whilst he hasn't been as good since, he has still been consistent. Emily - She would make it to the top ten if they had stuck with her S7 personality for S8-12.
Billy - I don't like hating one episode characters as they haven't has their time to shine, but Billy was just awful. Ferdinand - It is hard to like a character who has had more episodes than Daisy, but has only said two words over and over again.
Skip to menuSkip to contentWe use cookie files to improve site functionality and personalisation.
I have been a Thomas fan nearly all my life and every time I watch an episode, I'm loving every moment of it.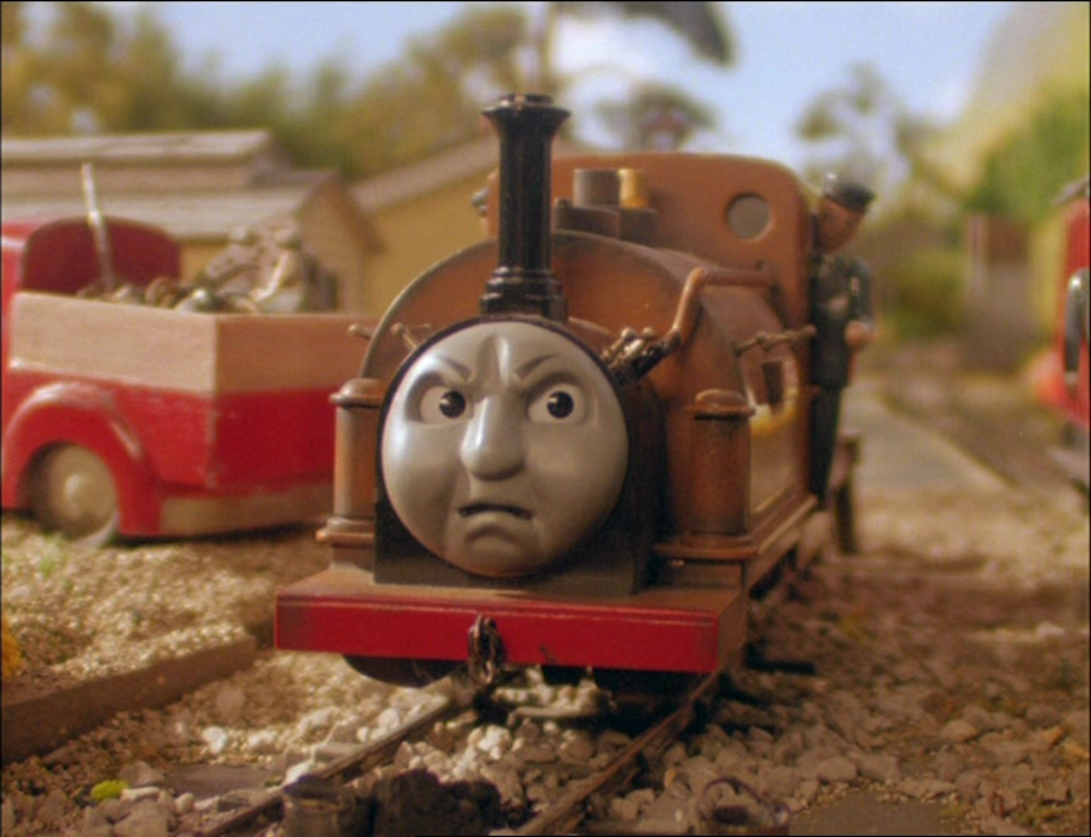 The first piece of CGI I saw was Thomas looking up at the bridge with the boy waving in the opening credits. I think this series had some great episodes, but the fact that Sharon Miller wrote nearly all the episodes, made me feel it was kinda rushed.
Some episodes were pretty lame, like Thomas Toots the Crows, but there were some amazing ones too. I'm an admin of the Chuggington Wikia, but I am regularly on the TTTE Wikia Forums a really nice place to talk about Thomas with a calm and friendly atmosphere. I was disappointed that models had completely gone, but liked the way the different characters had their own voices. And for the first time in years, there is a story where Thomas doesn't have a speaking roll. I was a little disappointed to find out that Michael Angelis had left the voice cast, but Mark is just as good.
They were TOTS awesome man, with Bill and Ben in CGI? :O, and Duck having his own episode, and HIS MODEL APPEARS!!!!!!!!!!!!!!!!!!!!!!!!!!!!!
What I can gather from my family is that my biggest sister watched the episodes when I was so young I would would know the difference between the words Thomas and Wikia. In mint, never opened condition, Mr Funny can be seen through the excellent display box, be warned his jokes are awful but you cant help but smile! The only disappointment is how unrealistic Misty Island is with the Shake Shake Bridge, the Zip Line Bridge, Ol' Wheezy and the lack of humans are just a few of these things, as well as the rhyming. And Wikipedia said that the 17th episode was called "The Biggest Coal Run Ever" and Neville was going to be the main character. Percy and the Monster of Brendam, Percy and the Calliope and Whiff's Wish were truly remarkable. Then I must of carried on liking it after my biggest sister stopped, how ever my smaller but still bigger then me sister still liked it too, apparrently I saw Thomas and the Magical Railroad in cinemas in 2000. A few years later again I got the Giant Thomas playset with James, Diesel, Duck, Toby and Stepney all with there rolling stock, from now on I love the Argos catalogue for that playset!
The SiF members are quite nice but the senior members (not the mods) of Si3D Forums are annoying me a bit because of what they say to the junior members.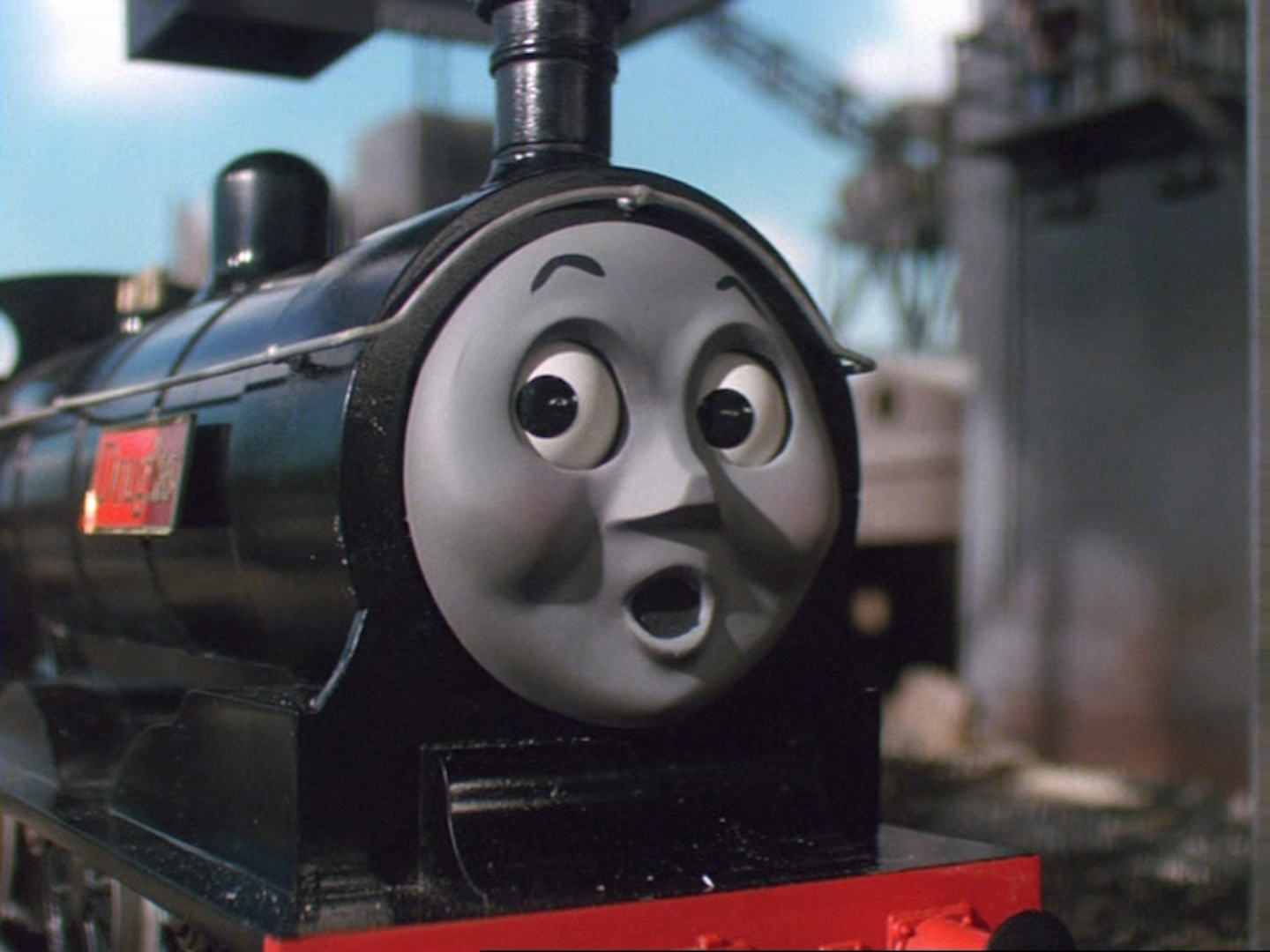 Wasn't I disappointed that when it came for the 17th episode, Wonky Whistle, the worst episode in Thomas' History, came on.
The final 11 episodes have been fabulous too (with the exception of The Frozen Turntable and The Smelly Kipper - I just don't like them) and I am so glad at the direction it's heading in. I'm sorry guys, but when you think This scene and the music playing along with it is my favourite! Troublesome trucks being troublesome, Porter is a cool dude (lol :P), Harvey looks and sounds brilliant, and Thomas and Bertie race! I then 'accidently' went into Season 3 then 4, 5, 6 and before I knew it, I was in Season 7. However, I found it hard that in the final scene of Wayward Winston all the engines were puffing along the same track.
I'm very excited that Series 17 has aired and the episodes so far are great, bar Steamie Stafford, which was slightly a downcast for me. I was happy to see Great Waterton make an appearance, and I thought that Hank and Flora looked great, and the fact that Hector made another appearance, this time a good truck made me all the happier. I also enjoyed finding out more from Ulfstead Castle and Millie and I enjoyed Charlie's quest to get somebody to believe him about the elephant!
One main example, is when Percy finds Flynn in his berth of Tidmouth Sheds, doesn't this sound similar to when Thomas finds Stanley in his berth. And then came the most amazing special of all times, King of the Railway!!!!!!!!!!!!!!!!!!! It really was a great day :P when I brought it and watched it at home (I got it on the day it came out) and boy was it brill. But the music was epic, and the scene of the steamies racing to take back the Steamworks is one of my favourite scenes ever! Not only was the animation tops, but the story line was AMAZING like totally cool like well epic!