The best way to teach your dog to tell you when she needs to go out by teaching her to ring a bell. What if you have multiple doors to go through before the final one that leads outside or if you have stairs with stairgate to go down before you get to the door that leads outside?
This is best taught after your dog seems to prefer to go outside to potty and you would like to give her a good way to communicate that to you. This works especially well for dogs who only have a few accidents or have accidents by the door.
Once she is touching her nose to the bell every time you show it to her go on to the next step. Once she is ringing the bell by the door each time you point to it, go on to the next step.
Wouldn't it make more sense to put it by the door so we ring it before she goes out each time? Teaching your dog to ring a bell prevents her from needing to resort to such uncivilized behavior as scratching on the door or barking to tell you to let her out.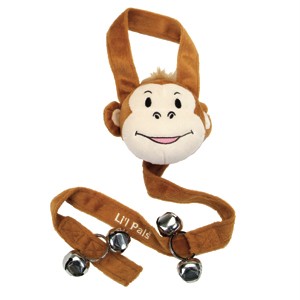 Each time you let her out to potty, ask her to ring the bell first and feed her a treat when she finishes.
But she doesn't seem to be getting that final step of ringing the bell by herself to notify me that she wants to go out.