Impact: These early conversations help teach hundreds of words before your baby actually talks. Do: Engage in back-and-forth interactions with gestures, like giving your baby an object and encouraging her to give it back. Do: If your baby shows you with sounds and gestures he wants an out-of-reach toy, don't just get it for him. Do: Comfort your baby when she cries, acknowledge when she's frustrated and help her calm down when she's upset. Impact: Boosts overall development - social, emotional, language, intellectual and motor skills. Impact: Helps your child learn how to cope with separation and feel secure that you'll always come back.
Impact: The more your child directs the play, the more invested she will be and the more she will learn. Do: If your toddler gets frustrated, try to calm her, and suggest another activity before she gets upset. Impact: Builds a strong connection between you and your child and can help encourage creativity. Developing Childhood is a tool for parents to monitor and enhance the development of their baby or toddler (ages nought to three years). Provides a safety net for children who may be experiencing developmental delays, by detecting any potential delays as soon as they appear, and by showing parents how to encourage their child's development. Extensive milestone checking gives parents an accurate and easily understood picture of their child's current development.
Detailed text instructions and videos are used to explain how to check for each of the milestones. Reports provide an individualised overview of your child's developmental profile, as well as detailing fun and stimulating activities to enhance the development of your child. This Milestone Chart provides a simple-to-understand, colour-coded visual snapshot of a child's development. Developing Strategies details the activities designed to encourage appropriate milestone achievement. The Consolidation Plan provides strategies to stimulate the milestones that have not yet been completed. The Facilitation Plan provides activities that stimulate the next stage of milestone development. A full subscription allows members to update Not Yet Complete Milestones and Upcoming Milestones achieved each month. At the end of each month, an email is sent to subscribers reminding them to log back into Developing Childhood. When the milestone checking is completed, the Milestone Chart is updated, and a new Developing Update and Developing Strategies are prepared. Subscribers also have the option of logging in between the scheduled monthly milestone checks to immediately update any newly achieved milestones. A one-off payment is all it takes to join this exciting program that can benefit your child for life. For instance, push a button on a jack-in-the-box and wait for him to do it before you do it again.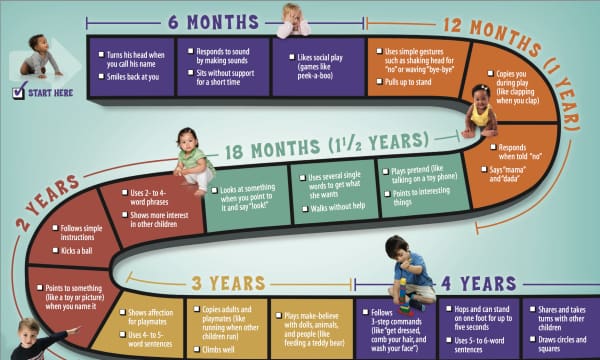 If she reaches for a book, ask, "Do you want that book?" Wait until she responds before giving it to her.
The milestone checking looks at the month-by-month development of the following functional areas: vision, auditory, tactile, movement, speech, and hand function. The milestones that have been marked as Not Yet Complete are listed in the Areas to Consolidate section. It highlights the milestones that have been marked as Not Yet Complete as well as the Upcoming Milestones, and provides a good introduction to the Developing Strategies. Each strategy is explained in an easily understood format, and is often accompanied by an instructional video. Once they have logged back in, the milestone checking looks at any Not Yet Complete milestones from the previous visit and checks to see if these have now been completed. It is extremely comprehensive, with 216 milestones being checked in the first 12 months alone. The Upcoming Milestones section lists the milestones that should be developing over the coming month. The Upcoming Milestones from the previous visit are also checked, along with the new Upcoming Milestones.