With that said, of course I'm also hopeful that the energy and thought I devote to my blog reaches others. So as I sum up 2013 in the post below, I share everything that was most popular among all of you. I wrote this post after I was criticized by a reader who stumbled upon my site and felt that it was her business to let me know that I was a disgrace to educated women everywhere for choosing to be a stay-at-home mom.
In this post, I share a step-by-step tutorial with lots of photos to teach you how to make your own Minion costumes from the movie Despicable Me… no sewing needed!
I'm a Harvard graduate and homemaker who blogs about living (and loving!) the domestic life with my husband and four young daughters. As 2013 comes to a close, I have been reflecting back on what posts and ideas generated the most interest over the last year.
If you click on a photo or the title of each section, you'll be led to where that idea was originally posted if you'd like to read further. Also, please don't miss this post I recently wrote with 10 Thoughts on How to Raise Grateful Children.
I'm also a huge fan of adding personalized stay-put waterproof labels (that can even go through the dishwasher!) from a place like Label Your Stuff or Mabel's Labels. My girls each have an album with their full name and birthdate engraved on the front that I use for their portraits. When I wrote this post (my most-viewed post to date) with organizing tips galore (!), I was surprised to see how often the idea below was pinned on Pinterest.
This is one of the most-pinned ideas on Pinterest that I have shared from my site, and I'm declaring it my #1 parenting tip for 2013.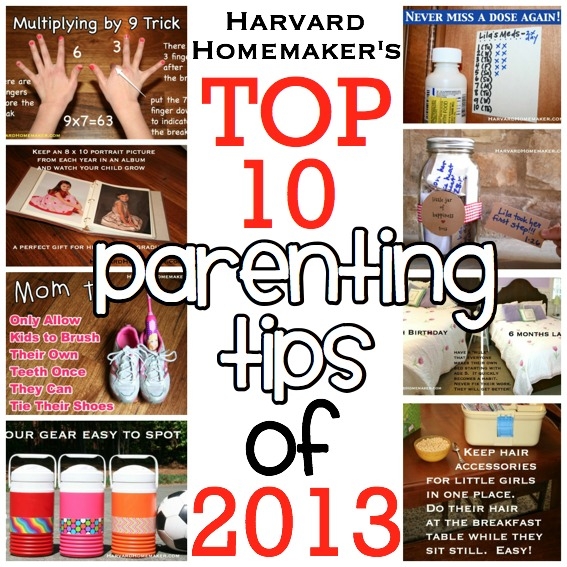 This little cake and cupcakes were so easy, but they look pretty darn impressive, if I do say so myself! If you missed these ideas previously, I hope you find a few thoughts that resonate with you!