It's easy set up and ready to go when your child waits till the last minute to tell you they have to use the bathroom! This is a must have for every parent that spends any time in the car with your kids! This product is great! I had started looking around for a potty for my son, who is 2.5yo, and after seeing what my options were, I knew I didnt want the regular style of potty that sits on the floor.
I received the seat in the mail while my son was asleep, and had a look around inspecting it and putting it on the toilet seat, and in general just getting myself used to how it works.
I went ahead and started him on the seat using many hints and tips I found online after some research.
My son is now undie-free during the day, and even now sometimes when we go out to shops or friends house. A few pro's and con's to mention, but these are just little things in my opinion that affected things very slightly. I love that the seat is so easily removeable, for when it is needed by us adults from time to time. And I will be using it for my daughter who will be starting toilet training sometime over the next year or so. Thank you Dream Baby and Travel with Tots for the opportunity to try this fantastic product.
Before I became a mum I would have thought I'd even say the following statement but so much changes when you have children. After it has been used, it's best to get it ready for the next use or you could have a wet little child!
I knew I wanted one that went on the toilet seat, but was unsure how my son would react, by that I mean he would be terrified of sitting directly on the huge toilet straight away.
It is very basic and straight forward, it just sits on top of the toilet seat with no straps or clipping it in, which I would assume is good as that gives it the ability to fit on a wide range of different sizes and styles of toilet seats. Obviously he was a little hesitant about sitting on the seat, I think he was just afraid he might fall in.
He still uses nappies at night time, but I have no doubt we'll have problems with that, since its been pretty good so far, especially with the help of the seat. When my son sits on the seat, the foam makes a funny sound when the air is expelled from it. I have a step at home that I just put in front of the toilet so my son reach up on the toilet (I would recommend you have a step handy as it makes getting up onto the toilet easier for the child).
But all it took was some persistence and patience, and he finally got the idea of the seat and that it was safe for him and nothing to be afraid of. But I have had company over and they all have children around the same age, so it was removed and placed back very regularly with such ease. The sound distracted him a lot in the beginning and would much rather investigate and play with the seat than sit and do business. I would have orginally very much considered buying one myself, but like I said in the beginning I was hesitant that my son wouldn't use it as it sits straight onto the toilet. Our son Lachlan is 19 months and although I don't think he is quite ready for toilet training, he really likes to sit on the normal potty seat and is very curious about the toilet.
This even got a few mums to go have a look at the shops for this seat, so they might even possibly consider purchasing one.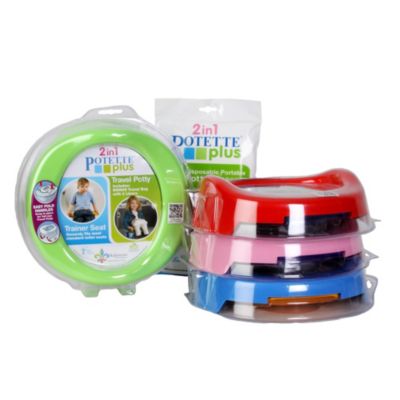 I would recommend perhaps just a harder or more dense foam, still soft and comfortable but not so soft for it to be a distraction. Potty folds flat for compact carry in a machine washable, take-along tote with organizer pockets that keep your personal care supplies handy.Includes 5 disposable bags and 5 absorbent pads. And another thing, which is really just a little personal one, are the handles on the seat. Replace with standard (four-gallon) garbage bags and any type of absorbent pads (nursing pads, sanitary pads, etc.). This potty toilet seat was fantastic as it meant that he could sit on the grown up toilet without falling in.
It was obviously very comfy because he was more than happy to sit there for a while, reading his books.
The potty toilet seat is very light and with the handles on the sides it meant that Lachlan could easily pick it up and (try to) place it on the toilet. Overall though it is a great product and will certainly come in handy for anyone ready to toilet train their child.