You must have JavaScript enabled in your browser to utilize the functionality of this website. Perhaps one of the single biggest triumphs in mommy history, undoubtedly potty training your toddler is a huge milestone.
When potty training P, I started right before he was 18 months, then again at 20, all with little success. If your child starts showing more signs of independence such as feeling accomplished when completing tasks on their own, playing for longer periods by themselves, this is a sign they are emotionally ready to start potty training.
At some point, children will start noticing when their diapers are less than so fresh and so clean, and hate the soggy feeling. I know we all see the commercials of chunky little happy babies, pull ups around their ankles going pee pee in the potty.
If you are in a hurry and your little one is already showing some of these signs, then use these tips to make potty training interesting for them.
From fashion advice to useful parenting tips, you'll find it all in the Ackermans Club magazine, an exclusive benefit available to Ackermans Club members.
Use Human Rights Day as a teaching moment to explain what it's all about, in simple terms. Bladder Control - The child completely empties his or her bladder when voiding and remains dry for at least one and one half hours during the day. Predictable Stooling Patterns - The child's bowel movements follow a regular and predictable pattern. Motor Skills - The child demonstrates the abilities to walk to and from the bathroom independently and to pick up objects.
Behavior - The child can sit on the toilet (or potty chair) comfortably for two to five minutes. Indicates Needs - Through facial expressions, postures, gestures, pictures or words, the child indicates needing to go to the bathroom.
Before starting a toilet training program, parents need to be ready to dedicate time and effort to implement an effective program. Below is a form to help parents assess their child's bladder control, ability to demonstrate a need to go, and voiding pattern. Remembering how that felt makes me love stories featuring moms like Naomi Jael Covert so much!
The 21 year old was surprised because she's posted pictures of her breastfeeding her son before and none had gone viral until now.
Covert said she chose not to cover up while breastfeeding because TJ would a€?rip it off in no timea€?. Research has indicated that babies born during the summer months have an advantage over babies born in other months. Mohinder Singh Gill just welcomed their first child to the world, a little boy, after two failed in vitroA fertilizationA attempts.
This Might Be One Of The Coolest Pregancy Announcements I've Ever Seen And They Are From Wausau! While it is not clear where the video has come from, a British voice can be heard in the background.
I tried many things; a potty watch, a sticker chart, cheerios in the toilet, bribes, you name it. Even though he was still going in his pants, it showed me he recognized the feeling he had to go. The good news is though, you are one step closer to never having to buy another diaper again I liked the fit of Huggies pull-ups. Training pants are all in all useful because your child can pull them on and off on their own, which they will need to. What will work for you in the end is really a matter of trial and error, combined with a TON of persistence and patience.
It is recommended to wait until after the second birthday to begin considering toilet training. He or she may be allowed to look at preferred books or play with preferred toys while sitting on the toilet. This is good because it helps in transitioning to acknowledging the feeling during, to beforehand. This new found freedom will not only add random streaking around your home, but hopefully the desire to make it to the potty too. If I can go back and do it again, I'd get a simple potty with no removable parts, and that is easy to take apart. However I found teaching P to actually go to the bathroom on the potty was a task in its own. Positive reinforcement boots your little ones self-esteem, and makes them feel independent, accomplished and proud. As long as you are able to recognize the key signs that your child is ready, you can start your diaper less journey!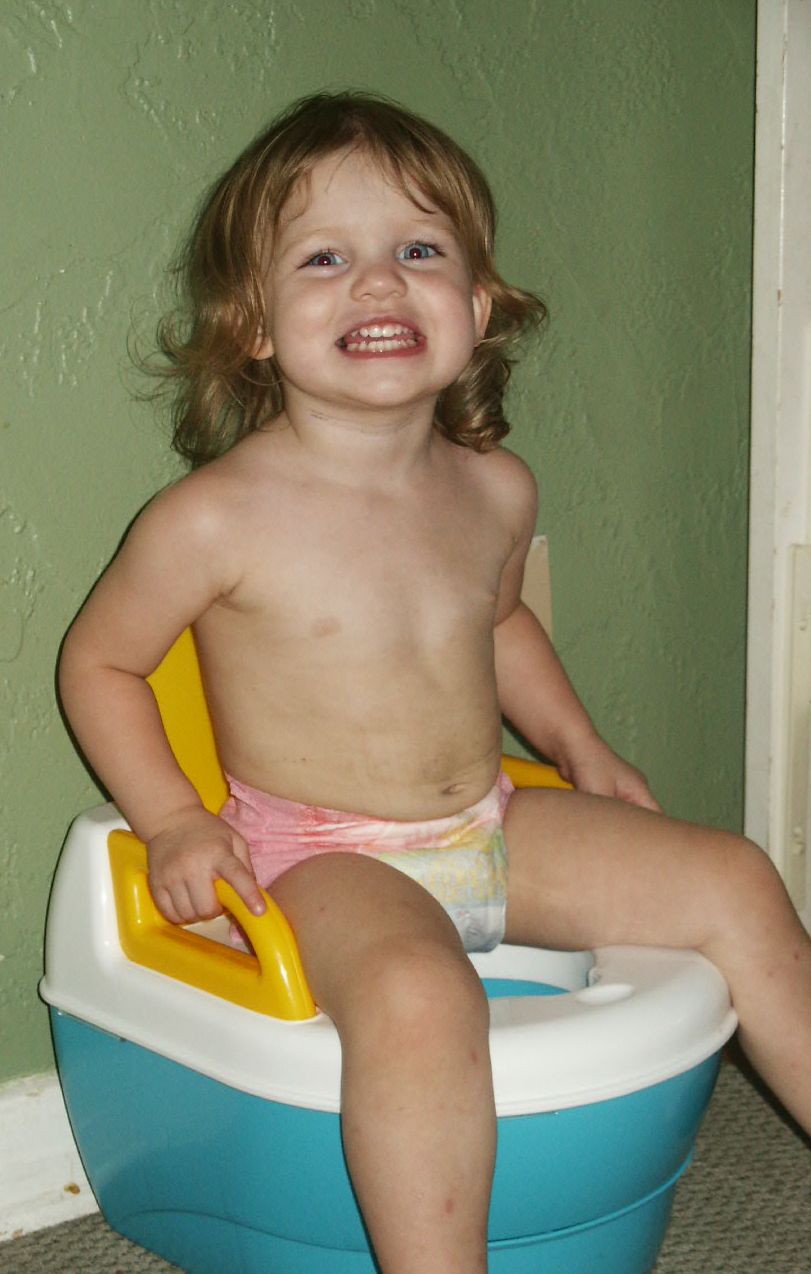 I'll never forget feeling ashamed at times when I had to breastfeed my children when I was out and many times would just stay home so I wouldn't have to deal with anyone judging me. Despite my own misery of constantly bathing P, cleaning, scrubbing, bleaching and doing extra laundry every day, this approach actually has a very happy ending. If they see you making pee pee on the potty you may just be surprised how much they want to give it a try. Turned out P HATED the feeling of being wet, even worse that being wet was running down his legs, not so warm and cozy like in a diaper, right? We were starting to get some head away around 2yrs old, but then we had some changes in the house and I didn't want to push it. Cleaning a potty that has 6 detachable parts is a royal pain in the butt (pun intended) Don't dooo it. Also it kind of worked out because sometimes when P went, he would do #1 and #2 consecutively. We told him that when he turned 3 that there were no more pull ups and that he wears big kid underwear.
The first time he peed in his undies and he ran to me saying, "oh no… I spilled."  Not sure he understood where the  "spill" came from, but it was pretty cute anyway.
P had more interest with the big potty anyway so I ultimately was able to finally and consistently potty train P on the big potty NOT the little one.
He only had a handful of accidents, but we made sure that we had him go to the bathroom every 1-2hrs. So after a full day of this, I have to admit I was incredibly exhausted and had no stickers on his chart to show for it. So strange that this isn't taking by now!  I know he is ready… right?!?!?!  Now I am doubting myself even though I know he showed every sign of preparedness.   So we decided to play it cool and let him relax a bit doing his favorite thing…. Later on, we finally had a successful "spill" in the potty followed by lots of cheering and another sticker on his board.  I didn't miss it this time!  I had a front row seat and made sure he saw it all too. So I am ashamed to say it, but there was just no way to go get the potty today.  Instead, each time he was ready to go potty I took him to the bath tub and told him to go.  I know right…  terrible, terrible, but ask yourself what you would do if you were me! At this point I am as humble as I can be with my failure right before my eyes and I am willing to do anything!  Each time I put him in the tub, he smiles and goes pee pee followed by his adorable little jumping excitement and high fiving action.