If you click on the picture above (then click on the one that pops up) you will see what I do every Wednesday. Be sure to visit Shandy's personal blog Aprons 'n Pearls for crafts, recipes, homekeeping tips & more!
Subscribe to our blog posts!Enter your e-mail address in the box below and click Subscribe! Girlfriends Coffee Hour is a volunteer ministry supported solely through sponsors and donations. It is life-changing, and is what has helped me more than anything else in keeping a clean home.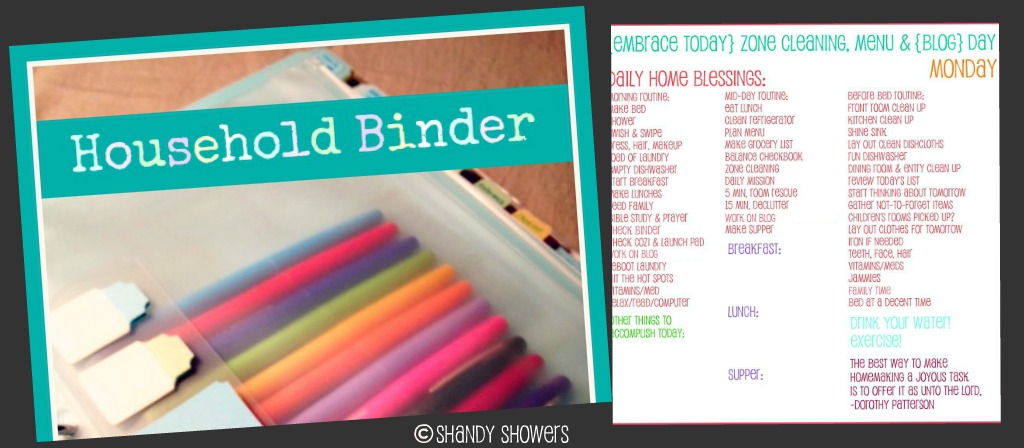 I made a cute printable for each family member and slipped each one into a sheet protector. I do meal planning on Mondays, and each day's breakfast, lunch, and dinner is written down on this chart. If you have any questions, or would like to know how I manage something in particular that hasn't been covered, just ask away in the comments below, or send me an email.
If you'd like to help buy a book for someone to participate in our studies, or help support our ministry and website costs, please use this donation button. So on Wednesday mornings, I do my everyday tasks like laundry & dishes, and then after lunch I get my cleaning done.
So for Gabbie, her medical, school, and cheerleading information is in her own dedicated section of the binder. And should I get sick, my girls can look in my binder and see what needs to be done any given day! Genius!) So between FlyLady's Cozi (there's an app!) and my household binder, even the most domestically challenged person can get their house clean and organized!
Comments to «What to get a girlfriends parents for christmas»