MacDiarmid added the redevelopment will benefit patients and health professionals alike with upgraded operating rooms and expanded hospital capacity to meet future demand. The RFP invites Architects to submit proposals to provide managing consultant and architectural services for the conceptual design of an ambulatory care building – a critical initial component of the redevelopment project. Providence Health Care (PHC) is one of Canada's largest faith-based health care organizations, operating 16 health care facilities in Greater Vancouver.
FAST Referral FormTo refer a patient to the FAST Clinic, download and complete the FAST Referral Form and fax to 604-806-8680 from your clinic office.
Please be advised the wait for FAST consultation upon receipt of referral is approximately 7 months. BC Foot and Ankle Specialists (BCFAS) is pleased to announce the relaunch of its website, on March 11, 2013.
DonateThe BC Foot and Ankle Specialists kindly accepts donations for research into foot and ankle issues. Paul's Hospital continues to gain momentum with the posting of a Request for Proposals to provide architectural services for the project.
Paul's Hospital redevelopment project envisions a new state-of-the-art centre of health innovation, care, and research, housing numerous hospital outpatient clinics, diagnostic care and same-day surgical services. After much searching, we decided to entrust our mother to Langara based on the high quality facility, staff, and reputation, and to this day, we have not been disappointed.
Based out of several clinics throughout Vancouver, BCFAS Orthopaedic Surgeons provide orthopaedic care for a variety of common foot and ankle ailments for patients across the province. If you receive different information from your health care team, please follow their specific instructions.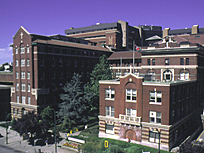 Paul's is the only hospital in the Lower Mainland without a family practice maternity clinic. The renewal will also include important upgrades to existing buildings, including seismic and operational improvements.
Paul's was relative to other area facilities between April 2011 and March 2012, when 42,706 babies were born in all of the province's hospitals.