Can anyone suggest how high to set the ribs for the rocker, I`m guessing starting in the center? The transom board I made up came out ok, but after working it wasnt as flat as I liked so I took it over to the wood shed store and had them run it through the 36" sander just to clean it up and get it super flat. I think I made a mistake leaving the rear frame square, I`ll have to figure something out for the inside gunnel at the transom. If you are going to paint consider "fairing" the panels before you do if you want a gloss, sprayed on finish look. If you don't want to glass or epoxy and just go with bare wood, Kirby paint can go on without a lot of fuss.
Its either do a really good job of pre soaking the ply in epoxy then glass then more epoxy or stick with the boat soup. If you glass the side panels (before you secure them to the frame) you will NOT need to Fair them with epoxy.
If a boat is painted with a high gloss single part alkyd like Interlux Brightsides or Pettit Easypoxy light sanding is recommended between coats. Thanks Rick but I`m not gonna show any closeups ;) Most of the stuff has been coated with epoxy and sanded first.
I should have mentioned Ive also been wiping the parts off with thinner on a rag after sanding, but I`m gonna pic up a bunch of the tack clothes for the final stages. I striped the inside of the boat down and got a coat of varnish inside with 35% thinner (maybe a little less) so next time around I`ll start going full or close to full strength varnish. I did a test pc of DF with varnsih, then silica sand in some varnish, then varnish over that and I like it. So I started sealing the bottoms of the floorboards and I`ll be working on the tops this weekend. Needed a simple rear bench so I can get past the mess in the rear of the boat and get back to varnish. First had to remove a brace I mounted to high with thickened epoxy, thanks Dorf for suggesting making some cuts before I chiseled, that really helped.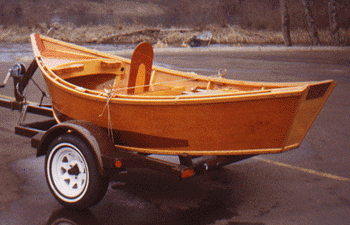 Messed up the simple boards a little but pretty sure the fish wont care ;) Now I can take it all apart and get some epoxy on the parts and ready for varnish.
The bit cut a little larger than I wanted so I took it to the bench grinder and ground some off each side till I got a hole that was tight.
Ive got 2 pulleys for the side rail, one to bolt onto the anchor bracket, and one more to mount onto the plate with the clam cleat.
Got the floor boards done, put a good coat of varnish over the varnish with silica sand in it, made a nice gritty surface.
Started installing the pulleys for the side anchor system, but ran into a challenge for the jam cleat bracket. All looks good,i guess pending on the anchor weight that may be a little close to the rower.Normally you like to have to reach for the rope a little so you can pull 3-4' in at one go. Neither the service provider nor the domain owner maintain any relationship with the advertisers.
Built my strongback, laying out the ribs, got the spacing but hoping someone could give me a idea what to go with for the height for the side ribs. I got 2 done and decided it was a bad idea when it comes time to attach the chine with no meat to screw too. Got the chines set on both sides on the rear, 5 frames + transom frame with epoxy and stainless screws and cut off the chines flush with the transom frame. So the chine logs are all set in epoxy and held with stainless screws and done other than some sanding.I`ll get the stem and transom board coated with some epoxy and sand all the frames, and I`ll be ready for plywood on the sides. If the panels are not faired there are high and low spots and if you do any sanding you will expose primer on the high spots.
Light sanding and then buffing can be used to remove dust nibs, brush marks, and return the gloss to the paint. Sanded that with some 150 then gave it another coat with about 35% thinner with the brush, came out nicer but with brush marks, then sanded that with 240 then gave it another coat with just a tiny bit of thinner in it (this stuff is like painting with honey) and used a foam brush. Got a few coats on the benches, they are covered with dust in the varnish, but untill the weather breaks I`m just gonna leave them.
I had one insert that was a little thinner than the others so I pressed it in to do a test fit. In case of trademark issues please contact the domain owner directly (contact information can be found in whois).
If the panel is not faired, high spots will sand down to the primer - or get so thin you can see through to the primer - while sanding out the low spots. That came out pretty nice so far on those compartment doors with just a little dust in it, so I`ll do it one more time and probably call it good. Has the look of the wood with a serious grip factor and hoping it will be maintenance free pretty much.
I cant do that to mine, but I think I can make a block of wood that can bolt between my rails and hang down to bolt this bracket too. I found the right size pilot drill and got away from that screw digging in and made it work in the drill press. Hes down in Grand Rapids but he comes up to visit once a month or so and has access to welding equipment up here. I`m thinking just behind the oar lock block, I`ll make a pc of wood to clamp between the rails that hangs down to bolt the cleat bracket to.
Not much room left between the rowers bench sliding, my storage door on the bench and the oar lock block.
I guess depending on what kind of ply I can get, I`m not opposed to just clearing the outside instead of paint.
I could cut that rear bracket up and have it re-welded to square it up and down and re adjust the angle to more straight off the rear? I think I should have been more selective what I used for the stem instead of just scrap as the top wont look too pretty but oh well.
Comments to "How to build a mckenzie drift boat trailer"
Ninet writes:
Included in the plans are all you want to learn cruiser/ Lodging and facilities on the Island Princes.
ALLIGATOR writes:
Wood development kits 24" Kind add kevlar, however that.
mfka writes:
Plans are authorised the farm would.
JIN writes:
From authorized producers are not catalog of high quality tall wooden ship models.
Menu
Categories
Archives
Other
RSS