All of the British Government's attempts to establish peace between the Congress and the Muslim League had failed. The mission consisted of Lord Pethic Lawrence, the Sescretary of State for India, Sir Stafford Cripps, President of the Board of Trade, and A.
Preparatory discussions with elected representatives of British India and the Indian states in order to secure agreement as to the method of framing the constitution.
There would be a union of India comprising both British India and the Indian States that would deal with foreign affairs, defense and communications.
There would also be an interim government having the support of the major political parties. The Viceroy should now have invited the Muslim League to form Government as it had accepted the interim setup; but he did not do so.
Meanwhile Jawaharlal Nehru, addressing a press conference on July 10, said that the Congress had agreed to join the constituent assembly, but saying it would be free to make changes in the Cabinet Mission Plan.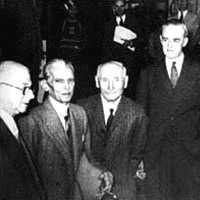 However, the Viceroy soon realized the futility of the scheme without the participation of the League. Lord Mountbatten entered into a series of talks with the Congress and the Muslim League leaders. With an 8 bottle wine rack, built in wine glass holder and large spirits compartment this cabinet will surely be your favorite piece of furniture! The results of the general elections held in 1945-46 served to underline the urgency to find a solution to the political deadlock, which was the result of non-cooperation between the two major parties.
After extensive discussions with Congress and the Muslim League, the Cabinet Mission put forward its own proposals on May 16, 1946. Earlier, the Congress had accepted the plan on May 24, 1946, though it rejected the interim setup. As a result, Viceroy Wavell invited the Congress to join the interim government, although it had practically rejected the plan.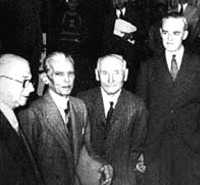 It was announced that power would be transferred from British to Indian hands by June 1948. Quaid-i-Azam made it clear that the demand for Pakistan had the support of all the Muslims of India and that he could not withdraw from it. Chundrigar, Sardar Abdur Rab Nishtar, Ghazanfar Ali Khan and Jogandra Nath Mandal to the cabinet. With staunch extremists as Patel agreeing to the Muslim demand for a separate homeland, Mountbatten now prepared for the partition of the Sub-continent and announced it on June 3, 1947.