L-R: Ed Pirnik, Asa Christiana, and Long Island Woodworker's Club President Mike Daum, seated front-and-center at the show. FWW editor Asa Christiana jumped on a train to New York along with me for a special taping of the show that even included the work of Stewart's brother, Eric Scott, himself an accomplished woodworker whose Maloof-inspired chair was featured in one of the segments. Asa appeared near the top of the show, answering questions from Martha concerning the resurgence of the craft--especially hand tool-use. The episode also included an appearance by Maine bowl turner David Lancaster, who rolled out a super-sweet One-Way Lathe for a turning demo. A super-enthusiastic woodworker, Offerman met up with Asa backstage (left) after the show and might, just might, be interested in producing a shop tour with us some time in the near future.
In the end, the show went off without a hitch and really honored the craft in a way that's long overdue. It would be nice to tackle a canoe and paddles, but it'll have to wait for a few more home projects to get done first.
MikeCraw writes: I just tried to watch the segment, both from the link here and on the MS website, and it's unwatchable. Miter sawe?? i •i™•i•?e?? 45e?"e?? iz?e??eS" e??i?? i‰?i§€e?" i•Se? , e?? e"¤ i?°e°?i?" e¶™i?€i?" e•? e??i‹?i—†i?? i •i™•i•?e?? e§ze?°e?" e§¤is° i–?e ¤is? i??iz…e‹?e‹¤.
Round over biti™€ e°™i?€ i?•i??i??i§€e§? e? i–?e§?i?? iz'i•"i"? i•"ez?i??e?" e??i??e?? i??e?? e??i??e‹¤.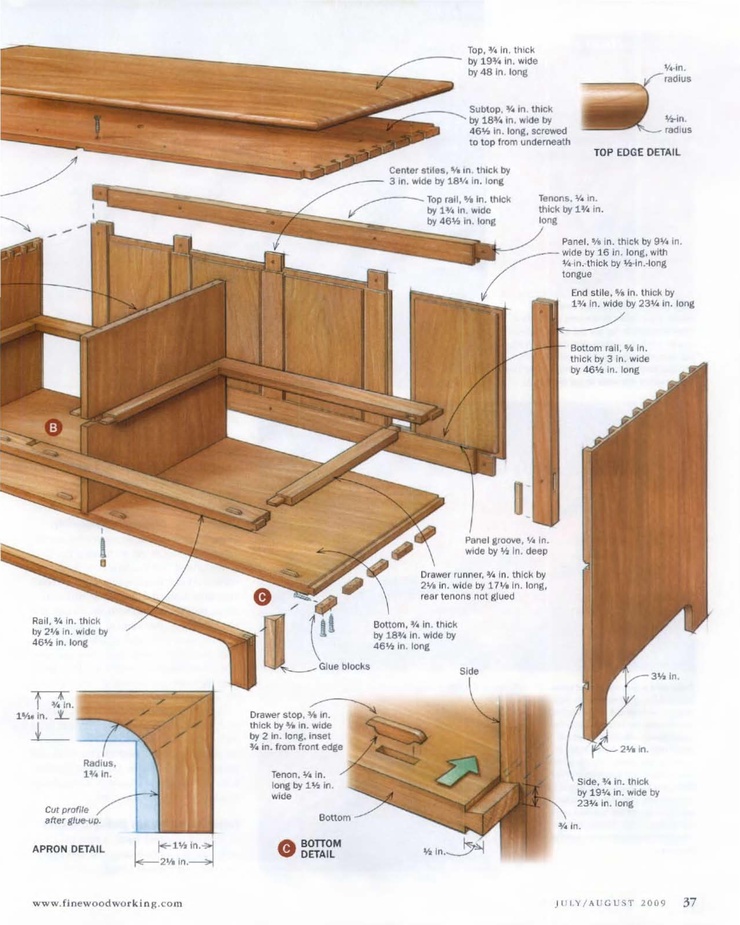 An early 20thC carved beech nut- cracker, the top as the head of a characterful gent, possibly Scrooge, the handle operating his lower jaw.
A Hornby clockwork O-gauge train set comprising 0-4-0 loco and tender (LMS livery), 4 passenger coaches, 3 cattle trucks, 1 cement wagon, 1 goods van, 3 open wagons (1 missing bogie).
An old copper diver's helmet with green verdigris patina, brass mounts with circular screw on face plate, glazed side panels with grill covers and wing nuts to the shaped base rim. A pair of 1930s bakelite plastic desk lamps, designed by eric Kirkman Cole, manufactured under licence in Czechoslovakia. Taxidermy fully mounted kiwi, standing with head turned to the right and beak raised to the horizontal, mounted on a circular wooden plaque with a thumb moulded edge. Early 20thC spelter bronze table lamp modelled as a young dutch girl carrying a basket of fish beside a pond. An Ebel crocodile skin covered, gold plated lady's purse watch, slide winding mechanism, date dial indicator, day aperture.
A pair of Italian Renaissance influenced armchairs with X-stretcher bases with mask bosses, the arms carved with beast's head terminals, joining the back with comic marks. Pair of ebonised beech framed baronial armchairs, the backs upholstered in sections of pony hide, the seats upholstered in black leather. So when Fine Woodworking was approached by the producers of the Martha Stewart Show to be a part of an "all-things-woodworking" episode, we jumped at the opportunity.
We were honored to hear that Scott decided to tackle the classic rocker after having seen it on the cover of Fine Woodworking #207 (Remembering Sam Maloof).
You'll have to watch the show to get all the details though, as I don't want to give away the farm!
While watching Lancaster, it became very apparent that this fellow has turned out thousands-upon-thousands of bowls.
Offerman, who plays the roll of Ron Swanson on the NBC television show Parks and Recreation, is also an avid woodworker and was on-hand to demonstrate his method for building custom canoe paddles.
Check in every weekday for news, information, projects, and answers to questions from Fine Woodworking readers everywhere. Also appearing with Eric was his teacher and mentor, woodworker Charles Brock, who teaches classes down in Georgia on how to Build a Maloof-Inspired Rocker. The speed with which he can craft a beautiful item is just astounding, and a true pleasure to watch.
His boats are of particular interest to anyone thinking about crafting a woodstrip canoe or kayak.