Sign up today for our FREE e-mail newsletters and get helpful tips and timely article links delivered to your e-mail inbox. Dozens of ideas, loads of how-tos, and the latest advice on the projects and products you need to improve your home today, plus special offers. From style to tile, find tons of inspirational photos, ideas, and how-tos for brand-new rooms, quick upgrades, and big and small fixes, plus special offers.
Twice-monthly advice for bringing your home outdoors, from year-round yard upkeep and planning to the wonders of making your garden grow, plus special offers.
Monthly advice on how to make your home eco-friendly, including energy and water saving tips, healthy home products, green remodeling, and more, plus special offer. Be the first to know about This Old House contests, sweepstakes, and events and receive special offers and promotions from your favorite home improvement brands.
First, using needle nosed pliers, I removed the screw that is sunken into the bottom of each finial.
Next I glued the button , using liquid nails, to cover the hole where the screw was, with the narrower end of the button facing out.
I then painted the lower third of the feet resting them in a large egg carton so they would not touch and the bottoms could dry properly.
I actually gasped when I saw how pretty these feet look (I know it sounds dramatic, but it's true)! These feet are a great idea…I have always wanted them but my cabinets are built too low. Wonderful Heather-I love to find creative ( and less expensive!) ways to replicate a look too – well done!!
I saw the normal table legs and even some smaller legs that might have worked with some modification but even these were still around $8 each and people we're working on a very frugal budget here and I needed 12 feet! I have been wanting to do this to my cabinets since forever… what a great way to make it so affordable!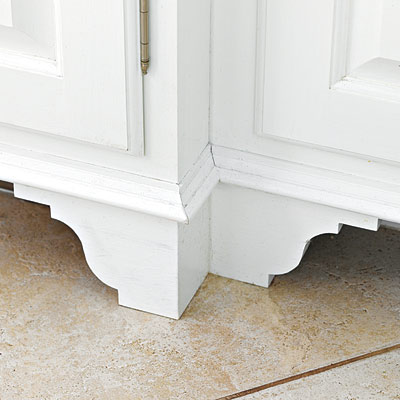 I might have the courage to paint the kitchen cabinets if I can make it all come together like these with the little feet. That's an expensive foot!  Now I do understand they are maple, and fluted and pretty but seriously? My real HUMAN feet wouldn't sell for that price… so you are genius for this idea!
For the ones that were loose under the cabinet still, I applied a small bead of caulk to the bottom of the foot and adhered the foot to the tile.
I'll just keep thinking about your beautiful cabinets and what the end result will be…Have a great rest of the week!