This blogworld has opened so many doors to special friendships these last 2 years for me and one of them is dear Layla, that you probably all know and love too, from The Lettered Cottage. She is exactly as I knew she would be and I just love this girl and am cheering her on from the sidelines.
We had lunch next door at a wonderful Thai place and this is Cathy from the area who also joined us for the day. Layla had spotted this piece already and I think blogged about it, but it's a really pretty old looking island in that beautiful shade of blue that we all love. All I got were 2 white pieces to add to my collection, a planter on the left and a cute rustic mixing bowl on the right, so I only spent $7. I loved that toile chair… I am getting ready to paint similar chairs, so thanks for the inspiration. Oh, I hate that I couldn't get with ya'll on Monday as previously planned but sometimes things come up beyond our control and plans have to change but there WILL be a next time, I promise!
That booth that sold things from reclaimed wood probably had something that would be perfect as a coffee table for my family room! It was so nice to meet you Rhoda, you are just so sweet and I had a wonderful day with you and Layla.
Receive a once-a-month email update with DIY projects and design ideas to make your home jell! Reclaimed window coffee table (top photo): a salvaged window from a mid 1900s Virginia home finds itself reborn into this characteristic coffee table.
Repurposed windows chalkboard wall: I just love, looove this idea, where reclaimed windows are repurposed into a unified wall, where panes are painted with chalkboard paint and then used to display notes and descriptions of items in the space.
Repurposed windows outdoor room: though this is a bit more ambitious, the idea is strong and beautiful.
Repurposed storm windows-mini green house (or bunny rabbit home!): not all windows have the appeal of wood framing like the ones shown above.
I spotted this really great looking bamboo bakers rack that was so pretty and only $119, a great price I thought. I may be coming there in July (8-11) when my husband's ballteam plays the Birmingham Barons. Placed over a frame of 2x6s and  filled with unfinished rough-cut cedar, this decor piece will definitely be a conversation piece as well.
I venture to suggest that this same room could be created with a less permanent roof (possibly tented with canvas or sheer fabric?) and the windows could even be attached to an already existing patio arbor.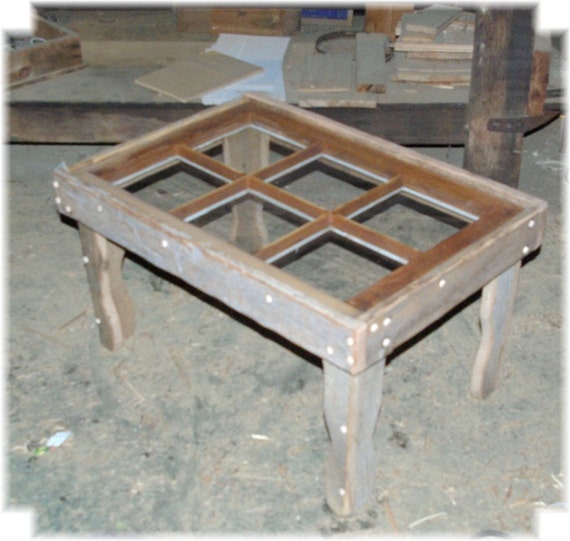 The extra credit here is its environmental kindness by way of the reclaimed windows doing their part to please mother and mother nature. Still, these utilitarian storm windows have found another purpose in life by allowing light (and heat) to shine in on your more delicate plants and flowers.
She is talented, sweet, and so genuine and we got to finally meet up in person this week for a day of antiquing and lunch, after chatting online and on the phone these last few months.
I saw the coffee table made out of an old window a few weeks ago with my Mom and said if I had a place to put it, I would buy it! Somehow, I'm guessing we'll be seeing a version of it in your home at some point, maybe an office chair? Then again I probably would have needed a U-Haul cause I don't know it I could have passed up some of that stuff!! Decorate along with me as I share simple tips and ideas for adding affordable style and timeless design to your home.