4.0L DOHC 24-Valve V6, Part Time 4WD with Active TRAC, Locking Rear Differential, Crawl Control, Hill-Start Assist Control, Tow, Navigation, Backup Camera, Bluetooth Audio, etc. New to T4R.ORG and to Toyota as well, but after recently purchasing a used 2004 4Runner for my kid and having fun upgrading it, I got the bug. I have been driving a number of 4x4 Fords and other full sized rigs for quite some time, and have had some Jeeps and Land Rovers too, so not new to being off road. Once you join you'll be able to post messages, upload pictures of your 4Runner, and have a great time with other 4Runner fans.
I drove the truck up there about a month ago to do some fishing and mountain biking, and we stayed at some cabins right on the San Juan River. I really stressed on this because I really want an aggressive look but have not been totally happy with past tires I have tried. I also like the BFG ATs and have also run these on numerous past vehicles, but the outdated design does not fare as well performance wise when compared to the newer hybrids like the Duratracs, MT ATZs, and so forth.
I had tried the Nitto Trail Grapplers a couple of times, but they are heavy and noisy although I think they look really good. Unfortunatly, at the time, I didn't own a camera so half the process went undocumented when my buddy with the camera was working.
The Corolla badge is from my old 86 Corolla, I tried very hard to kill it and it just wouldn't die.
I've been lurking around this site since I bought my 3rd Gen and I have found a lot of great ideas, along with tons of technical information. This 4Runner is going to be built for moderate trails and snow wheeling, but it will also see some harder trails like Holy Cross and Chinamans.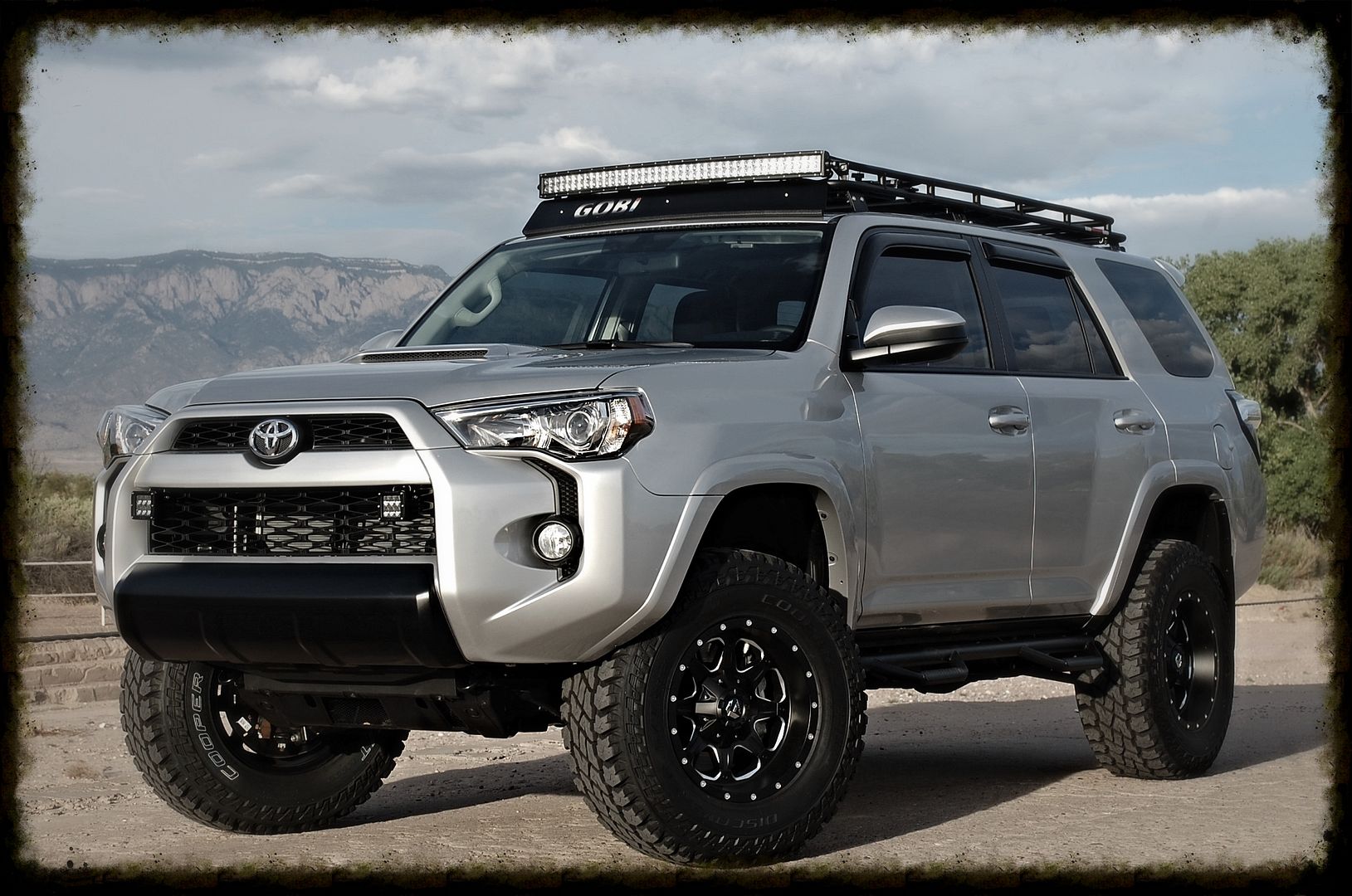 Hey guys, I have been a member of YotaTech for about 3 years but I just recently found T4R and I wanted to share my build thread and hopefully get some advice for future mods.
Shortly after I bought the truck my friend gave me 2 Orion 800 watt subs that he took out of his car that he totaled. After I did the LED mod on the inside, I decided that it was time to do something on the outside to make the truck look a little cleaner.
I also wanted my 4Runner to sound more like a truck so I had an 18" Magnaflow muffler installed. I installed a grill guard (that I found on eBay for about $300) and a window banner "4Runner" decal. Mounted a Maglight, fire extinguisher, and first response first aid kit in the cargo area for emergencies. I was sick of the old grill so I did a Satoshi grill mod and I mounted up some PIAA 520 ATP's to the grill guard. Went on a good number of roadtrips and the 4Runner served reliably as the main hauler for friends and gear. I thought I wanted the Limited but I couldn't fit it in with the sunroof, and despite the controversial front end, I actually preferred it over the others (love the hood scoop too).
When I pulled up, the owners of the cabins came out to check out the truck because they were looking for something and offered to buy it from me at a great price. Since I got the subs for free and I wanted to put them to good use, so I bought a sub box, amp, and a new deck. The PO tried to paint it himself and ended up failing miserably and didn't want anything to do with it anymore so I picked it up for $125!!
The Downey springs added about 1.5" of lift over stock, rode great and were very comfortable. I love how this thing drives; quiet, maneuverable, and much more refined and useable than my past Jeeps, yet still very capable off road! Thankfully, Luke from 4x4 Labs hooked a brotha up and let me borrow one of his welders so I could at least roll the truck around the yard until Wade's got back from the shop. Once loaded with several hundred pounds of gear, however, they sagged more then I liked so they were replaced with Icon 2" lift springs. We are donating $10 of each blue star subscription to the Blue Ribbon Coalition to ensure that we will have trails to recreate on for years to come. We've done a new radiator, timing belt, water pump, belts, hoses, plugs, wires, etc as well. They are such great people that it felt good to sell it to them (not to mention I got every penny out that I put into it)!
Basically, when he gets it back, we'll have pretty much gone through everything on the truck and R&R'd it.
I went with a Sony Xplod 1000 watt class D amp and a Sony Xplod head unit with a build in Ipod cable and Ipod controls.