Click the "Sign up" button at the bottom of your screen and enter your email, username, password, phone number (optional), and upload a photo (optional) to create your account.
After that you can choose to import contacts and find friends from your contact list, Facebook account, Twitter account, or simply search for names and user names.
After that choose to follow suggested Instagram users by clicking the "Follow" button next to their name. The "Feed" tab you can scroll through posts by all of the users you are following by swiping up (looks like a house icon to the very left). You can click the "like" button or click "comment" to share your opinion of a photo with other Instagram users. The "Popular" tab you can see photos uploaded by other users that are getting attention from the Instagram community (star icon).
The "Share" tab you can click if you want to make photos (click the camera icon in the center ). Describe your photo in the "What?" text input field.You can also select the "Where?" tab to add location where the photo was made. Choose any social networks underneath and click "Sharing" that you want to post your photo on. In order to make photo you need an device with a camera such as the iPhone or an Android phone.You can also click the small icon on the bottom right to enable and disable your device's flash, if supported. Click the layered photo icon from the bottom left to select a photo from your photo albums.
Click on the intertwined squares at the bottom left to choose a picture to work with, then select a filter from the choices that appear.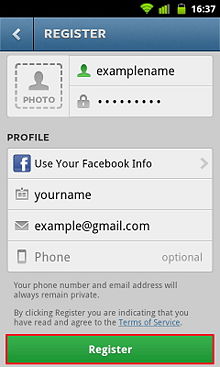 In order to link your social account with your Instagram account just enter the username and password. Your photo will appear in your "Feed" and also the feed of other Instagram users that are following you.
On an iPhone, this will be a green check mark on the bottom of the screen, while on an Android, tap the double arrows at the top right corner to move on.