The books: took me ages to make those paper strips look like books… I still wonder if they do!
I read almost all the comments of your followers, and I, like them, have been touched by this journal in particular, as I am an avid reader and the quote you wrote resonates to all readers.
I am starting with mixed media and Art Journaling and love all the inspiration you share in each of your master pieces.
I then realized these art journals are for creativity of one persons thoughts and feelings and artistic abilities and fun . I absolutely adore your art journal pages and have been inspired to buy a journal of my own.
This Fall I took a break from some of the traditional painting I do and got my hands dirty! This is a great project to do alone or with a group of friends that like getting their hands into things and that love decorating gardens.
A nice colorful Fall leaf for inspiration1 box of Laguna Ovencraft ClaySome Clay Tools (Household items do just fine, i.e. Once you've snagged your beautiful inspiration, get all of your supplies out and get into that clay!
Start by cutting the amount of clay that you will need to shape into your leaf, about the size of a large cube of butter or so.
Use your hands to shape the clay roughly into the shape of the leaf you are trying to re-create.
Now take your leaf and press it onto your clay, use your fingertips to press the veins on the leaf onto your clay, so that it will make an impression of the leaf on your clay. Take an X-ACTO knife or sharp kitchen knife and cut out the edges of your leaf on your clay.
Take another small amount of clay and form it into an oval shaped ball, rolling it in your hands. Start shaping your leaf face, using your fingers to create indents for the eyes, nose and mouth area. Use a clay tool, like a nail or toothpick to dig out the eye sockets and define the nose area. If you need to, wet the area with water with your fingers to smooth and attach the cheeks; then blend them into the face. Make two small spheres and a small snake like shape out of your clay and attach them to the face of your leaf head to create the nose. Also a small amount of water works really well to adhere the clay to itself and a toothpick is perfect to create nostril holes in your leaf heads nose.
Create two small spheres for each eyeball, and use your fingers or a toothpick to insert them into the almond shape cavities you created in your leaf head for the eye sockets. Take the clay face in your hands and hold it looking at its profile, cut off any access clay, making the shape of the head a half circle. Wet the scored area of the clay with your fingers and attach the two pieces of clay together.
Once you have attached your face to the leaf, smooth the area around the face with your fingers, until the two pieces become one. Now define the outside edges of your leaf, using an X-ACTO knife or a kitchen knife, as well as the veins of your leaf with a toothpick or a nail along with anything else you want to highlight.
Finally, carve your initials on the back of your creation along with the date and set it aside in a safe place dry.
Once your clay creation is completely dry, you are ready to bake your magnificent garden art!Use a standard kitchen oven (no microwaves).
After following the instructions on the Laguna Ovencraft clay, and allowing your clay creation to completely cool in the oven, it should be a spotted reddish color and hard. Have a good time painting your leaf, remember there is no right or wrong…just enjoy yourself!
After you have finished painting your leaf garden art, allow the acrylic paint to completely dry. If you use the "Triple Thick" sealant, allow 24 hours time for it to cure and make sure you seal your entire leaf, including the sides and the back of it.
The final step is to attach your leaf face clay garden art to a garden stick or metal Sheppard's hook. The kids were crafting next to me too and you'll see little hands appear in the video!
I nearly had a heart attack when I saw you peel them off (to put the globe behind) I thought you were mad! I am catching up on all your videos and hope you will continue to share your tremendous talent.
Thank you for sharing your amazingly talanted art work, I love card making so follow you there as well. In reading your post I see that you come to art journaling from card making…that makes your approach to art very different from other artists I have discovered on You Tube. As I watched the art journals , being put together l wondered what practical use can an art journal be used for? Then I realized I too am making a journal of my artistic ability , all my zentangle designs I enter into an album .I am doing the same thing . I too am a cardmaker but love the idea of the freedom and creativity that art journaling allows. Use the edges of your leaf to guide you as you cut out your shape or you can just eyeball it. Use one small sphere on either side of the snake like shape as nostrils and the snake shape will become the bridge of the nose. On the back of your leaf, you will want to attach something to hang it up with, like a picture hanger. Grab that gorgeous leaf you picked up on your, oh so serene nature walk, and absorb the colors and textures. I used Liquitex Basics acrylic paint and mixed colors like green, yellow, brown, black and white. I used DecoArt's Triple Thick Gloss Glaze, but you can use any type of sealant, from matt to gloss that works with the type of paint you used on your project.
I actually got a small metal rod at a local hardware store, bent it with pliers and used florists wire to attach the clay leaves to the rods. Be creative and use your imagination and perhaps you will invent a whole new way to display and enjoy your very own leaf face clay garden art!
I'm a hands on person and like doing work in 3D – there is so much I want to try but so little time! You'll learn how to use different media such as paint, photographs, and collage, while following journaling prompts and exercises to help you dig deeper and enrich the journaling process and experience. Like when I used the modelling paste or when I distressed that little piece of paper with the quote… FUN !
I love them, and this one especially spoke to me as an avid reader and traveller and manager of a book shoppe!!!
The books are amazing, and really I can't believe how simple you made it look and they actually look like books!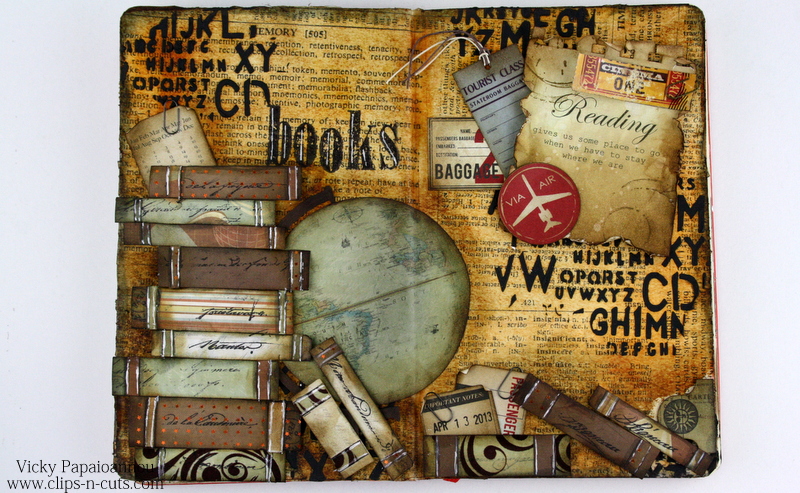 Try to add your own touch, it would be more personal and you'll love it even more!!!!
Your technique in creating the books, the way you used the tissue paper and distressing ink really worked well on the page. I second the opinion of the person above who said that this is the BEST art page she has ever watched being made.
I watch them over and over and best of all I order a lot of the items you are so kind to list. If you don't have any trees in your neighborhood, take a little Fall drive….or take a trip to your local park.
Cut an almond shape in your clay face for each eye socket; hollowing out the area for a clay eyeball. Finish your clay face by defining it with your tools, shape the eyebrows, make crows-feet face wrinkles and define the lips.
This is easy, just score the area you want to attach the picture hanger and use a small piece of clay, moistened and laid over the hanger.
Keep your creation in a warm dry place; you will know it is dry when it is no longer cool to the touch. For an extra special little touch, I wrapped my metal rods with grape vines and secured them with the same green florists wire.
Nice…yeah if you were in the states we would have to get together and make clay creatures.
Traci Bunkers discusses the benefits of visual journaling, and walks you through battling a creative funk when you're feeling down or uninspired.Additionally, The Art Journal Workshop comes with a DVD-ROM to play on yor PC or Mac which shows the author creating six visual journal pages from the book, start to finish, through time-lapse video clips. Every avid reader needs this Journal Page in their own personal journal because it speaks volumes on so many levels. Do you mind if I follow your instructions for your book art journal page and share it with friends. I stumbled across your site when googling ideas for the crazy bird stamps but this is such a fantastic idea. I've also found grocery store parking lots seam to have a plethora of leafy material, at least where I live.
After you get your shape cut out, take a toothpick or a nail and carve and define the veins of your leaf into your clay.
Another tip, I used a darker color in the veins to give it some depth, but a lighter color is also really cool looking. This visual guide enhances the information in the book, showing her work progress in a way that goes beyond what can be captured in still photographs or through text.
I have been wanting to make a canvas or page about reading for a while, and have been collecting some quotes on reading on Pinterest in preparation for doing so. Travel themed papers and stamps are also one of my weaknesses, and the quote you used is one of my favourites.
Just like I do with my cards, I follow the general idea but things might change in the process. Thanks for all the inspiration – and I've only looked at 2 of your videos so far!