The notorious Paul Booth, father of "dark" tattoo' and an idol to so many, gave his first and only interview up until today to a Greek medium, HeartbeatInk, at his base of operations, the atmospheric Last Rites Tattoo Theatre in New York. In 1991 I did my first tattoo convention and I had tattooed a back piece on my girlfriend at that time. I would imagine that you have tattooed some of the people you admired and listened to when you were a teenager? After twenty three years, what inspires you to keep tattooing and to continue being creative? I went to the convention just hoping to find some work because I didn't have a shop to work at after I left my original one.
I remember the day I started tattooing, dreaming someday of tattooing Slayer and now they are close friends of mine.
I have built this place around me so that I will constantly have inspiration and I won't stagnate. I apprenticed under a guy in New Jersey for about two and a half years and then I went on the road and it's been nonstop ever since.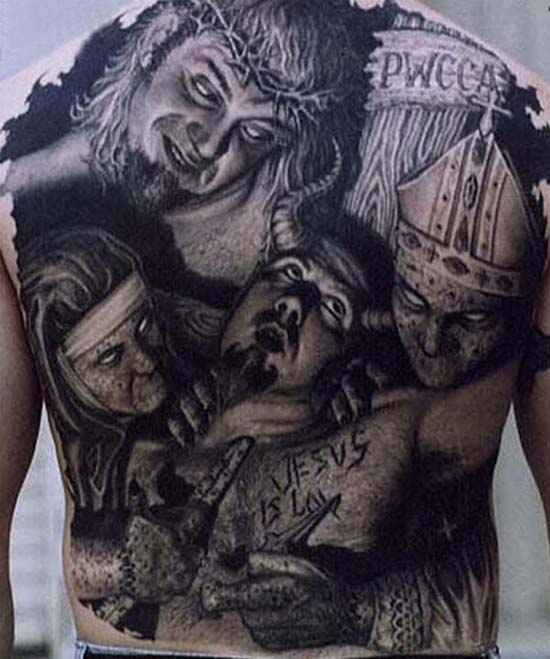 She got a huge amount of attention for her back piece and ended up on the cover of a magazine.
The group of artists that I have selected to work here at Last Rites, the art gallery and all the art that comes through every month is an overload of creative inspiration. That was an amazing thing because, just like Slayer, when I was a teenager I was trying to emulate Giger in my art room. I think that you've got to be willing to travel, to go to a tattooer who is willing to train you and devote yourself to them for a while, whatever the agreement and be prepared to do exactly that. I first started getting invited around the county to do guest spots from tattooers that I knew and then it went global. I would say that the only complaint I have is that they see a lot of work that is fresh, not yet healed, and people don't really understand that it changes when it heals.
I just have been staying at home a lot because I have been working on larger stuff and I've got to run this place. There is a degree of artists that respect where they come from and pay tribute to it or just respect in general, which is great.
There are some tattoo rockstars out there that are getting a lot of attention and probably shouldn't. And then there are guys who think they are rock stars and don't give a dam about the guys that came before them. And then there are of course artists out there that you discover through social media that are amazing. I am very fortunate, but at the time I had no idea that it was going to take off the way it did.