Spring 2020 Newsletter
Dear colleagues,





Amid unprecedented challenges, UCI faculty, students and staff continue to do excellent work while keeping themselves, their families and their community safe. Our faculty continue to make an impact. In this issue, we celebrate newly elected members of the National Academy of Sciences and National Academy of Education, four faculty being named Guggenheim Fellows, and 20 faculty honored for their excellence in undergraduate teaching.





UCI is making a difference in understanding and supporting the coronavirus and its effects. For example, UCI Beall Applied Innovation collaborated with UCI Health, the Henry Samueli School of Engineering, Claire Trevor School of the Arts, Sue & Bill Gross School of Nursing, UCI School of Medicine and several business partners, to design, produce and source 5,000 protective face shields to support UCI medical center front line staff. Also, computer science faculty quickly developed an interactive tool to help researchers track real-time social media conversations about the coronavirus. In an effort to spur further research into the pandemic's effects, UCI is offering special funding opportunities.





I invite you to learn more about these and other initiatives and achievements in our spring edition of the newsletter. And please continue to stay safe.





Sincerely,



Hal S. Stern, Ph.D.
Interim Provost and Executive Vice Chancellor
Chancellor's Professor, Statistics
Student Success




Academic Excellence

People




Inclusive Excellence
Canvas Tips to Help Faculty Teach Remotely
As UCI has transitioned to a fully-remote teaching environment, faculty are quickly adapting to offer their students positive learning experiences. Technology such as Canvas gives faculty the ability to recreate the classroom experience virtually. To learn strategies that can be implemented in courses and how to use Canvas to accomplish specific objectives, click "learn more" below.
Student-Named "Best Professor" Donald Dabdub Shares Tips on Remote Teaching
Based on a student vote, Donald Dabdub has been named Mechanical and Aerospace Engineering Professor of the Year. This honor recognizes his excellent reputation among students and celebrates his documented track record of student mentorship, guidance and care. As an experienced teacher respected by students and faculty alike, Professor Dabdub offers some of his top tips for adjusting to the remote teaching environment.
2020 Celebration of Teaching Awards
Twenty faculty have been honored for excellence in undergraduate teaching by the Division of Undergraduate Education. The awards are presented in two categories: one for campuswide awards nomination, and one for dean selections. While the Annual Celebration of Teaching event has been postponed, Michael Dennin, Vice Provost for Teaching and Learning and Dean, Division of Undergraduate Education invites the campus to congratulate the awardees virtually.
Scholarship Opportunities Program Call for Faculty Mentors
The Scholarship Opportunities Program encourages faculty to help our high-achieving undergraduate students secure academic funding by signing up to serve as faculty mentors. Mentors help revise students' application essays, write recommendation letters, and serve on campus endorsement review committees. By providing this guidance, faculty can improve students' academic outcomes and increase UCI's recognition at national and international levels.
Did you know?
Library Services Available Online
Although library buildings are currently closed, UCI Libraries staff continue to provide remote library services. The newly redesigned UCI Libraries website makes connecting from off-campus fast and easy:
Plus, authorized UCI users can access online entertainment, news, and culture including:
UCI Team Designs and Produces Thousands of Face Shields for UCI Medical Center
In an exceptional demonstration of innovation, UCI Beall Applied Innovation collaborated with UCI Health, the Henry Samueli School of Engineering, Claire Trevor School of the Arts, Sue & Bill Gross School of Nursing, UCI School of Medicine and business leaders from several business partners, to design, produce and source protective face shields. The team used 3D printing and laser cutting to deliver 5,000 units in just 17 days to support UCI medical center front line staff.
Computer Science Team Develops Interactive Map of Coronavirus Tweets
A team of UCI computer scientists has developed an interactive website that plots the origin of Twitter posts related to the coronavirus. Created by professor Chen Li and a group of five graduate and undergraduate students, Coronavirus Twitter map captures tweets across the U.S. related to COVID-19, beginning in January, and updates in real time, allowing users to visualize and analyze the posts.
"This tool gives people a way to locate discussions about the coronavirus within a region and in a time window," said Li. "We want the tool to help them gain insights on public discussions about this fast-evolving crisis, which can help government agencies and researchers in various domains, such as public health."
COVID-19 Research Funding Now Available
Applications are now open for funding to support COVID-19 research. UCI's Joint Research Fund is offering funding of up to $60,000 per project for research that either has an immediate impact on efforts to treat or control the spread of COVID-19, or a longer-term impact that prepares investigators to apply for extramural funding that is likely to become available.
New Book Explores Foundations of Salivary Bioscience
Even before the novel coronavirus outbreak, Chancellor's Professor of Psychological Science, Pediatrics, and Public Health Douglas A. Granger was collaborating with researchers to use saliva to track exposure to infectious diseases — an appealing option since it's less invasive than traditional blood tests. Professor Granger presents the results of that research in one of 30 chapters in the newly released book "Salivary Bioscience: Foundations of Interdisciplinary Saliva Research and Applications," which explores the use of saliva in an array of disciplines — from pediatrics, dentistry and sports medicine to neuroscience, psychology, animal welfare, public policy and precision medicine. The first-of-its-kind book is co-edited by Professor Granger, who is also the director of UCI's Institute for Interdisciplinary Salivary Bioscience Research, and Marcus K. Taylor, a UCI faculty affiliate and American College of Sports Medicine Fellow.
Luce Foundation and UCOP Grant Support Exploration of Humanitarianism in Africa
UCI political science professor Cecelia Lynch's blog, outreach and research into "Critical Investigations into Humanitarianism in Africa" explore global humanitarian and developmental aid practices in the continent while including a critically important perspective: that of African scholars, practitioners and recipients whose voices are often minimized in the conversation. The research has been supported by ongoing grants from the Henry Luce Foundation and an Innovative Learning Technology Initiative grant from the University of California Office of the President that supported development of an online course on the topic in spring quarter.
Folklorist Carol M. Burke Tells Stories from the Front-lines of War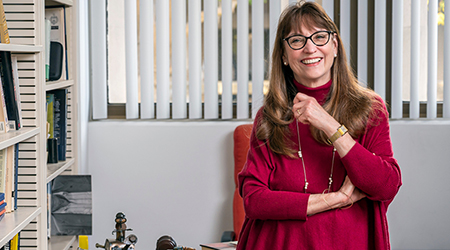 Throughout her career, English professor Carol M. Burke has used her skills as a storyteller and folklorist to help people understand the complexity of war. She is working on her seventh book, America's Longest War. The book is a collection of first-person essays based on her time embedded with combat units in Afghanistan. There she and a small team of cultural advisors sought to unearth vital information about the local population, mapping out the locations, histories, and day-to-day concerns of different tribes such as lack of clean drinking water to widespread illiteracy.
UCI Law Review Elects First Ever All-Female Executive Board
For the first time in its history, UCI Law Review has elected an all-female executive board. Founded in the spring of 2010, UCI Law Review is a student-run, student-edited journal that promotes exceptional legal scholarship by featuring contributions from a range of academic, practical and student perspectives.
Ellen Druffel Elected to the National Academy of Sciences
Ellen Druffel, Distinguished Professor and Fred Kavli Chair in Earth System Science, has been elected to the prestigious National Academy of Sciences. She is one of 146 scientists from around the world being recognized this year for their outstanding and continuing achievements in original research. Professor Druffel explores the carbon cycle in the oceans and how humanity's burning of fossil fuels and biomass affects that cycle. UCI now has 24 faculty who are members of the National Academy of Sciences.
Four UCI Faculty Awarded Guggenheim Fellowships
Mark LeVine
Professor of history

Jennifer Pastor
Professor of art
Andrej Luptak
Professor of pharmaceutical sciences, chemistry, and molecular biology & biochemistry

Amy Wilentz
Professor of English
Four UCI faculty are among the 175 U.S. and Canadian scholars, researchers, artists and writers to be named 2020 Guggenheim Fellows in recognition of their "prior achievement and exceptional promise." They were selected by the John Simon Guggenheim Memorial Foundation from a pool of nearly 3,000 applicants.
With fields of study ranging from biochemistry and molecular biology to music and culture, fine arts and writing, these scholars exemplify academic excellence and bring great recognition to UCI with their outstanding contributions. UCI now has a total of 37 Guggenheim Fellows from various backgrounds and fields of study.
Mark Warschauer Elected to National Academy of Education
Mark Warschauer, professor of education and informatics, was among 15 "exceptional scholars" nationwide to be elected to the National Academy of Education.
"Election to the National Academy of Education is one of the most prestigious honors a faculty can achieve in his or her career, and Mark is well deserving of this commendation," said Richard Arum, dean and professor of the School of Education. "His research and scholarship is not only cutting-edge, but has also proven to be a great boon to our communities and to students of all ages and backgrounds."
Professor Warschauer is the fifth UCI School of Education faculty member elected to the National Academy of Education, making UCI 10th in the nation for the number of faculty in the prestigious organization.
Endowed Chairs Appointed
Philip Kiser Awarded Pisart Award in Vision Science
Philip Kiser, assistant professor in physiology & biophysics, has been honored with the Pisart Award in Vision Science by the Lighthouse Guild.
Engineering Faculty & Students Earn National Accolades
M.F.A. Student and Alumnus Earn National Recognition
M.F.A. Candidate Avery Reagan Wins the Hemsley Lighting Internship

Avery Reagan, an M.F.A. '20 candidate in the drama department's lighting design program, was recently awarded the 37th annual Gilbert Hemsley Lighting Internship. Reagan is the first UCI student to receive the coveted prize, which is awarded to just one or two recipients nationwide each year.

Dante Puleio, M.F.A. '17 Named Artistic Director for the Limón Dance Company

Dante Puleio will be the sixth artistic director in the 74-year history of the New York City-based company, which is named after founder José Limón. Puleio enjoyed a successful career with Limón for more than a decade before earning his M.F.A. in dance from UCI's Claire Trevor School of the Arts in 2017.
Rebecca Riley Named UCI's Grad Slam Champion
| | |
| --- | --- |
| | UCI doctoral student in theoretical particle physics Rebecca Riley won UCI's 2020 Grad Slam competition. She impressed the contest judges with her three-minute talk about dark matter, "In the Dark Corners of the Universe," which you can watch here. UCI was fortunate to hold its Grad Slam competition before the closures due to COVID-19. Congratulations to all of UCI's 2020 winners. |
Funding Opportunity: Advancing Equity in the Age of COVID-19
The Office of Inclusive Excellence is soliciting proposals from Senate faculty to explore "Are We in This Together? Advancing Equity in an Age of COVID-19." Competitive proposals will explore the meaning of the pandemic from a broad cross section of fields, disciplines, methodologies or theoretical perspectives. Using COVID-19 as a lens through which to explore fault lines of inequities, proposers are encouraged to interrogate the uneven effects and realities of the pandemic on people, communities, societies, nation-states, state systems or global or planetary conditions. Funding of up to $10,000 per project will be provided for single investigators and up to $25,000 per project for multi-investigator proposals — including those from research center teams. Complete proposals must be submitted by May 15, 2020.
New Book by Frank Wilderson Explores Afropessimism
The newly released book, Afropessimism, explores a concept developed by the author, Frank Wilderson, professor and chair of African American studies, and colleague Jared Sexton, professor of African American studies and film and media studies at UCI, along with others. Afropessimism is a discipline of critical theory that questions the meaning of 'Blackness' and posits that the common structures held in Marxism (worker and capitalist), post-colonialism (occupied and occupier), psychoanalytical feminism (woman and man) and other critical theories are unable to explain Black suffering. The book uniquely blends critical theory with narrative storytelling, which makes his complex ideas more digestible to a non-academic public.
"We are just filling up the internet with people who are rethinking how thought is thought, through Afropessimism," says Wilderson. "The world sees UCI as the kind of locus of Afropessimism."
Call to Action:

Participate in the U.S. Census
All UCI community members are encouraged to participate in the U.S. Census. By now, citizens and permanent residents as well as enrolled domestic out of state and international graduate students and undergraduates should have received an invitation at your home or dwelling to complete a short questionnaire online, by phone or by mail. The questions refer to you and everyone who lives with you. Your responses will promote the well-being of all residents in all 50 states and five territories. As a non-partisan governmental agency, the U.S. Census Bureau is required by law to protect your responses and keep them confidential.
Did you know?
Vote on Reading List by May 6
The UCI Office of Inclusive Excellence, UCI Libraries, and the UCI Division of Student Affairs invite all UCI students, faculty and staff to participate in the UCI Great Big Read, a project aimed at fostering engagement while practicing social distancing. The books will focus on themes of inclusion and connection as ways to enhance openness to diverse perspectives. Links to the free or nearly free readings will be sent to all registered readers. The UCI Great Big Read offers several ways that members of the campus and medical center can engage, including independently reading books from the list, participating in upcoming discussion forums and volunteering for selection readings in forthcoming programs. Vote on which books should be read first; the deadline is May 6.
Save the Dates

#ActforInclusion Improving Equity and Health on Friday May 15
The Office of Inclusive Excellence and the LEAD-ABC (Leadership Education to Advance Diversity-African, Black, and Caribbean) program invite all campus and medical center members to join this virtual event to learn about campus and medical center resources available for collaboration and inroads to care during the current pandemic. Participants will gain insights from key leaders about cutting-edge research and education emerging to support community wellness and health professionals' success in the battle against COVID-19.
WHEN: 1-2 p.m. on Friday, May 15
---
Challenging Anti-Asian Racism and Xenophobia event on May 21
With rising cases of COVID-19, a global shutdown, falling stock market prices and mass layoffs there is no doubt that many of our lives have been turned upside down in just a few short weeks. With 24/7 news updates and alarms going off in all directions, there is a thick air that overwhelms and peaks anxiety across the globe. This session will discuss how the panic and anxiety are disproportionately impacting Asian communities and identify ways to respond to anti-Asian racism and show our Asian/Asian-American communities that we care.
WHEN: 3-4:30 p.m., Thursday, May 21