Just forgot to mention: WE NEED CLASSIC SHELL MORE THAN EVER !!The new Win 10 Start Menu sucks, Classic Shell rulez !Ivo, keep up your excellent work!! Woohoo that's a testament to your clean implementation, Ivo, that it already works so well on the TP.
I've installed the latest Classic Shell on the Windows 10 trial release (running in a virtual machine) so, since it isn't offically supported, this falls between a bug report and a feature request - I've posted it in here as it would be a bug in an official release.
Icons in the tray (notification area) for the apps you use already pretty much do what Live Tiles do except that they are not as space-hogging as Live Tiles. The program appears to work as would be normal in Windows 8.1 in all the aspects I have tried so far, apart from one thing. Classic Shell works as it should - I haven't found any other problems with it yet - so, with luck, it may well just need that one thing fixing before releasing the Windows 10 version. To use Live Tiles APIs, your app must be a Universal Windows Platform (UWP) app, so Live Tiles are out of the question for Classic Shell. Gadgets are better than Live Tiles and came first.Gadgets could be placed anywhere, you could interact with them, expand them, resize them and the Gadget platform was open meaning you weren't restricted to a Store to obtain them. If Windows 8 is any indication, there will be a huge difference between TP and the final thing.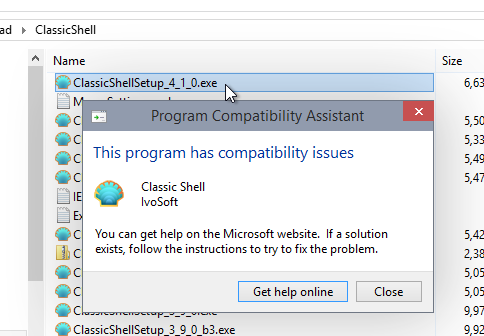 The Win 10 install went well, however, after the install, I was having trouble with the Search function - it just didn't work - and the Store didn't seem to be working correctly. They were a good idea on smaller screen, touch devices where the Tiles are the only way to launch the app, they need to be larger for your finger and there isn't a separate notification area. Classic Shell seems to place taskbar buttons for running programs just to the right of the Classic Shell button, so the first few are in the same place as the new Search and Task View buttons. It is possible, by moving visible pinned icons around to change the two that are hidden under the W10 icons, so as a workaround I have pinned two extra programs that I don't use from the task Bar, and pushed them under the W10 icons, thus having all the ones I use sticking out and visible. Live Tiles don't fit into this design.But of course, Classic Shell's Start Menu is fully supported on Windows 10 as well as the Classic Explorer and IE features.
In comparison, Live Tiles have the Metro style mono color design, can only be resized, and you can't do any interaction with them currently, so they are not as capable as Gadgets were. The Search and Task View buttons seem to be set to be always on top, which means the first few running program buttons are hidden.Classic Shell either needs to include an option to hide these new buttons, or needs to place the first running program's taskbar button just to the right of the Task View button.
Turning off Classic Shell altogether immediately restores the status quo and the hidden icons are revealed again. These issues will be fixed after the stable, final version of Windows 10 is released for that wave (Threshold 1, Threshold 2, RedStone 1 etc).If you want Windows 10 Start Menu features and ideas in Classic Shell's menu, see the discussion below.
I assume it will be fixed in an official Windows 10 release, but I thought I'd mention it in case it hadn't been spotted yet. You are welcome to give your feedback and make feature requests.Older discussion of Classic Shell on Windows 10 follows below (from August 2014). Plus, Microsoft hasn't opened up the possibility of third parties using Live Tiles in desktop apps. After a bit reviews I start to check my system with Hwinfo64 Seems they report Windows 10 is still Windows 8.1!? They were a good idea on smaller screen, touch devices where the Tiles are the only way to launch the app, they need to be larger for your finger.