We think the best way to get a flavour of our approach to customer service training is to take a look at some of the courses we've run for our clients. After taking a look at those, come back and read more about our general approach to customer service training programmes.
Our training courses in helping people and teams develop their customer service skills fall into two categories - courses for groups from a single company, and customer service development courses for individuals. The way we cover customer service skills varies enormously, and depends heavily on a joint pre-courses assessment of what the needs are, and the flexibility during the course to change and adapt the approach as needed. NLP, it goes without saying, has a massive amount to offer in terms of developing a greater understanding of relationship building and building rapport with customers, because it helps show how our styles come across to others. It also can be massively helpful in gaining a greater understanding of other people, helping you to easily step into the world of the customer and see things from their side.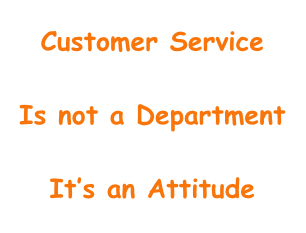 As with all our courses, we introduce the theory, use real-world, practical, and usually outdoors experiential learning to flesh out and internalise the knowledge gained, and then focus on reviews to really capture the essence of what has been learnt and ensure that it is translated into practical benefits back at work. As part of our customer service training courses, we will give you the opportunity to actually "be" customers.
Sounds obvious, but common sense is missed far too often on training courses, overruled by the latest fancy theory and snazzy quotes from the "gurus".
Our skill here is in genuine, open facilitation, and in creating the environment for people to come up with their own answers - much, much more powerful than listening to a lecture. By enabling us to take a very deep look at the language we use, we can deconstruct the "meant" meanings, the "implied" meanings, and the wide range of potential meanings to help us refine and develop our customer service skills. Doing so will make you far more successful, and helkp to ensure that your customers are ambassadors for you and your organisation.
Reviewing the jointly-held experience for both its good and bad aspects offers incredible insight into changes we all can make. By giving teams the opportunity to undertake challenges and tasks, and then simply reviewing with them what went well and what didn't, it's (no longer, to us!) astonishing what comes out.