Coventry University is a diverse and exciting place to work and we share the enthusiasm of our staff and students to be the best at whatever they choose to do. Major emergencies in the UK, such as the fuel shortages, the foot and mouth epidemic of 2000, repeated widespread flooding, and the London bombings of 2005 have made clear the need for enhanced levels of resilience in the UK. The MSc in Emergency Planning and Management is a taught course designed to provide students with an advanced level of understanding of concepts and evolving best practice in emergency planning and management.
Courses in disaster management have been offered at Coventry University for over ten years. Increased levels of preparedness and more effective responses to realised risks and threats also require an understanding of the issues that underlie many of the day-to-day problems faced by practitioners in the field of emergency planning and management.
This understanding, including how such issues may be addressed in practice, is necessary in order to increase the level of resilience of individual organisations, as well as the effectiveness of the integrated emergency management of disruptive challenges to the UK economy, society and security. A Postgraduate Certificate may be awarded following completion of four modules; a Postgraduate Diploma would require the successful completion of four additional modules (eight in total), and an MSc degree would also require the successful completion of a dissertation.
As part of this course you will study Global Professional Development, a beneficial new 10-credit module developed in partnership with the CMI.
Full-time students, who start their programme in October of each year, normally research and write their dissertations between June and September of the following year. Modules are taught as 1 week 'face-to-face' contact at the University (including lectures, workshops, seminars, and exercises) followed by several weeks of directed and self-directed study, which may be undertaken off-campus.
Successful applicants must normally hold at least a second class honours degree from a discipline relevant to the programme.
Applications are encouraged from all suitably qualified persons, irrespective of age, race, gender or disability.
Applicants whose first language is not English are required to provide evidence of an ability to follow instruction in English. The MSc in Emergency Planning and Management is ideal for students seeking career advancement within either the public or private sectors, or for those wishing to pursue an academic or research-oriented career. Both current concerns with enhancing resilience to emergencies in the UK and specific organisational duties arising from UK legislation have created a strong demand for qualified emergency planning and management professionals.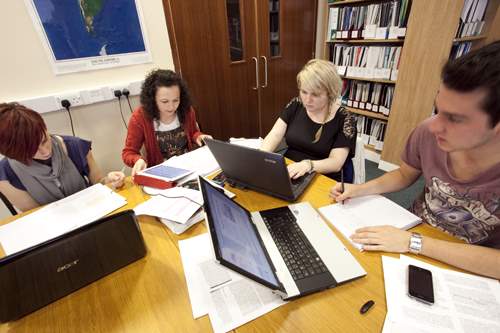 Our graduates are much sought after by a range of organisations, including local and regional government, the uniformed services, health and other public sector agencies, and many private sector companies. To prepare students for the challenges of the global employment market and to strengthen and develop their broader personal and professional skills Coventry University has developed a unique Global Leaders Programme. The objectives of the programme, in which postgraduate and eligible undergraduate students can participate, is to provide practical career workshops and enable participants to experience different business cultures. If you click on the Order a Prospectus button above, we will send you a printed Postgraduate Prospectus; alternatively you can download a pdf prospectus. To find out more information about Postgraduate Study at Coventry University, including finance and funding and the benefits of further study, see our Postgraduate Study pages. Three West Midlands universities are joining forces to meet the demands of devolution across the region, putting higher education at the centre of the drive for economic growth. Pauline has managed a number of key PR accounts and campaigns for a variety of businesses and has experience in crisis communications. In her time away from the office, Pauline enjoys going to gym and practices advanced Pilates. Donna has experience of both consumer and business-to-business PR, and manages a number of key accounts operating in a variety of industries including oil and gas service firms, professional services and hotels. At the end of a busy week Donna likes nothing more than putting her feet up with a large glass of wine! Yvette has experience of both consumer and business-to-business PR and has written features, blogs and newspaper columns for national and local press as well as weekly magazines and trade publications.
At the weekend Yvette can be found at the top of Scolty Hill trying to control her crazy dog or with her family planning their next trip abroad! Dannielle is a communications graduate with three years experience in the communications and PR industry, working with both B2B and B2C clients world-wide.
Jenna MacCulloch is our Inverness-based PR account manager first point of call for our Highland clients. A former award-winning journalist, Jenna has over six years experience in both print and broadcast media, formally holding the position of chief reporter at one of the top newspaper titles in the Highlands, before making the move into the PR industry.
Jenna has experience in consumer and business-to-business PR, PR crisis and managing accounts in the tourism, food and drink and renewables industry. Born and bred Inverness, Jenna is passionate about all things Highland and loves nothing more than sampling locally sourced cuisine in restaurants. As one of the City's biggest employers, we offer some impressive benefits for our staff and are committed to delivering the very best opportunities.
As well as satisfying the required standards for an academic research project, the dissertation provides an opportunity for students to focus their learning on their own particular professional development needs.
Such applicants will be interviewed and may be required to provide supportive evidence of their career to date. The applications and admissions procedure conforms fully to the University's policy concerning Equal Opportunities.
In most cases you can decide to exit at Postgraduate Certificate or Diploma level, without carrying onto the full Master's qualification.
She then went on to enjoy the glamorous world of consumer marketing before jumping ship to the even more glitzy PR business in London. Her specialisms include oil and gas and property, and recently she completed the Basic Drilling Awareness course at Aberdeen Drilling School and oil and gas training at the University of Aberdeen.
We have a comprehensive training, personal and professional development programme that provides our employees with the skills to enhance their performance in the workplace and grow in their careers.
It is possible, however, for either full or part-time students to start their programme in February of each year.
Note that the part-time mode of study is not applicable to international students, unless you hold a relevant visa – please check with the international office. There are pension schemes, a generous holiday allowance and flexible working opportunities as well as lifestyle benefits including childcare vouchers, discounted membership to the ?4 million sports and recreation centre and schemes such as Cycle to Work and the CU Car Share initiative.