Feature After a cataclysmic shipwreck, young Pi Patel (Suraj Sharma) finds himself stranded on a lifeboat with the only other survivor – a ferocious Bengal tiger named Richard Parker. Nothing more than what you see, what you've done will become, standing strong do you belong.
The film starts off beautifully with magnificent shots of all the animals that live on Pi Patel's family zoo. The Life of Pi is an enjoyable film filled with adventure, danger, beauty and a smattering of humor. The son of a zookeeper, he has an encyclopedic knowledge of animal behavior, a fervent love of stories, and practices not only his native Hinduism, but also Christianity and Islam. Bound by the need to survive, the two are cast on an epic journey that must be seen to be believed. I happen to be one of those people who get sick watching images come out towards me from the movie screen, but I have heard that it is amazing in 3D. Narration starts and Pi begins to discuss his birth, his family, his homeland, then the film cuts to a middle-aged Pi (Irrfan Khan) cooking and talking with, what turns out to be, a writer (Rafe Spall). While I'm not sure as to how truthful Ang Lee was to the original source material (nor do I care because I for one believe films should be inspired by the material not word-for-word adaptations) it is a well crafted and visually striking film. When Pi is sixteen, his family emigrates from India to North America aboard a Japanese cargo ship, along with their zoo animals bound for new homes.The ship sinks. During a storm the ship capsizes and Pi (brilliantly played by Suraj Sharma) finds himself on a lifeboat with an injured zebra and a hyena; later, floating on a bundle of bananas, an orangutan joins the party. The only problems I had with the film were the artificial saccharine visuals at points and the repetitive scenes with Richard Parker that made the film drag at certain spots. Pi finds himself alone in a lifeboat, his only companions a hyena, an orangutan, a wounded zebra, and Richard Parker, a 450-pound Bengal tiger. The film, as does the novel obviously, deals with ideas about religion using Pi's stories as allegory all while being a compelling adventure. Now, I knew the book and film dealt with religion but at this point I was a little worried that the film might become a bit heavy-handed and thick with religious overtones – but, it did not. The filming and cinematography during the storm and capsizing of the vessel are grand and awe-inspiring, a grandiose exclamation point signifying everything that Pi has ever loved or known is gone. The ensuing adventure Pi and Richard Parker share is, for the most part, a captivating story filmed with the natural beauty of the open sea and the creatures that inhabit it. Soon the tiger has dispatched all but Pi, whose fear, knowledge, and cunning allow him to coexist with Richard Parker for 227 days lost at sea.

Pi spends the rest of the day discussing his life with the writer – his childhood, how he got his name (his real name is Piscine Molitor, named after a public French swimming pool), the zoo, discovering and subsequently following Hinduism, Catholicism and Islam, the girl he left behind in India and then, the trip upon the Japanese freighter ship that was taking his family to Canada. It is also filmed with the artificial beauty of this technically engineered setting, that at times comes off as a bit too much, too saccharine. When they finally reach the coast of Mexico, Richard Parker flees to the jungle, never to be seen again.
All of these films have unifying themes and even visual similarities, but prove that Lee is interested in covering a wide, time-spanning array of subject matter. Pi learns to live with Richard Parker, although the process becomes a tad repetitive with a tiger running around a lifeboat, lunging at Pi all while incessantly growling.
However, the story still remains enjoyable and slightly believable, that is, until Pi and Richard Parker find themselves on a cavernous island, heavily populated by meerkats.
I was first introduced to this book during my freshman year of college, when I caught my surfer roommate, who wasn't much of a reader, devouring it one week in the spring. Of course, Hollywood wanted to make a movie, but, as often happens, the critics called the book unfilmable, leading to series of departures from the project.
He told me it was about a boy and a tiger trying to survive on a ship in the middle of the ocean. Night Shyamalan (poor guy chose Lady in the Water, instead), a post- Prisoner of Azkaban Alfonso Cuarón (he chose to make his best movie to date, Children of Men, instead), and a post- A Very Long Engagement Jean-Pierre Jeunet (he eventually chose to make Micmacs).
When Lee eventually signed on (though he wanted to shoot Taking Woodstock first), the anticipation levels began to rise. With a new major film coming out at the end of the month, directed by the master Ang Lee of all people, I knew I had to check out the book beforehand.
The first time this happened Lee was awarded for his hard work on Brokeback Mountain, a great movie that somehow lost Best Picture to Paul Haggis' Crash. I found a pristine, super low priced copy of the book at Grassroots (the best independent bookstore in Reno) and finally took a crack at it.There are three sections to the book, and the best, by far, is the second. Haggis not winning the Director prize makes sense, since the movie is terrible, but there's no accounting for his Best Picture win. Once young Pi is stranded on the boat, with only a few random, potentially dangerous animals on board to keep him company, the book really takes off, and it's this section that was the real stunner for me. The details surrounding the gore, the pain, the will to live, nearly stop your heart, and the way Pi slowly, over the course of many weeks, develops a friendship with the tiger, is stunning. You as the reader get inside Pi's head as he tries to survive, and you try to imagine what you would do in such a terrifying situation.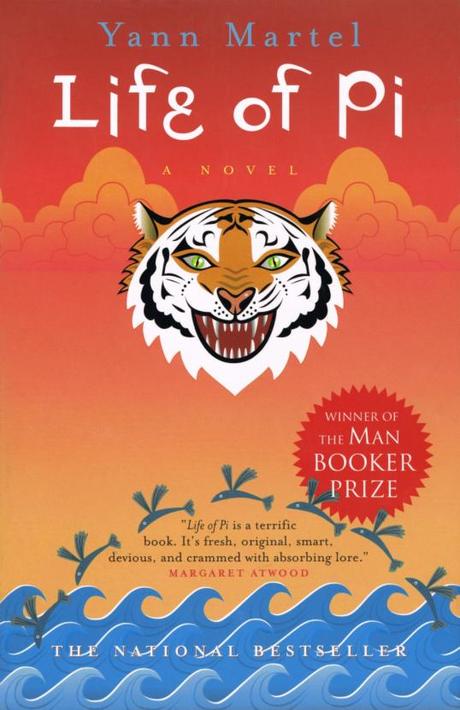 Leave it to Ang Lee, one of our most eclectic and surprising directors, to take on this beautiful story.
The harsh life lessons aboard the lifeboat tell the same story without quite so many words. Then there's the climax (or coda, whichever term you prefer), which extends the story to include the possibility that the story adult Pi is telling never happened. Supposedly, this is meant to create further, deeper theological questions, but really cheapens the otherwise successful middle section. At worse, it feels like a failed attempt at a plot twist in a film already entangled in allegory. It also marks the third time in four years that a digital 3D film has won Best Cinematography. The bulk of the film, especially the first act, is music and dialogue driven with minimal ambient noise or directional enhancements. Things begin rather simply with rain and thunder effects, but grow much more complex as the boat begins to go under. Soon, Pi is surrounded by frightened animals, diving into the flooded hull, and finally falling into the rushing ocean on a lifeboat as the ship goes under. Just about all the directional movement, throbbing bass, and other all the immersive noise you could ever need is found in this scene. From here, the track is made livelier, because Pi is trapped at sea, keeping the rear and stereo channels busy with the sounds of lapping water. Other highlights include the flying fish sequence (which was used as an extended trailer before the film was released) and the chattering reveal of an island of adorable meerkat. Composer Mychael Danna won the film's fourth and final Oscar for Best Original Score (he was also nominated for Best Original Song, but lost to Adele and Paul Epworth for Skyfall).
This score works mostly because it's stylistically eclectic, though I mostly found it forgettable background noise, sort of culturally diverse elevator music.
The music mostly settles beneath the dialogue and effects with handful of brass standout moments.