Nine months after a three-day event that tested a single southbound lane of auto traffic on a few blocks of NW and SW 3rd Avenue, a group of stakeholders on the street has endorsed a middle ground: two lanes. A report out today from the Portland Business Alliance, our regional chamber of commerce, is the latest argument that bike and freight transportation really ought to be close allies.
Unfortunately, that's exactly what The Oregonian Editorial Board and the Portland Business Alliance have done. The Lloyd District's Hassalo on Eighth project was financially feasible because it includes only one residential auto parking space for every two apartments. As Portland's government seems to be scaling back its bike investments after years of leading the nation, its private sector is charging ahead after discovering that bikes often play useful roles in their business models. At their Annual Meeting at the Oregon Center Ball Room on Tuesday morning, the Portland Business Alliance gave a special award of recognition to some unlikely members. FeaturedFamily Ride to the TramJoin the City of Portland and Kidical Mass PDX on Sunday, May 22nd for a fun ride to the tram.

The LatestDetours and work zones coming to N Willamette Blvd for up to four monthsA work zone and some sidewalk riding on Willamette all summer long.
US DOT Secretary Anthony Foxx on the end of favoring carsThe end of favoring motorized transportation — six years later. OHSU's Go By Bike Valet has doubled its users in three yearsThe reasons why are useful lessons for cities looking to boost biking.
New Columbia Gorge Express will carry you — and your bike — to Historic Highway destinations$5 for a round-trip ticket and they'll even take your bike. Member sought for Multnomah County Bicycle and Pedestrian Citizen Advisory CommitteeA great opportunity to get involved. Zipcar, ODOT and Amtrak Cascades Partner to Launch "Zip and Ride"Low-car lifers rejoice! Both of these groups are staunchly opposed to the latest transportation revenue proposal unveiled by Mayor Charlie Hales and Commissioner Steve Novick earlier this week.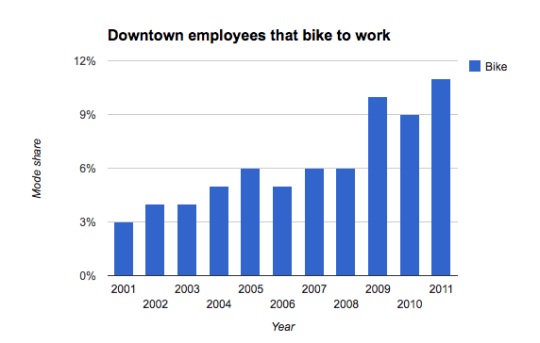 Hood bike and walk plan is June 1stWe haven't been able to do a full story about this plan yet, but we wanted to let you know about this open house. David Knowles of CH2M Hill, chair of the PBA's Transportation Committee, received the award along with them.
For now, there's one aspect of the argument from the PBA and The Oregonian that really needs to be called out.