I have to give a huge thank you at this point to all of you wonderfully supportive readers out there.
We are now making sure we do any cleaning and tidying that need doing that evening rather than leaving them to the next day, and we are implementing a Saturday date night. I am sure there will be more difficult days to come but I do feel like we have taken some steps in the right direction. Love the sound of the steam cleaner, and I know what you mean about starting the day with a tidy house. So glad that you are feeling more positive and feel like you are making steps in the right direction.
Thanks so much for linking up with the first best and worst linky and hope to see you again next week!
Find out more About Us, or have a read of To Work or Not To Work which is all about why I chose to be a SAHM.
Event details may change at any time, always check with the event organizer when planning to attend this event or purchase tickets. He has found that when his clients picked only one habit to change at a time, they had an 85 percent success rate in maintaining it long term. If they picked two habits to focus on, their adherence to their goals were knocked down to 34 percent. On a scale of 1-10 (with 1 being no confidence and 10 being 100 percent confidence), you need to choose a habit that you believe—on a level 9 or 10—that you can change. Remember that during each week, the ONLY habit you are trying to change is one that you choose. Avoid all sugar, processed carbohydrates, such as white bread, candy. Processed grains, and calorie containing beverages. Now that you have established these four habits, the habit that you want to develop now is to stick with, and maintain these four habits. This week on TalkMum, we're talking about how important it is for us mums to make a bit of time for rest and relaxation. Rest and relaxation when you're rushed off your feet looking after little ones, especially with another on the way, can often seem somewhat elusive.  But nothing in life just happens – we have to make it happen! As a nutrition and lifestyle coach, I can guarantee that a few little tweaks to your diet, plus a focus on some relaxation can make you feel a positive difference.
Avoid sugary snacks that will ultimately leave you feeling tetchy and craving more just a short while later.
Keep your energy steady throughout the day with regular meals and healthy snacks such as oatcakes and peanut butter or houmous; fresh fruit and a few almonds.
If you are pregnant every single meal and snack should be healthy and nutritious as your unborn baby will take first place – you need to ensure you cover yourself too!

From a coaching point of view, have a think about what makes you feel relaxed – is it reading, lying in the bath, chatting to a friend on the phone for half an hour, watching a film with your partner?  Whatever it is, decide what you want and how often.  Make sure it is realistic – a film every night is perhaps not viable – but a bath could be.
Have you heard that British astronaut Tim Peake will be reading the CBeebies bedtime story? Today is International Day of the Midwife, where we celebrate the work of midwives across the world  Did you know that the word midwife dates back as far as 1300 and means 'with women'? I got so angry with Monkey about not eating his lunch and really flew off the handle, which just isn't like me at all. Hubs has really helped and because I am feeling more positive I felt more able to just get on and do some jobs, rather than just sinking under the amount of them. Basically meaning that on Saturdays we will feed the kids at a normal time, but rather than eating with them like we do every other day, we will have our meal once they are in bed.
We spent some time in the garden with Monkey and Sunday morning I spent five minutes making the most basic rocket ship ever and then watched with glee while he ran around the garden playing with it. She has medicine for her reflux which is definitely helping her, we have been doing a bit better with the baby-led style weaning (I will write more on that in a separate post but HUGE thanks to everyone who commented on my last post with tips and advice on that score too!), and, the biggy, she is suddenly a lot more stable when sitting up. Plus I am a very lucky lady as I have been invited to a PR launch of some new changing bags in London. I defiantly have days like this too, its so important to make time to re-charge our batteries so we can be on top form for the little ones and the challenges they bring.
I have a steamer too and just looveee it, makes me feel like I've really cleaned the floor and believe me my floor can be mank at times, as is with toddlers eh! Keeping up with jobs and not letting the pile up around me (sort of quite literally) is something I need to address. I understand why: it's a time of reflection and change which usually means setting healthy goals. I am going to share with you the simple, yet effective habit changing strategies to develop healthy daily habits.
So we've got nutrition and lifestyle coach, Chloe Tasch to share her tips for making positive changes in your life. Hubs came home in the midst of this and took Monkey to playgroup, at which point I sat and sobbed as I felt awful. I am so so grateful for the support of the blogging community and I don't know where I would be without my blog.
We got a new steam cleaner which I love and it definitely made the clean up operation fun as I got to give it a really good go (yep I am that sad!) I will be writing a bit more of a review of that at some point over the next few weeks. So that we can take our time (rather than woofing it down or trying to deal with them at the same time) and have a nice conversation face to face. It's mid-week so normally wouldn't be able to make it, but hubs has offered to have the kids for the day so that I can have a bit of a day off and have some me-time, which is very exciting!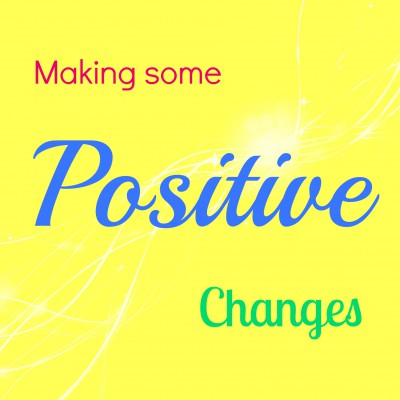 I think it's great that you have lots of online support and hopefully actual support too. According to the Journal of Clinical Psychology, 45 percent of Americans make a New Year's Resolution, but only 8 percent of those people are successful at reaching their resolution. It usually involves dramatic lifestyle changes that may work in the beginning, if at all, but will quickly fade.
I am going to pick four different habits to get you started in the right direction, and to illustrate my point.
Three times is three times, not three times with a couple handfuls of trail mix to hold you off until the next meal. You can have a cup or two of coffee and tea, but NO other beverage, even your nighttime glass of wine.  Stay with me on this one.
The tips, advice and just moral support I received from everyone has buoyed my confidence and helped me move on from the hole I was in. Saturday night was lovely and we got to talk about some bits and bobs and make some plans, which was lovely.
I need to remember sometimes that I don't have to come up with grand activities with Monkey, I just need to spend a little bit of time with him and sometimes set him up with something and then sit back and watch the fun! Granted it is only wednesday but I have felt lighter and at ease, just taking each day as it comes. It must be a little welcome break for LM to be able to contently occupy herself so you can have a bit more freedom with Monkey! I am choosing habits that 1) people often have, which I feel they need to change, and 2) habits that, when changed, make a big difference in your life. If you still don't have an 85 percent success rate, we will move onto a different one, because clearly that habit change was too difficult.
I'd love to have the opportunity to go to a blogger event again but it definitely takes cooperation with the childcare. Enjoy your day off and love the saturday date night idea, must try and do something similar myself.
Hope you have a fab time at the PR launch and enjoy having some time for yourself for the day. I think we just try to do way too much all in one day and it gets our patience levels completely down.