The Training Records function allows you to add, edit and update individual training records. The Training Events Application in Web QMS allows for training courses to be arranged, distributed, and registered online.
This application is designed to allow Trainers to setup physical courses and session for those courses based on a date and maximum number of seats or attendees. All our Public Training courses are held at our Main Offices and Training Center located in the Willow Park Office Complex near the Willowbrook Mall in Houston, TX.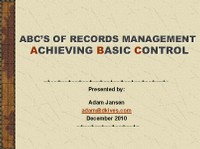 The application then builds a specific URL that can be used to invite employees to the course. If the organization has purchased the E-Learning Application, then courses may also be linked to an E-Learning test, in which case the test scores will automatically populate the employee's training records. When employees receive the invitation, they can go directly to the URL and sign up for the training session or select from one of the available sessions (if more than one). After signup, the class roster is updated and if the course has not started yet, the number of available seats will diminish by one.
Once employees attend the actual training session, the Instructor takes attendance and can add test scores for those students who are part of the roster based on their registration.