This course is designed for all volunteers and provides the basics of the Scouting program, the age appropriateness of those programs, and the values and methods of Scouting. This outdoor program is designed to provide basic outdoor skills essential to the Boy Scout program. BSA has made a number of changes to the camping policy for Tigers, Cub Scouts and Webelos Scouts. This course is designed to help troop committee members better understand their role and responsibilities. Roundtable is held monthly for the purpose of giving Boy Scout leaders the skills and ideas they need to deliver an exciting Boy Scout program to boys. Designed to inform and instruct adult volunteers and parents about the BSA youth protection policies and procedures. This advanced training course designed to provide adults with advanced leadership skills and a more dedicated involvement in Scouting.
Designed to introduce Boy Scout and Venturing leaders to a wide variety of high adventure activities. The program will also help leaders in working with teens and how to address issues related to co-ed Venturing Crews.
DonateAs a nonprofit organization, the Boy Scouts of America relies on the generosity of charitable donations to support its ongoing operations and future capital expenses at the local and national level.
This includes training for: Tiger Den Leaders, Wolf Den Leaders, Bear Den Leaders, Webelos Den Leaders, Cubmaster, Pack Trainer, and Pack Committee.
This new interactive on-line program will acquaint the new Boy Scout leader with the basic information about their position.
The second part of the basic leader training is leadership position specific training and it is designed to present in-depth information for a new leader in a specific position within the Scouting Program. This course is required training for Scoutmasters and Assistant Scoutmasters who wish to be considered a trained leader.
Adults leading a pack overnighter must attend BALOO training in order to be issued a tour permit. This hands-on experiential training will enable troop committee members to better support the troop, the Scoutmaster and the Scouts.
The subject of each roundtable is selected to emphasize important aspects of the Boy Scout program. This video presentation is strongly encouraged for all adults involved in the BSA, and is required for at least one adult on every outing.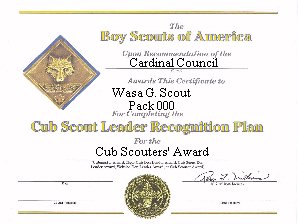 There is an extensive staff development section to prepare trainers to conduct outstanding sessions using the concepts of Ethics in Action and to ensure that learning takes place. It highlights the BSA chartered partner concept, the policies and procedures of the BSA, and the Chartered Organization Representative's role. Powder Horn is an exciting training opportunity that highlights local resource individuals in all areas of high adventure covered by the Venturing program's Ranger Award. Cub Scout leaders are considered to be fully trained once they have completed the following courses: This is Scouting, Cub Scout Fast Start, Cub Scout Leader Position-Specific, and Youth Protection. It is recommended for Webelos leaders, Varsity coaches and Venturing leaders, and other adults who will be camping with youth.