Spend some time uncovering your competitive advantages based on an understanding of your strategic position.
Strategies: The route you intend to take and the general methods you intend to use to reach the top of that specific mountain.
Short-Term Goals and Actions: Specific moves for climbing the sections of rock and ice that confront you right now. The SWOT analysis helps you get a better understanding of the strategic alternatives and choices that you face. If your team wants to take the next step in the SWOT analysis, apply the TOWS Strategic Alternatives Matrix to help you think about the options that you could pursue. WO Conversion Strategies: Strategies that minimize weaknesses by taking advantage of opportunities.
Evaluate the options you've generated, and identify the ones that give the greatest benefit, and that best achieve the mission and vision of your organization. Long-Term Strategic Objectives– Using the information gathered in your SWOT, for each of the following areas develop at least one objective, but no more than five to seven. The "Financial" perspective indicates whether the company's strategy, implementation, and execution are contributing to top and bottom line improvement include the following: Cash flow, Sales growth, Market share, and ROE.
The "Customer" perspective is focused primarily on creating value and differentiation when acquiring, retaining or servicing the customer. Focusing on "Internal Processes" in operations has the greatest impact on customer satisfaction.
Keep in mind that the strategic objectives establish should connect your mission to your vision.
For maximum effectiveness, goals must state how much of what kind of performance and by when it is to be accomplished.
Attainable: While goals must provide a stretch that inspires people to aim higher, they must also be achievable, or they are a set-up for failure. Time specific: With reference to time, your goals must include a timeline of when they should be accomplished. Download a free strategic planning cheat sheet covering the major parts of a plan, common pitfalls, and good strategy guidelines. Realize 10% of the company's annual sales from the small business market by end of the next year.
To help monitor your strategic plan, one of the best tools around is the Balanced Scorecard, developed by Kaplan and Norton from Harvard. By the time organizations get to cascading their strategy, many are tired and worn out from all of the work leading up to this point. Here we widen the circle of the people who are involved in the planning as functional area managers and individual contributors develop their short-term goals and actions to support the organizational direction.
In the OnStrategy system, all the strategic objectives cascade down to the team member action items. Jon Warner is an executive coach and management consultant and in the past has been a CEO in three very different companies.
ReadyToManage is your one-stop shop for world class employee and personal development resources.
As I've explained in this series, strategic planning is an old school approach that is not strategic and focuses leadership in the wrong place. Typical management methodology has leaders develop a vision and then work within the organization to build alignment around it. The aim of ZEN LEADERSHIP is to bring simplicity, clarity, and focus to organizational leadership.ZEN LEADERSHIP promotes "Beginner's Mind" to encourage innovation. Your competitive advantages are the essence of your strategic plan because strategy is about being different.
If you have a 5-year vision, these would be 3- to 4-year intermediate objectives on the way up the mountain.
These would be analogous to detailed annual plans for getting things done this year on the way to the 3-year objective.
Our cloud-based software and hands-on services closes the gap between strategy and execution. Positive long-term results rely on defining the competencies needed to maintain market leadership and maximizing the effectiveness of those internal systems. These objectives are long-term (think 3-5 years), continuous strategic areas that get you moving from your mission to achieving your vision.
Today, over half of the Fortune 1000 companies in North America are using the Balanced Scorecard, which has become the hallmark of a well-run organization. You want to set goals that convert the strategic objectives into specific performance targets. The scorecard is to be used as both a measurement and management tool to assist in fulfilling your organization's vision. These measures indicate whether your organization's strategy, implementation, and execution are contributing to bottom line and top line improvement.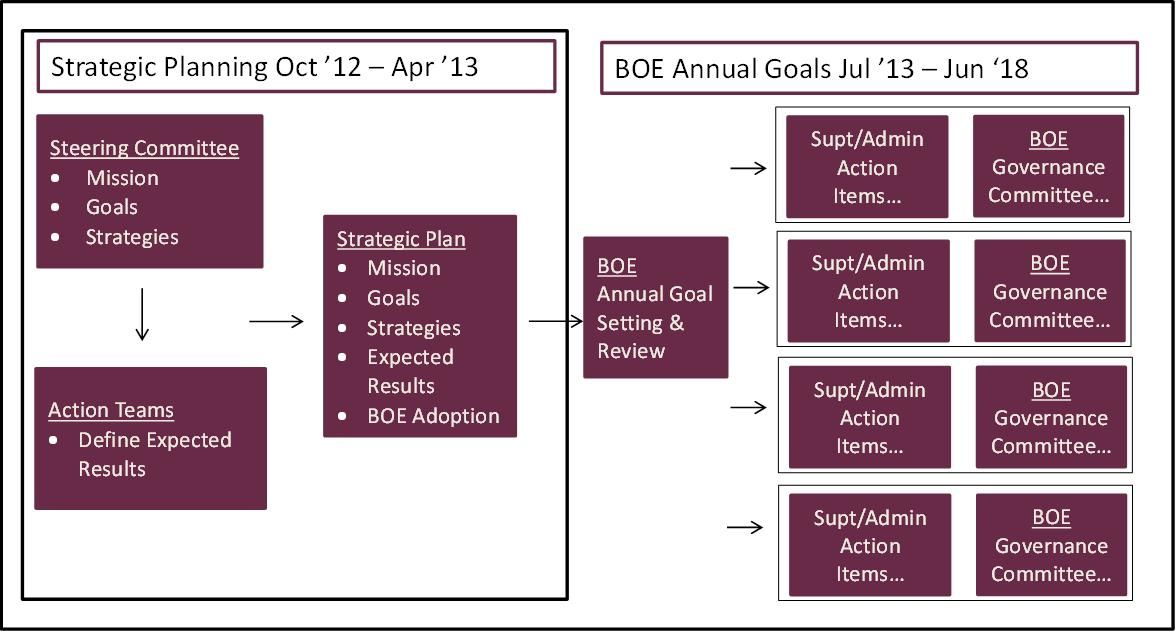 These measures identify the infrastructure that your organization must build to create long-term growth and improvement. Clearly identify where the monthly number is coming from and who is responsible for reporting on it.
The primary purpose of key indicators is to give you a big-picture look at the organization with a relatively small amount of information. But before you take that action, determine if you are going to develop a set of plans that cascade directly from the strategic plan, or instead if you have existing operational, business or account plans that should be synced up with organizational goals. These goals should still be SMART and are generally (short-term) something to be done in the next 12-18 months. Keep the acronym SMART in mind again when setting action items, and make sure they include start and end dates and have someone assigned their responsibility. If the words used are vague, unclear or confusing, people will not be able to reach the goal or may become sidelined or distracted or, even worse, head off in a different direction completely.
Jon Warner is a prolific author, management consultant and executive coach with over 25 years experience.
In order to post comments, please make sure JavaScript and Cookies are enabled, and reload the page.
You need only maintain a "beginner's mind" as exemplified by the Shunryu Suzuki quote: "In the beginner's mind there are many possibilities. Full-service Association Management for national and international professional associations. Use your SWOT to stay grounded and realistic as you build a roadmap from where you are today to where you want to be. It is deliberately choosing to perform activities differently or to perform different activities than competitors to deliver value to your customers.
Ask yourself what the key activities are that you need to perform in order to achieve your vision. Effective goals clearly state what, when, how, and who, and they are specifically measurable. For example, a measure might be "# of new customers" or "% complete" and a target might be "500" or "100%", respectively. For example, if you're target is a 10% increase in sales over the year, break the target down to a monthly number. The whole point of using a scorecard is to make adjustments, now, on time, before it's too late.
Cascading action items and to-dos for each short-term goal is where the rubber meets the road – literally. A pitfall is to develop multiple sets of goals and actions for directors and staff to manage. Since these action items support your previously established goals, it may be helpful to consider action items your immediate plans on the way to achieving your (short-term) goals. In a 2-tier plan, the department goal would be the team member goal and the team member goal an action.
But even in sports like golf, rugby and basketball, it still makes sense that a person or team is aiming for a goal (even though they call it a hole, the try-line or the basket).
In addition, the goal may be complex and may need much coordination and cooperation between people in order to reach it. We'll begin by replacing the "Strategic Planning Pyramid" with a "Strategic Leadership Pyramid," both illustrated below for comparative purposes.
As I said in my last post, I'm offering a viewpoint counter to prevailing wisdom about strategic leadership.
In the expert's mind there are few." Join the Zen Leadership Circle LinkedIn Group to engage in leadership discussions that include bringing simplicity, clarity and focus to business.
They should address what you need to do in the short-term (think 1-3 years) to achieve your strategic objectives. Begin by asking "What are the key performance measures we need to track in order to monitor if we are achieving our goals?" These KPIs include the key goals that you want to measure that will have the most impact in moving your organization forward. Moving from big ideas to action happens when strategy is translated from the organizational level to the individual. Fundamentally, at this point you have moved from planning the strategy to planning the operations; from strategic planning to annual planning. In other words, identify all the actions that need to occur in the next 90 days and continue this same process every 90 days until the goal is achieved. There is consequently complete clarity about what we are aiming for and what constitutes success (even though how we go about achieving this success can vary greatly – usually called our tactics). This often leads to the creation of sub-goals, or what are also called individual objectives, which can be assigned to individuals but by themselves will not lead to overall goal success until all the objectives with an over-arching goal have been achieved. As stated in previous posts, what we've been calling "strategic planning" is really operational, not strategic; it is, in fact, project planning methodology. Not only am I advocating abandoning strategic planning methodology entirely, but many of the foundational management principles upon which it is based.
A mark of a good strategic plan is one that is clear and focused (not too many goals and objectives), as well as balanced – telling a strategy story about how your whole organization is linked and aligned to drive key performance indicators.
That said, the only way strategy gets executed is to align resources and actions from the bottom to the top to drive your vision. In fact, it's the best approach to take when hard deadlines exist and detailed action plans are critical.
Vision is not at the top of my strategic leadership pyramid, and goals, objectives and action plans aren't on it at all (read my previous posts if you want to know why). So, if you don't have vision at the top, then what the heck are followers "aligning" around, you might ask?
What's more important than where we're going is how we intend to work together to get there. To create a strategic organization, we need to reverse the order: first create alignment, then create vision.
A strategy is a choice, a focus, not a destination, and it requires an agility that a written plan can't provide. Knowing this, our first order of business ought not to be choosing our destination port, but making sure the crewmembers have shared values about how we're going to work together on the ship.
We don't want to discover we have the ingredients for a mutiny in place after we've already set sail. In Good to Great, Jim Collins explains that the companies that made the transition from good to great focused first on who (alignment), then what (vision). Getting the right people on the bus first was more important than having the right business strategy.
As he put it, in a great organization, people want to be on the bus because of who else is on it. Therefore, the most effective approach to ensure vision execution is one that is people-focused, not process-focused.
Afterwords, leaders wring their hands trying to figure out how they could have better communicated the vision, overcome the cultural hurdles and employee attitudes about the strategy. You'll note that none of the activities in the Strategic Leadership Pyramid include goals, objectives, action plans, key performance metrics, etc. If those who execute on vision (including top leadership) want to use goals, objectives and action plans as part of their operational methodology for executing on vision, great. The reason we want to take time to clarify organizational culture -- the rules of engagement --first, then align vision to organizational culture is 1) it's a lot less work and 2) people will intuitively act in alignment with the vision if it aligns with the culture.
Goals, objectives and action plans are good tools for personal time management, as well as focusing team activities when accomplishing complex projects. In other words, they will act in alignment with organizational vision and strategy automatically if they're aligned with "the way we do things." If "the way we do things" is destructive or dysfunctional, before attempting vision, leaders need to work on building the aspirational culture.
But as I've also previously written ("I Still Say Strategic Planning is a Flawed Concept"), planning and goal-setting methodologies are just one among many tactical approaches to taking actions aligned with organizational vision, and not always the best approach. As I explained in "Alignment Comes Before Vision," the "way we do things around here" supersedes desired outcomes. Before we begin crafting vision statements, we need to be sure we have clarity on the organization's "personality," the unwritten rules of behavior. We should know in advance of crafting a vision whether the organizational culture will support it.
For example, even though it may not be innovative, perhaps it creates traditional, timeless quality products with unparalleled craftsmanship, which gives it a competitive edge in the market. What makes organizational culture problematic is when it lacks alignment on identity, values, ethics or trust. If leadership and fraction of the staff is daring and innovative but the vast majority of the organization is conservative and risk averse, the ability to find alignment around a vision focused on innovation will be highly compromised.Vision and values are among the few items from the Strategic Planning Pyramid that remain on the Strategic Leadership Pyramid. They belong there because they are aspirational and inspirational, not operational or tactical.
But, for further thoughts on strategy, see "Strategy, Plain and Simple" and "Haiku Strategy."Co-creating and telling the story means, let's describe vision and strategic focus in a compelling story format that is memorable and actionable.
I'll get into further detail on how to do this in future posts, but I touch on the concept in "Developing Intuitive Alignment."Last -- and this is where strategy gets operationalized in case you're wondering how strategic focus becomes manageable and measurable without the goals, objectives, action plans and the like -- is Ongoing Strategic Conversations. Instead of going back into an operational, project management-type approach, this approach requires ongoing strategic conversations with the operationalizers.
They involve asking questions that surface incorporation of the vision and strategies into the various roles in the organization.
I'll go into detail on this in future posts, as well.In short, this approach provides a blueprint for keeping leadership focused in the right place -- on leadership (people), not management (process).