Impressive, heavy, heraldic style necklace comprised of a large shield shaped plaque with 3 decorative dangles.
Bold, Medieval style necklace made up of 3 heavy brass plaques accented with red, blue, and green enameling. Impressive, runway worthy, HUGE, gold tone, pendant necklace in the form of a 3 dimensional Siamese style mask.
Fabulous aqua colored rhinestones alternate with blue & silver glass cabochons in this silver tone necklace.
Graceful, pierced metal, sculptural setting features a focal point, square cut, amethyst color rhinestone. Beautifully crafted French pendant with embossed brass plaque depicting a child-like warrior heading off for battle.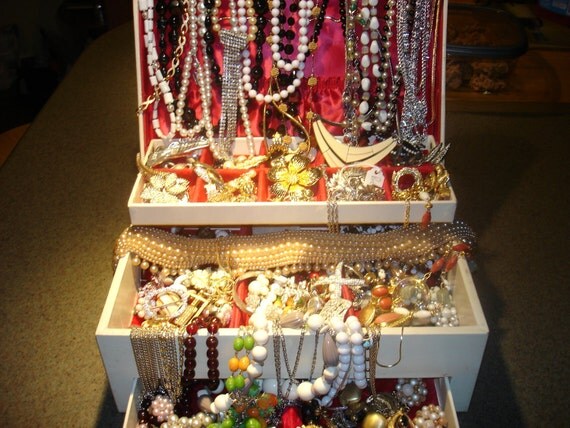 Brilliantly colored French enamel pendant with clear fused on "cookies" for added depth and sparkle. NAPIER ANCIENT COIN MOTIF PENDANT NECKLACEElegant, heavy cast metal, silver tone pendant with an ancient coin motif.
Great novelty pendant necklace for anyone in the "ME" generation, or anyone with a sense of humor! The plaque is mounted on reverse-carved, scalloped lucite and encircled by a row of white glass beads. Piechaud (1922-2011) was a French sculptor and jeweler specializing in religious art and medieval style jewelry. Their color will not change with age and their luster -like a true pearl - never fades".
I consider this a rarity as I was only able to locate one other example of this particular design. If you want to attract attention when you make your entrance, this is the necklace for you!