29.02.2016
I'm not sure where I got this recipe, but it makes a nice, much lighter than normal, quiche. 4 Stars, frittata-like taste that benefited from the strong cheese (I used feta) to wake up the taste. Add turkey bacon, cook until bacon is browned, but not crisp, approximately 3 to 5 minutes, stirring occasionally. Combine cream cheese, Eggbeaters and milk; smashing cream cheese with back of the spoon until it is broken up.
After you have removed the bacon from the pan, use the same pan to sauté the onion and garlic over medium heat until softened. Bake the quiche until the top is golden-brown and a knife inserted near the center comes out clean. I found this on the internet, I think on a Cabot cheese site, when looking for a way to use up some leftover egg whites.
I've never made a quiche before, nor have I eaten one, so I wasn't entirely sure what I was getting into with this.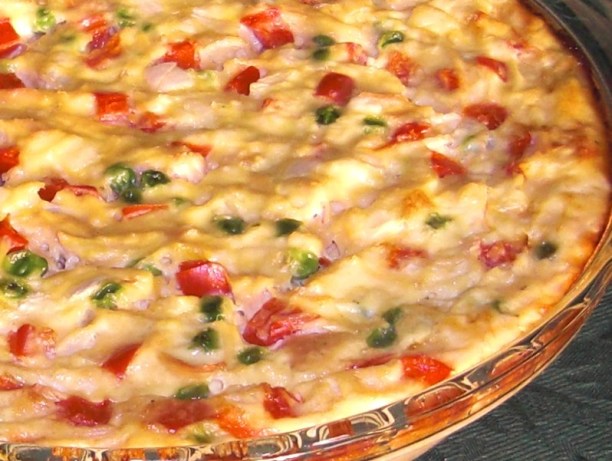 I am an active and busy mom of three and the one thing I do each day is take time for myself.
Silk® is one of those products you see in our home because Silk products are a good source of protein. Once you have prepped your vegetables add the eggs to a bowl and the Silk Soymilk and salt and pepper.
The best thing about a quiche, or any casserole for that matter, is that they are a great way to clear out the cupboards of things that have been up there for a while. If you have a thermometer the internal temperature of the quiche should be between 165 a€" 185 degrees Fahrenheit. I like it for breakfast or brunch with fruit salad but it could easily be a side dish for dinner. Preparation was quick and easy, and not counting time in the oven, I think I spent about ten minutes on this. Either dancing a few times a week during zumba or training for my next half marathon I like staying busy and I'm a much happier wife and mom too!
It's one of my favorite quick meals and can be  loaded full of fresh vegetables.  It's s a delicious one too!
I made a few changes (non-fat cheese, low-fat cottage cheese, added a ton of mushrooms) but otherwise followed the directions to a "T". The only change I made was to use 1t onion powder instead of the diced onion and real bacon crumbles instead of frying my own bacon. Three, only used one cup of cheese(not because o don't love cheese, that was all I had on hand!) will definitely make again! Very tasty, though next time I may continue with my omelet thoughts and add tomato and broccoli as well. One thing I learned is that to fuel your body  you have to eat well and give it the things it needs and your body needs food for fuel.