06.03.2014
The Best Rise of the Guardians Guide - 63 Success Secrets ePub can be read on any device that can open ePub files. If there was one thing Zoe Saldana could count on when she got home from shooting Guardians of the Galaxy, it was her husband and mom's loving gestures."They would have a bath just ready for me," the actress revealed to E! Your information may be shared with other NBCUniversal businesses and used to better tailor our services and advertising to you.
Guardians of the Galaxy Secrets Spilled During Fan Q&A with James Gunn and Michael Rooker! James Gunn: "I love the moment with Rocket's back (showing all the plugs) - it's the first time we see Quill has a soul.
Online - Your source for entertainment news, celebrities, celeb news, and celebrity gossip. I do know that James and Seth have been very close friends for some time"James Gunn: "'That was my favorite knife' was not in the script.
I needed songs that might at first seem mundane and silly but actually grounded us in an unfamiliar world"Who's idea it was to bring in the Howard the Duck cameoJames Gunn: "It was mine and Fred Raskins. It was the line the Marvel guys repeated to me the most the weekend after they read it"Sean Gunn: "I was worried that line was a little cheesy when I first heard it, and I ended up loving it in the movie.
Zoe is great in that scene"james Gunn: "I loved putting Kevin Bacon in the film, considering i had worked with him on SUPER. This scene also gets some of the biggest laughs in the movie"James Gunn: "The OVERHEAD SHOT of Quill in the prison with all the people sleeping is one of my favorite shots in the movie. I didn't tell him about it beforehand, and was so excited for him to see it - like an easter egg especially for him!"James Gunn: "There's no improv in this scene (15% of a plan) - other then Rocket saying 'this is the most real authentic laugh of my entire life" which i thought of when I was in the recording room with Bradley and 'Bunch of jackasses standing in a circle" which my brother Sean said on set. Halfway though the editing process I found out our editor Fred, thought it was an avocado which eminently frustrated me"James Gunn: "When Groot takes the battery I always planned on it being a single shot like it is.
The premise of the idea for the LIVE event was to have fans watch the smash hit movie Guardians of the Galaxy while brother's Gunn and Rooker would be doing a Q&A at the same time.
I hoped he'd be happy if I gave him a pretty girl to grab for his whole cameo" James Gunn: "The Thanos Scene was hard.
This was a really fun way to get to interact with some very important people involved with the filming of this movie. People read an interview with me saying Thanos talking about how difficult he was to put in the movie. Also to get some very cool answers to some long running questions on the minds of many fans also a lot of behind the scenes stories.First off We'll get this out the way. James Gunn, will not give away any information on who Peter Quill's (Star-Lord) father will be in the movies. YES!"Now that we get close to the end of the film we get to the part where Peter Quill finally opens up the gift his dying mother gave him. She looks down for something to fall on, allows herself to fall on a Ravager craft, and take out the Goth Ravager inside and flies away, leaving everyone to deal with this shit themselves, because she's stopped caring. I wanted Groot to have an awsome Die Hard running from an explosion moment"James Gunn: "When Rocket says 'WHAT DO YOU STILL HAVE IT FOR?
My question answered by James GunnSo with the main question out the way James was in full sharing mood on all things behind the scenes GotG. I mean, he really cried and went there"Other bits of Guardians of the Galaxy, trivia given up by James Gunn:Also some trivia about the dog in the beginning of movie with the little girl. I was insane about having him pull on his face so that you could see the reds beneath his eyes. I never watched the footage after I recorded it, just sent it to the VFX folks at MPC and told them to make him dance just like this.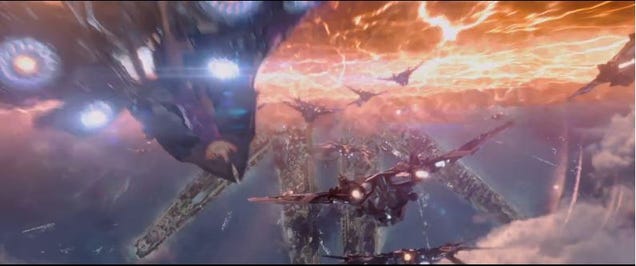 Other questions brought up at this point wereWhen asked why Guardians of the Galaxy in the first place?James Gunn: "I've always loved Marvel Comics, space operas and raccoons. I think Framestore (VFX company) thought I was insane"James Gunn: "The Jackson Pollock line was something I said on set and asked Chris to say. It was a dream come true"What non-GotG Marvel character would you like to bring to the big screen? I always laughed when Rocket said 'Oh boo hoo hoo my wife and child are dead.' Test audiences however, did not. At least not since it's been an album"If the opening dance scene with Peter Quill in the opening credits was in the script?James Gunn: "It was in the script even when I wrote my first treatment"Michael Rooker was asked if he did his own whistling in the movie for his arrow scenes? But they did laugh when Groot was aghast at Rocket's behavior"James Gunn: "Yes yellow fluid burst up from Drax's chest through a hole in the device on Groot's finger. That's a sharp tube he grew on his finger"James Gunn: "This is my favorite Ronan scene, because he has balls. The Ronan bathing scene?James Gunn: "The blood Ronan is sleeping in, is the same blood we see come out of the Nova Corpsman"That is a bit creepy now when you think about that, don't you think fellow GotG fans?
There wasn't a plot point in the movie to make them wear the other costumes from the comics.