07.03.2016
admin
We started to work with fine sand, from the ground and to fill the space along the connective wall on A4.
Using days of good weather to the best, the hydro-insulation primer was passed the day after the footer slab was done and the 2 layers of hydro-insulation were done together with the protective slab on the next day. Like on the first part, the base slab is 40cm thick and reinforcement is installed in 2 layers separated by thickening beams.
On the side of A4 (the part of Amadeo II that is already done), the support was particularly strong as the slab of A3 is ending on top of the connective wall, about 1 meter above ground.
This base slab has a simple rectangular shape and is smaller than the one we did before for A4.
The connection between the 2 sides of Amadeo II : A3 armed concrete base slab and the connective wall of A4.
If you have an existing concrete structure, it is imperative to break up the concrete and remove it. In the installations of a new 4-inch thick slab, excavate the slab area about 7 inches deeper than the desired finished height. Next step is to use a 2×4 form board to create a frame or border for the proposed concrete. Now the finishing process can begin, at this time you can apply salt for a salt finish, or for a bush finish, take a stiff bristle brush and lighting broom the concrete.
Marmil team was very skilled to stabilized the small concrete pump in the configuration we had. From the ground, work goes in several layers : drainage, footer slab, hydro-insulation, protective slab, reinforcement and finally concrete of the base slab.
Now take a jitterbug, a masonry tool use to pack the aggregate in the concrete mix down and bring the paste to the top for finishing.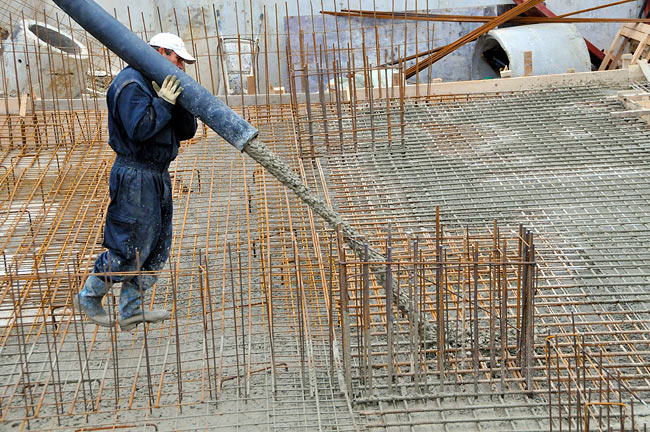 Rubric: Cheap Metal Shed