27.02.2014
admin
Like many American businessmen, I read about and observed that other companies were successfully doing business on the "other side" of the world.
After careful consideration and having some positive experience with producing our subassemblies in China, about three years ago we decided to move production of our CNC machining centers to China.
We also found that having a plant in China impeded the training of our technical support workers back in the United States. Upon setting up our plant in China, we hired and trained English speaking supervisors to run it. And then, there are the obvious language and cultural differences that needed to be overcome. Now, we were saving money in China on labor costs, but we eventually realized that the savings were more than offset by the hidden costs created by many of the factors I have cited here. So, in January of 2011, it was decided that we would begin the phase out of manufacturing in China. In early October 2011, Lieutenant Governor Kim Guadagno visited our Lakewood facility as part of her statewide tour of 100 businesses. In addition to the press we received from the State of New Jersey, CNN Money found our story newsworthy and recently created a two-and-one-half minute segment featuring KOMO Machine's Lakewood, New Jersey, manufacturing facility.
Not that we thought the grass was greener on the other side of the world, but we certainly did not anticipate many of the obstacles and challenges that we faced after making such a decision to move manufacturing offshore.
Guest Blogs WelcomeGot a viewpoint you would like to share with our online woodworking community?
So, in 2009 we moved our production equipment and product inventory to the KOMO China facility and our company opened a manufacturing line in Nanjing, China, with 45 employees. We discovered that if all went well, it took about five additional weeks for us to deliver KOMO CNC machines to our customers. As was done in the past, many of our new field technicians develop their product skills while assembling machines in production at KOMO. We closed our Chinese assembly plant in June and moved our manufacturing line to Lakewood in Ocean County, New Jersey. We were gratified that the lieutenant governor took the time to visit us and we were delighted to tell her that we are happy to be in New Jersey, where I have lived all my life. The segment is about manufacturing returning to the United States from offshore, in particular China.
Our experience in China started off as if the venture was going to be successful but as time passed, we discovered things weren't quite as they seemed. An extra five weeks added to our lead time is a very long time for anyone, even a loyal customer, to wait for a delivery. We came to realize that relying on Chinese supervisors was not the best way to ensure the quality that we wanted. To be honest, I thought with minimal effort, we would be able to train the workforce at our Nanjing facility and in a short time begin producing a quality product. While this was an obstacle for us at the time, it was comforting to realize that there is still something magical and alluring about a "Made in USA" stamp on a product.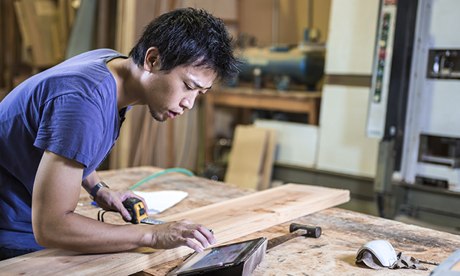 We also realized that many of our customers wanted to visit our manufacturing facility to see our capability and observe their machine being assembled.
With that in mind, imagine how difficult it is to convince a qualified worker here in the United States that if he or she wants a well-deserved promotion they must train for a long period in China or relocate there. With no disrespect to the individuals working for us, effective oversight was difficult for us to maintain. This feels good, because we are taking people off of the unemployment roles and helping to improve our state's economy. In doing this, they could talk to us directly on the shop floor, view our operation and ask any machine specific questions they wanted.
We have also re-cultivated supplier relationships and partnered once again with key vendors throughout the United States. We lost the ability for our engineers to cost-effectively oversee the product on the shop floor where they could more readily introduce new technology improvements.
Rubric: Storage Shed House