To address those concerns we have built another hexagonal table and completely rewrote the prose with new drawings, explanations, photos and a video clip. The lumber used for the seat and tabletop boards, in the cutting list below is 2x6 stock. Make up both the table top support upper frame (d, d1, d2) and the seat support lower frame (c, c1, c2), on flat ground using the materials in the cutting list above.
The center of both frames should be fixed as shown in drawing below, and the end outer points of the frames (6 each frame) should be equal distances apart.
Nail two metal strap plates to the top side and to the underside of both frames (8 strap plates in all). Place packers or blocks under the seat frame until the seat frame sits at the appropriate height.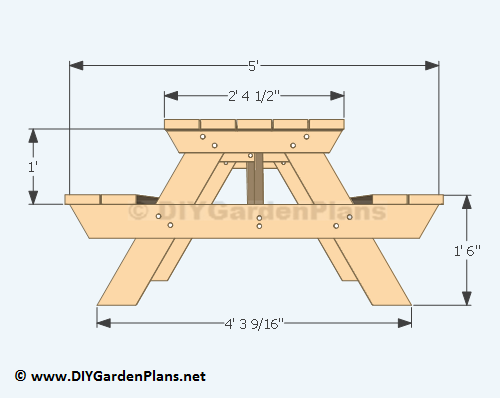 The 60 degree angle will have to be cut with a handsaw, as miter saws will not do such a cut.
Comments »