Supplied as standard with 4ft double doors, these can be 2'+2' or the more popular 2'6"+1'6" configuration. There are various optional extras available such as a 2'6" or 4ft verandah, log lap cladding, cedar cladding, heavy duty floor, heavy duty felt, felt roof tiles and tanalised timber. In addition we offer made to measure summerhouses, a slab base laying service* or old shed removal*.
2'6" Verandah - Most of the Summerhouses can have a verandah added to the front.  This will enhance the appearance of your building, includes extended deck floor area and side sections.
4ft Verandah - This verandah has front returns in order to support the additional roof overhang.  This gives a nice large seating area or somewhere to shelter form the occasional Summer shower! Tanalised Buildings - to complement our range of factory treated buildings we offer a tanalised timber option using genuine Tanalith E product which gives an anti-fungal rot guarantee of 15 years. Painted Buildings - Your Summerhouses can be supplied factory spray painted in a choice of 20 different colours. Cedar-Clad Buildings - cedar wall cladding is offered as an option on most of our buildings.  Cedar prolongs the life expectancy of buildings as well a being aesthetically pleasing. Cedar Clad Roof - A lovely addition, cedar-clad roofing will enhance the appearance of any building. Felt Roof Tiles - Available in 4 different colours, this is a popular addition for playhouses and summerhouses but is available on all buildings. Tanalised Bearers - Prolong the life of your shed by raising it up on tanalised bearers.
Are the Summerhouse dimensions internal or external?The dimensions given are external and in most instances are full Imperial measurements.
What base do I need for my Summerhouse?A flat, level slab or concrete base, the same size as the shed as a minimum or ideally, slightly larger.
What kind of access do I need into the back garden?Please consider the dimensions of your Summerhouse when ordering. What guarantee do I get with my building?A 12 month guarantee against leakage, door sticking, lock failing etc.
Can you do "made to measure" buildings?Yes we can, within reason, as long as the building is square or rectangular.
Website really easy to use & perfect service from start to finish - I highly recommend BeastSheds.
Use the main links at the top of the page to visit each one of ranges, where you can learn a little about them to make an informed decision. The parts and extras page will give you detail on all the various aspects and components we use. The components are fully dipped first in a base coat and then are factory sprayed (2 coats) in a choice of up to 3 colours per building.
These 3" x 3" pressure-treated timbers allow additional air circulation under your building thus protecting your floor joists and floorboards during wet weather.
There are sometimes discounts available for "delivery only" or even further savings if the building is collected from our show site. Some of the larger buildings require 8ft height access for some of the sections to be carried to the base. As timber is a natural product we recommend that you treat your building within 3 months of installation and once a year thereafter.
If you require a 9'x 4' or 10'x 5' for example, please refer to the next standard size up - 10'x 6'. We offer you strong, quality wood sheds and buildings which are resistant to rot and won't fall apart in a year's time!
Each range has reviews, photos and diagrams, price lists, and bullet points on the benefits and uses.
If you are outside this delivery area, please click here for further information and prices. These larger buildings can be manufactured in smaller components if necessary.This is just a selection of the optional extras that are available.
Our tanalised buildings are made from timber that has been pressure-impregnated with a chemical called 'Tanalith E', also known as the tanalising process. If you are outside this delivery area, please click here for further information and prices.
We are confident that the construction and materials we use make our buildings the best value for money on the market - not to mention the free delivery and fitting! And for even more information you might want to use the links just under the main ones where you can find information on every part of our buildings, from how we apply the wood treatment to how the individual parts are constructed and work. Tanalised buildings still need a coat of timber treatment ideally once a year to protect your building from the elements.
If necessary, buildings can be custom made in smaller components so they can fit through a restricted access.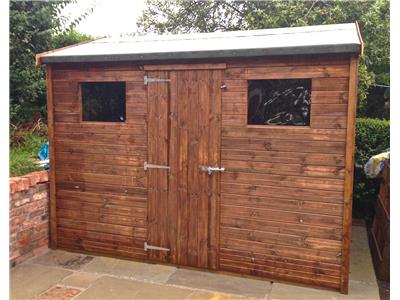 Comments »