By the end of September, new police centres in Bridgwater, Keynsham and Patchway will be open. The opening of the new centres marks the end of our programme to centralise our custody service and provide larger, more flexible spaces for our staff. Enquiry offices, open to the public, will be housed at Patchway and Bridgwater and will be open 8am – 8pm, 7 days a week. At Keynsham Police Centre there will not be an enquiry office but a new Keynsham enquiry office and local policing base will be co-located with BaNES council in the Town Hall. Avon and Somerset Police and Crime Commissioner Sue Mountstevens said: "The opening of these new modern police centres marks the end of a long journey to transform the police estate and make it fit for a new generation of policing. Acting Chief Constable John Long said: "The new police centres enable us to respond to the needs of modern policing. Early next year, University Police will be celebrating a big move — figuratively and literally.
Just off State College Boulevard and south of where dispatchers currently answer calls and police officers write reports, a new, bigger facility is developing. When completed the new building will be more than double the department's old size and provide space for locker rooms for both male and female officers, a dispatch center, evidence storage, a holding-processing area, an armory-safety equipment room and a dedicated emergency operations center. University Police has been housed in a structure originally placed on campus grounds in 1960 as temporary classrooms.
Police Chief Michael Wynn sent a release out Thursday night saying the hard drive failure only affected booking videos and that only a small percentage was lost.
In October, the faulty hard drive was a sent to a company in California in an attempt to recover the videos that had been lost in response to a request from Capeless' office.
Wynn concluded by writing, "as with any organization requiring an increased dependence on technology, we do experience periodic equipment failures. Meanwhile, Capeless said as videos of suspects were identified as being lost, the defense attorney for the individual was notified. The booking videos are produced when either the prosecution or the defense believes they contain evidentiary material. Capeless said he has faced similar issues in the past, remembering a time when a video camera failed.
He said he's aware of only one case in which defense attorneys filed a motion claiming evidence had been lost. The Bay State Examiner reporters asked for such a booking tape when looking into a case from last summer. After being told of the crash, the Examiner followed up with records requests and was given emails showing Capeless was made aware of the situation.
Custody training is already underway and staff will start moving in to the new buildings in the coming weeks. They will increase our capacity in custody by 27% and enable us to improve our custody processes so more police officers can be back on the street on patrol where we need them, detecting crime and protecting communities.
The enquiry office will open in the autumn and the neighbourhood team will move in spring 2015.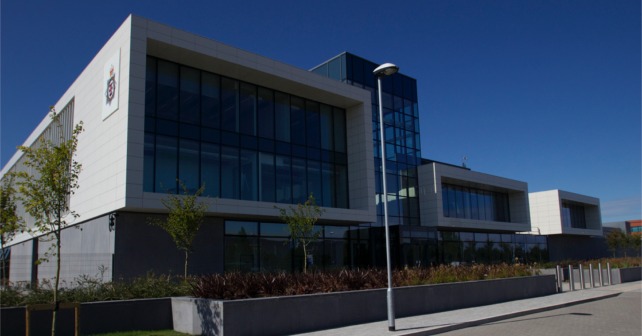 Replacing small, inefficient buildings with larger centres where we can centralise custody and locate our teams together, helps us to work in a new and more efficient way. After the department moves to its new location in early 2009, the facility will continue to be used for a little longer — for storage. The department video and audio records all subjects being booked, though that's not required by state law.
The DA's office was initially informed of the DVR system issues by one of our crime scene investigators on July 13, 2015. He said any time either his attorneys asked for a video to be produced or the defense asked and it wasn't available, both attorneys were informed. For questions he couldn't answer, such as the amount of evidence lost in the crash, he told the reporters to ask the Police Department.
The new buildings will also support our new Operating Model by providing spaces that can adapt to the changes we face. These new buildings are not only greener, more sustainable and more cost efficient, they are also flexible enough to meet the future demands that Avon and Somerset Constabulary will face over the coming years.
Comments »