We notice that you are using Internet Explorer version 9 or older which no longer supports Craftsy.
My largest project to date, this standing conference table was commissioned by A Squared Search and Social Marketing for their office. There is seldom one single need that is calling for a piece of furniture, and this situation was a good example of that.
The primary needs were to match the style and coloring of the existing bed and dresser, to have room on the desk top for a lamp, computer and notebook, and to have one drawer with hanging file capability.  Secondarily, the desk had to offer long term value, by seeing the daughter through high school. With the daughter in  college, the desk is now in use by the father in his home office, increasing the long-term value.
For the best experience we suggest upgrading your browser to the latest version, or optionally downloading Google Chrome or Firefox.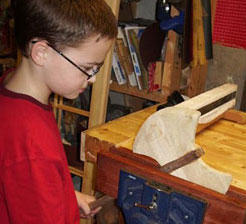 It features a detachable and collapsible base, 4 drawers for sorting pieces, and a removable top that latches on holding the working puzzle in place so that the table can be leaned vertically against a wall.
Comments »